It happens every year. We say we aren't having another yard sale… ever, but then August comes around and we get an itch. Yard sales can be a bit of a hassle, but if done correctly can reap great rewards for a few hours of work.
The benefits start with purging yourself of unnecessary items. This may be the best benefit of all. Most of us live with things that we simply don't need. This is a great time to pass those things along to others who may treasure them or, at the very least, have more use for them than you did.
savour… out with the old, in with the new
YARD SALE BASICS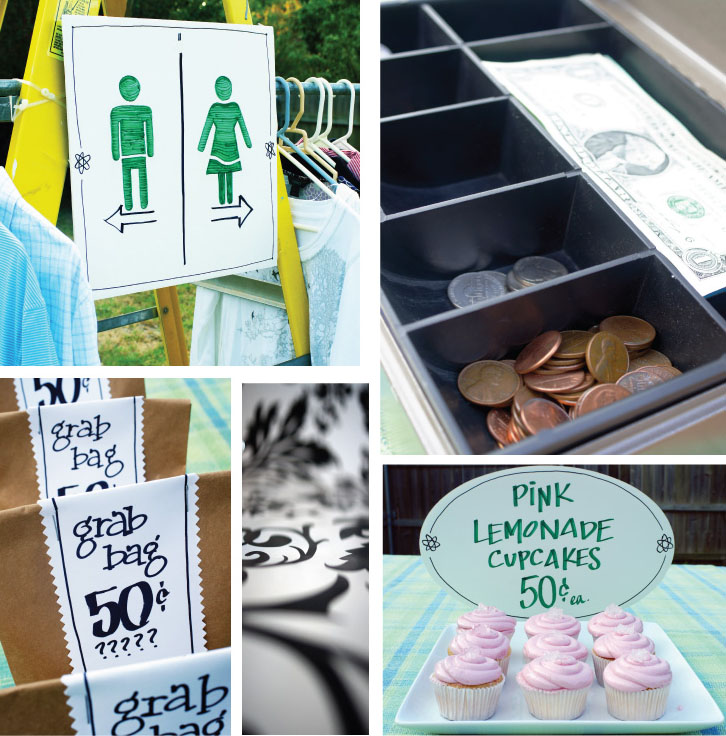 Tips and tricks:
Scour the house. Be thoughtful and decisive about what you intend to sell. Scale back and imagine what you will do with the money you make from the sale.
This is an excellent time for a toy purge. If you have smaller kids, make them sort through their toys. Explain to them that there is only a certain amount of room. With the holidays just around the corner, this is a good time to make room for new things. Be sure to share in the proceeds relative to what they have surrendered.
Make grab bags of little toys for kids (matchbox cars, happy meal toys, etc.). Seal them up with staples. The mystery is part of the allure.
Sell drinks and/or treats. This is a great time for kids to get involved… think lemonade stand.
Be sure to have tables or make areas to lay things out. Avoid putting things directly on the ground. Try placing a board across two chairs as a last resort. You can use the back of the chairs to hang a sign.
Go to the bank and get some change. I recommend a couple of tens, some fives, and plenty of ones. You will also need some quarters.
Use a cash box if you have one.
Buy or make an apron for carrying some cash around to make change on the go.
Consider pricing everything in 25 cent or dollar increments. This will cut down on the coins you need to have on hand.
Contact your local municipal center as necessary for a yard sale license.
Make your signs bold… and make them by hand. Be sure to include directional arrows so your yard can be found.
Limit your yard sale to one day… but make it a great day! Put signs up everywhere early the morning of the sale and make sure you note that it is ONE DAY ONLY! This will create a sense of urgency in some and save you some of your weekend.
Have things priced – every little thing. This gives people a general idea of what you are expecting and gives them a point from which they can bargain.
Speaking of that, be open to bargaining. The objective is to get rid of the stuff that you will otherwise be taking to the thrift store. With that in mind, also be open to saying "no".
Group things together. This will help someone that means to purchase all of your boy's clothes.
Hang nicer things. Hanging things will give the perception that they are special and allow you to expect a little more for them.
Toward the end of the sale, start grouping things together for a single price.
When the sale ends, pack up everything that didn't sell and take it to the local thrift store. Nothing goes back inside.