Hello, Fall! Good to see you again, old friend. This week we welcome fall with open arms. The weather has finally changed for good. It is still significantly warmer here in Dallas than where I grew up for this time of year, but cooler nonetheless. The signs are not quite as clear as in those places where autumn applies itself to the visible outdoors. Here we look for other signs, such as pumpkins for sale… everywhere.
I love to bake with pumpkin and there will surely be other pumpkin recipes represented here over time. What we offer up today is a pumpkin cookie. It is similar to the cookie for a whoopie pie but made without brown sugar. The result is a little firmer with crispier edges.
We have topped this cookie with a salted caramel glaze. It is actually our 5 Minute Caramel Glaze with just a bit of coarse sea salt sprinkled on top. The caramel glaze is perfect for these cookies, but this recipe is a keeper for so many other things. It would be fantastic poured over the chocolate cupcake from earlier this week.
savour… sweet and sticky
PUMPKIN COOKIE WITH SALTED CARAMEL GLAZE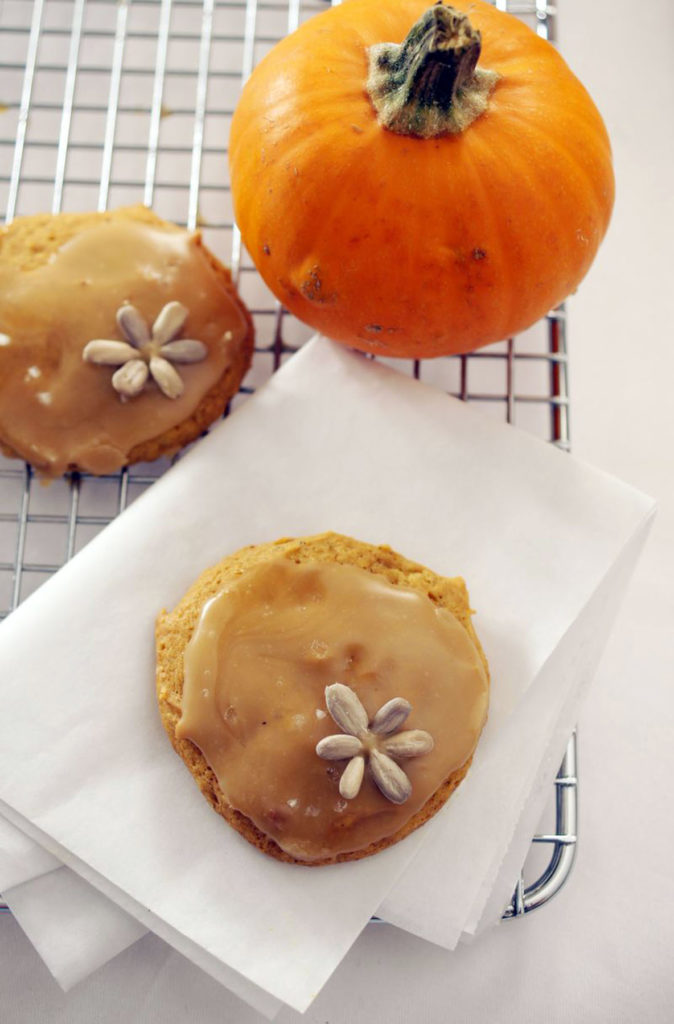 Before you start:
This recipe yields four dozen evenly sized cookies with a medium cookie scoop.
A cookie scoop works wonders for consistency and shape. See more about the right cookie baking tools in this old post.
If you don't use parchment you will need to grease your cookie sheets for these.
Have your cookie glazing area ready when you make the glaze. This is a time-sensitive procedure. For right-hander's, I recommend unglazed cookies on a rack on the left side of the pot, the pot with a wooden spoon for pouring glaze over the cookie tilted in your hand, and another empty rack on the other side with parchment underneath to catch any accidental drips.
The ingredients:
For the cookie:
2 ½ cups all-purpose flour
1 teaspoon baking powder
1 teaspoon baking soda
1 teaspoon salt
1 teaspoon cinnamon
1 teaspoon nutmeg
1 teaspoon ground cloves
½ cup (1 stick) butter at room temperature
1 ½ cups granulated sugar
1 cup pumpkin
1 large egg
1 teaspoon vanilla extract
For the "5 Minute Caramel Glaze":
¼ cup butter cut into ½ inch cubes
½ cup packed light brown sugar
1/3 cup heavy cream
1 cup sifted powdered sugar
Coarse sea salt or salt flakes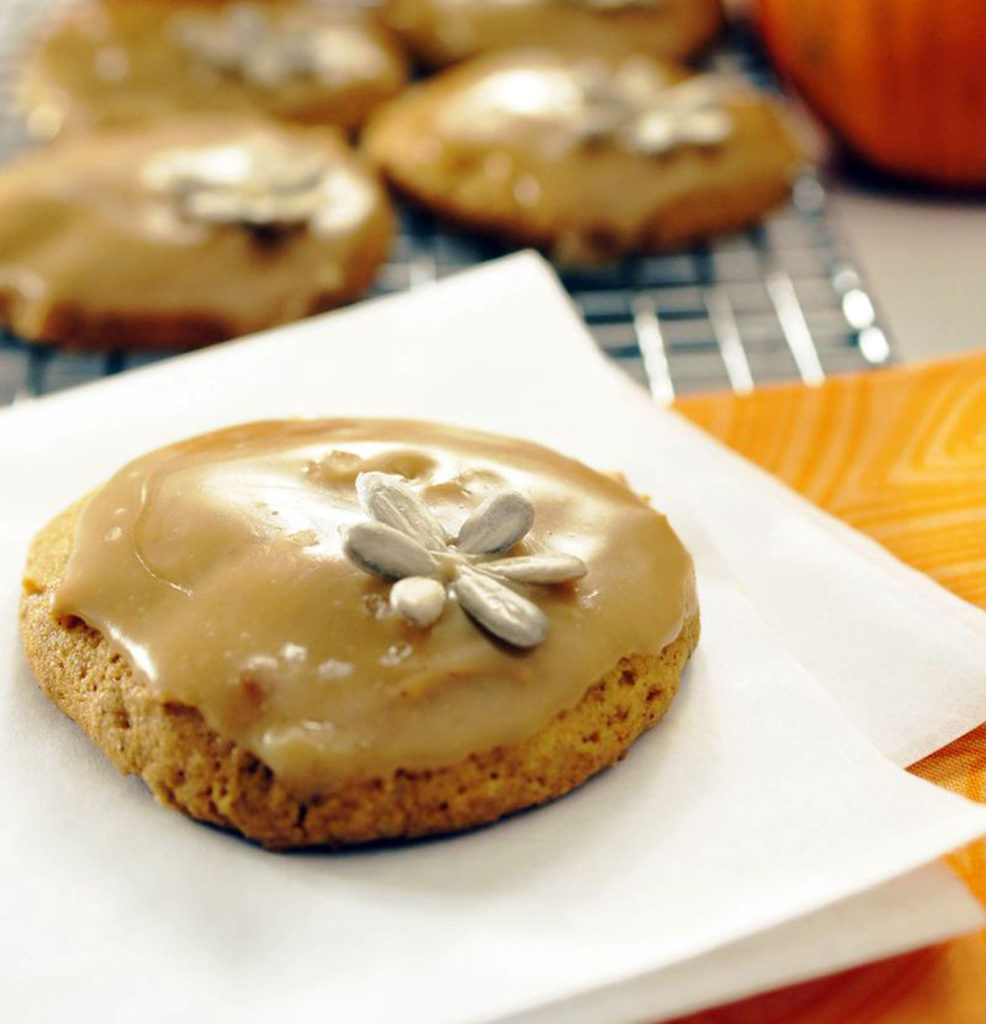 The method:
For the cookie:
Preheat oven to 350˚F.
Sift together flour, baking powder, baking soda, salt, cinnamon, nutmeg, and cloves on a piece of parchment.  Set aside.
In a mixing bowl, mix butter and sugar on medium speed until light and fluffy (about 1 ½ minutes).
Add pumpkin, egg, and vanilla. Mix on medium speed until smooth.
With the mixer on low, slowly and gradually add dry ingredients.  Mix only until incorporated.
Use a cookie scoop or spoon to place mounds of dough on parchment-lined sheets.
Bake for 18-20 minutes or until edges start to brown slightly.
Allow cooling on the tray for 2 minutes before moving cookies to a wire rack to cool completely.
Glaze when cool.
For the "5 Minute Caramel Glaze":
Put butter, sugar, and cream in a medium-sized, heavy sauce pan.
Melt over medium heat and bring to a full boil. Stir frequently.
Keep mixture at boil for 1 minute stirring constantly.
Remove from heat and allow cooling for 4 minutes.
Vigorously whisk in powdered sugar until smooth.
Use glaze immediately. Either dip the tops in the glaze (watch your fingertips) or pour on with a spoon.
Sprinkle just a few bits of salt on the top of the caramel glaze.
For the (optional) garnish: I arranged 6 sunflower kernels in the shape of a flower. Point each tip into the glaze just a little and arrange something like an asterisk. Let the ends stand up just a little.