July is National Ice Cream Month. We are celebrating by bringing you a different ice cream treat for each Friday's Treat of the Week. I think you will be pleased with the choices. To start us off we are enjoying the classic flavors of the banana split in a not so classic way. We have put this all together in an ice cream cake and the taste is… all together wonderful.
There is something so comforting about the taste of a banana split. It brings back wonderful summer memories. This cake puts all the taste in one small package. Just a small slice takes you back. This cake would be perfect for a summer birthday party.
savour… all in one
BANANA SPLIT ICE CREAM CAKE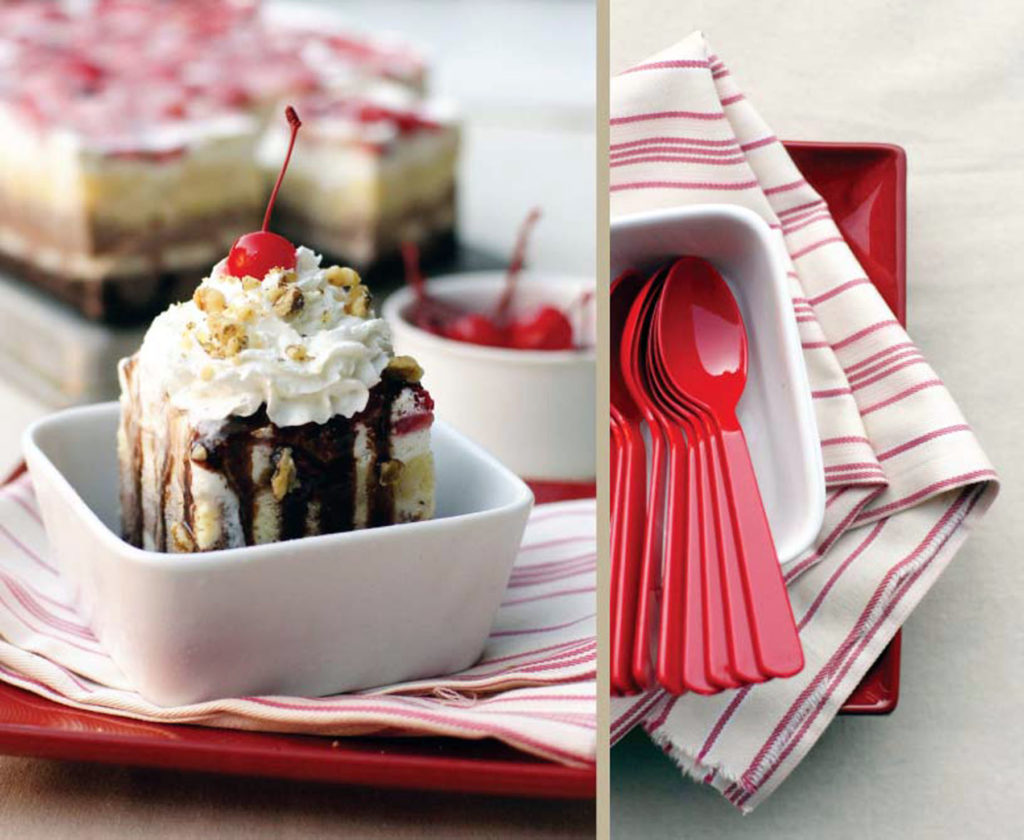 Before you start:
You can choose to make your cakes from scratch or a box mix… no judgment.
Line your baking sheets with parchment before baking. You will find the cake much easier to manage.
As a side note, baking the cakes this way is also a great way to make thin layers for a layer cake. Simply bake the whole sheet and then cut it into quarters for a four-layer cake.
You will have more cake than you need. I'll let you decide what to do with the leftovers.
Be sure your ice cream is somewhat soft before you spread it on or you will end up with a disastrous mess.
A medium-sized priority mail shipping box is the perfect size for this project. It makes is just the right proportions, is readily available, and… it's free.
The ingredients:
1 yellow cake
1 chocolate cake or devil's food cake (double this recipe)
1.5 quarts vanilla ice cream
1.5 quarts chocolate ice cream
1 20oz. can crushed pineapple
3 medium bananas (sliced)
10-15 medium strawberries (sliced)
whipped cream
chocolate sauce
chopped walnuts
maraschino cherries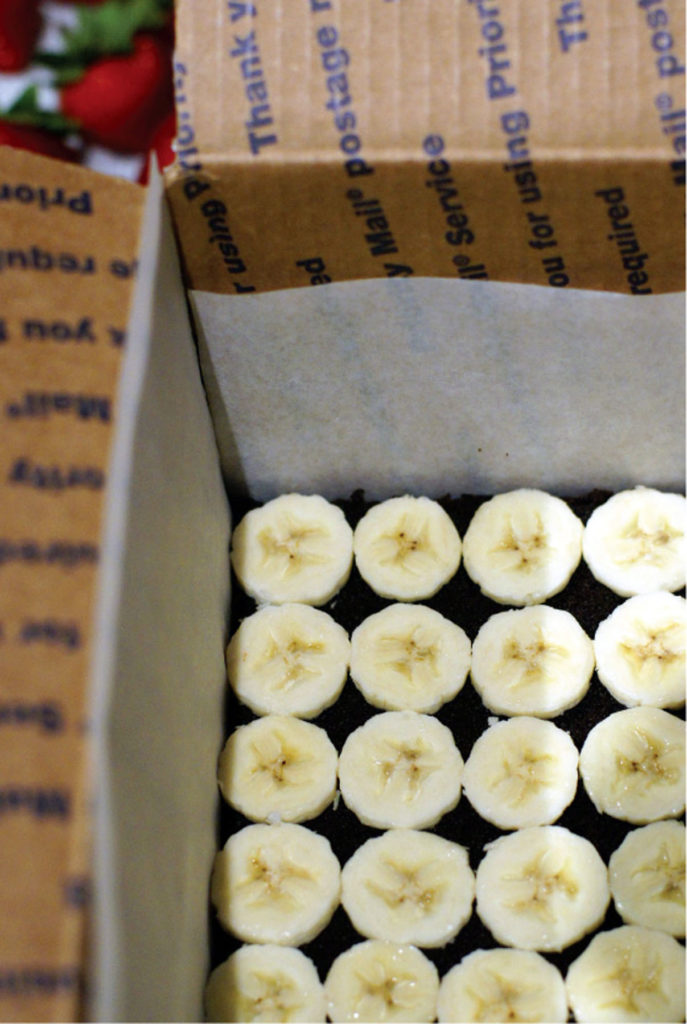 The method:
Mix cake as directed but bake in baking sheets (rolled edge biscuit pans 13×18). Bake for considerably less time. Our cakes only baked for about 15 minutes.
When the cake is completely cool, cut the layer out using the bottom of a medium-size postal box as your guide. Do this for both cake flavors.
Get your ice cream out of the freezer and remove the lid to allow it to thaw slightly.
Line the shipping box with parchment paper. Be sure to cut to fit and run one sheet in each direction of the box so that the entire box is lined.
Lay the chocolate layer of cake in the box first.
Make a layer of banana slices next by placing them as close as possible to each other without overlapping.
Spread on the chocolate ice cream evenly.
Lay the yellow cake layer next.
Drain off the liquid from the pineapple and spread the pineapple over the yellow cake layer evenly.
Spread on the vanilla ice cream evenly.
Make a layer of sliced strawberries by placing them straight lines and overlapping slightly.
Close up the top of the box and store in the freezer for at least 3 hours or until completely frozen.
Before serving, let the cake sit at room temperature to soften up just a bit.
Top with chocolate sauce, whipped cream, chopped walnuts, and a cherry.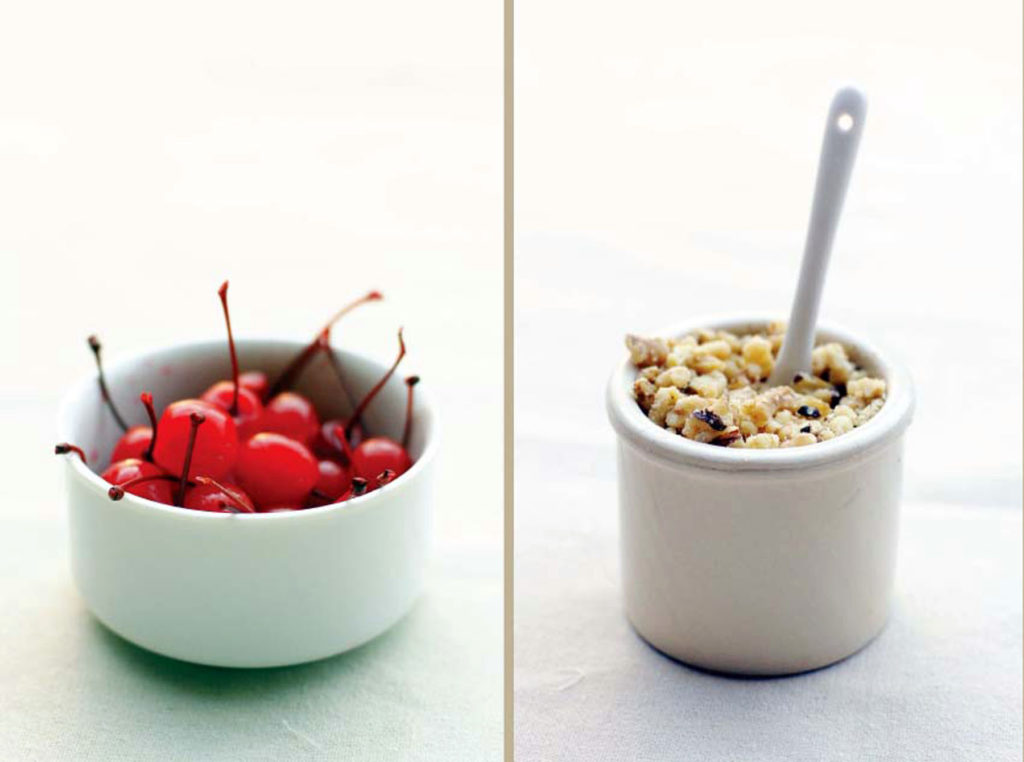 *other uses for the box when you've finished making the Banana Split Ice Cream Cake…
Jade, the latest addition to our happy family.