Deciding what to take on your winter picnic can be tricky. Outdoor temps are likely to quickly cool any hot foods, so you'll want to take that into account when making your selection. Insert our choice for this winter picnic, fried chicken cutlets and cornmeal waffles. Both are tasty at room temperature or cooler and a good source of energy for our outdoor activities. Our meal today provides an excellent source of protein and lots of other nutritional goodness while offering up plenty of variety in terms of taste and texture.
Our chicken and waffles is a twist on what has now become a classic in many areas. We made ours with chicken cutlets and cornmeal waffles. We gave it a little southwest flavor by adding plenty of cayenne and cumin.
The components of the salad are a symphony of flavors and textures. The anise flavor of the fresh fennel combined with the sweetness of the Opal apple is just perfect. The sugared cranberries and cranberry vinaigrette add a bit of tartness.
savour… picnics with no flies
THE WINTER PICNIC MEAL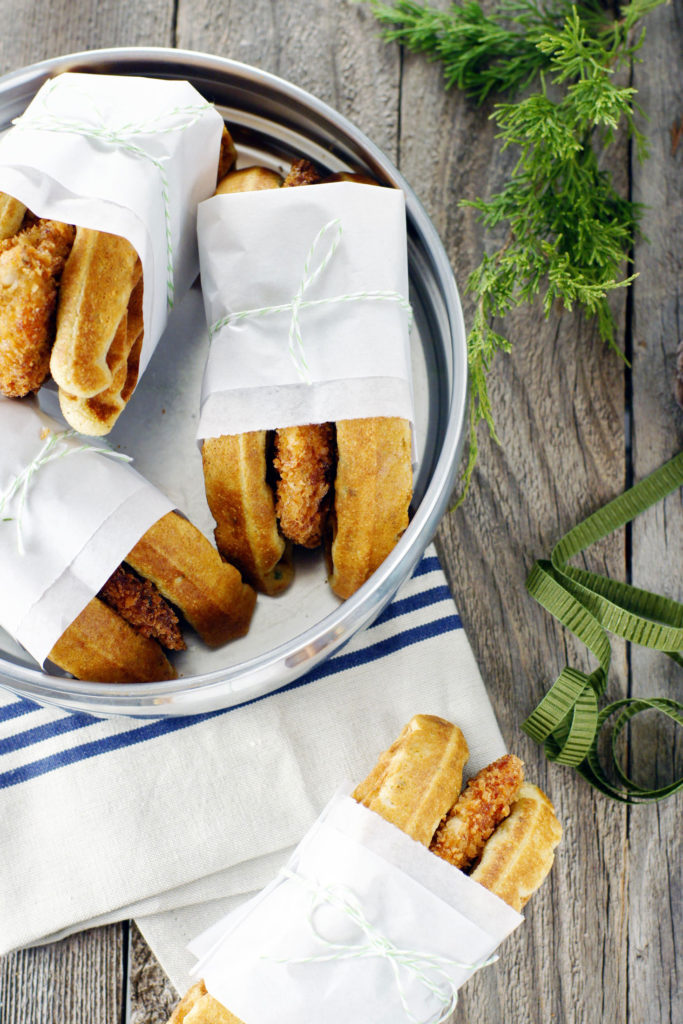 Chicken and Cornmeal Waffles
Fennel Salad with Opal Apples and Candied Cranberries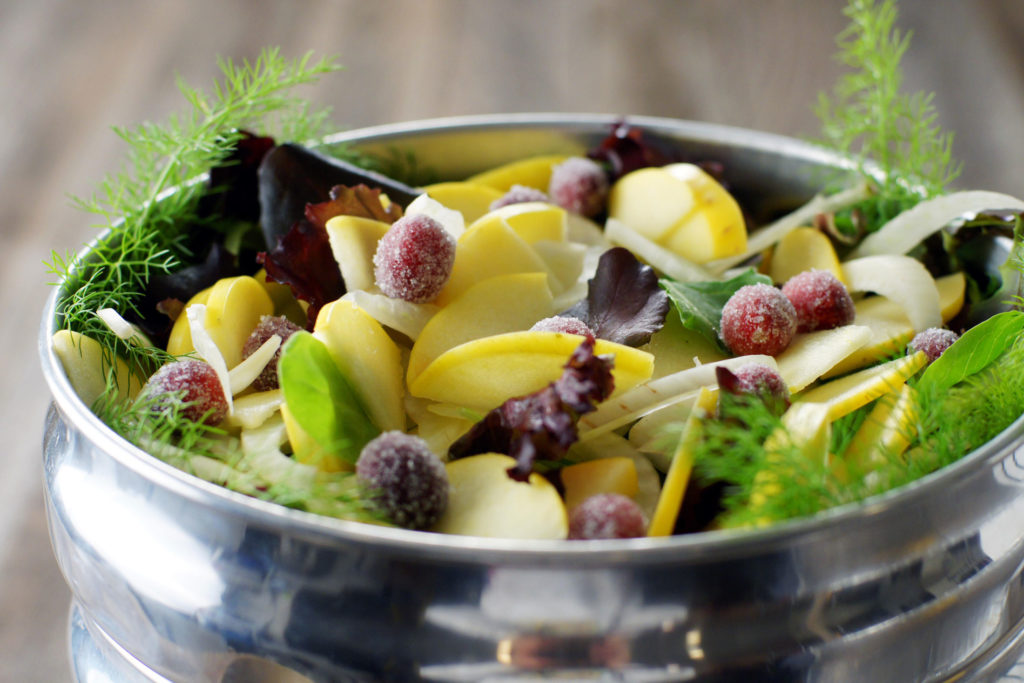 Before you start:
We used the Opal apple for its unique flavor and crunch. You could use a different apple here, but I would stick to the sweet side to counter the cranberries.
Always take extra care when frying.
The ingredients:
For the Chicken:
3 large breasts, cut into cutlets about ½ inch thick
1 teaspoon salt
1 teaspoon pepper
1 teaspoon cayenne
1/2 teaspoon garlic powder
1/4 cup flour
Canola oil – enough to make about 1/8-1/4 inch on bottom of pan
2 eggs
1 1/2 cups panko bread crumbs
For the waffles:
1 3/4 cups buttermilk
2 eggs
5 tablespoons unsalted butter, melted
1 1/2 cups flour / 190g
1 cup cornmeal / 180g
2 tablespoons sugar
2 teaspoons baking powder
1 teaspoon baking soda
1 teaspoon salt
3 tablespoons dried chives
1 tablespoon cumin
For the Fennel Salad with Opal Apples:
1 large bulb of fennel
1 large Opal Apple
3 cups of mixed greens
½ cup candied cranberries
Cranberry vinaigrette
Candied cranberries:
1 ½ cups fresh cranberries
1 ½ cups sugar + 1 cup for coating
1 ½ cups water
Cranberry vinaigrette
1/2 cup olive oil
3 tablespoons white vinegar
2 tablespoon cranberry jam
1 teaspoon Dijon mustard
1 teaspoon oregano
Salt and freshly ground pepper to taste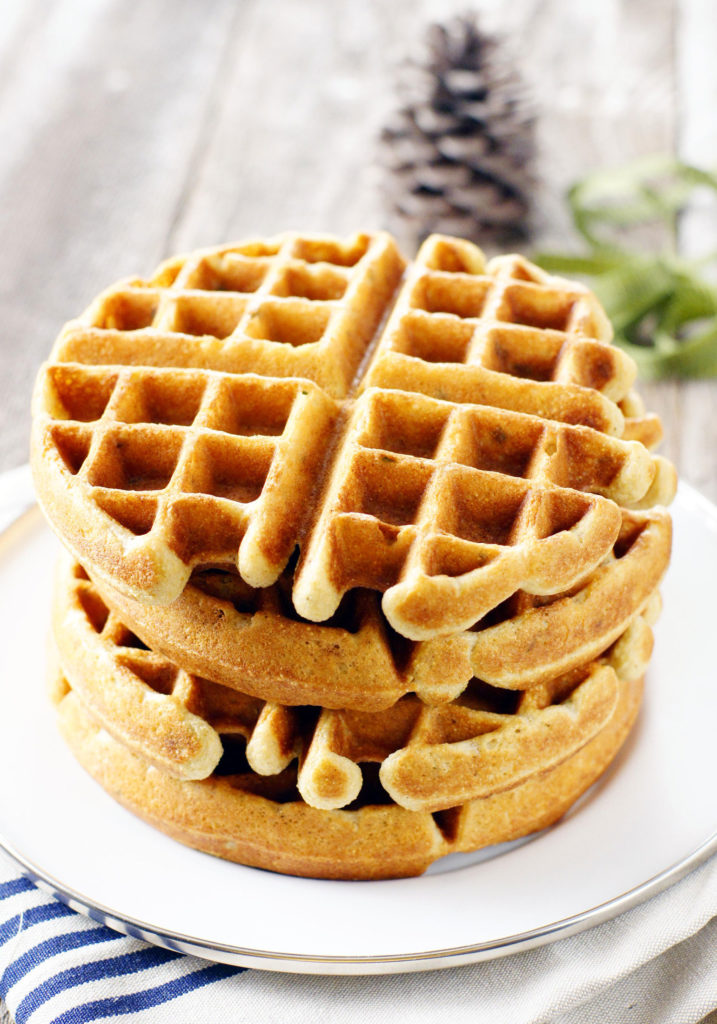 The method:
For the Chicken and Cornmeal Waffles:
Soak the chicken cutlets in buttermilk overnight.
Remove excess buttermilk and pat the chicken dry with paper towels.
Stir together flour and spice in a shallow bowl.
Beat eggs in another shallow bowl.
Place bread crumbs in yet another shallow bowl.
Set up a frying area with shallow bowls on one side of the stove and cooling rack on the opposite side of the stove.
Heat oil in the bottom of the skillet.
Coat chicken in flour, then egg, then crumbs. Place in oil.
Cook over medium to medium-high heat until golden brown ( about 2-3 minutes each side depending on thickness).
Remove to a wire rack to drain and cool.
For the Waffles:
Beat eggs in a medium bowl.
Add butter and buttermilk and mix thoroughly.
In a separate bowl, whisk together flour, cornmeal, chives, and all other dry ingredients.
Pour wet ingredients into dry and quickly but gently mix together.
Allow batter to rest for 10 minutes.
Heat up the waffle iron.
Add just under a 1/4 cup to each quarter of your waffle maker.
Cool on a wire rack.
For the Fennel Salad with Apples:
Make a bed of fennel greens on the bottom of the bowl.
Toss remaining lettuce, apple, and fennel together and place in bowl.
Sprinkle with candied cranberries.
Top with vinaigrette just before serving.
For the Candied Cranberries:
Heat 1 1/2 cups sugar in water over medium heat until sugar is dissolved and liquid is clear.
Add cranberries and remove from heat. Cool slightly.
Pour into an airtight container and cover. Set aside for at least 4 hours or overnight.
Place cranberries on a wire rack to drain and dry.
Roll cranberries in sugar to coat.
For the Cranberry Vinaigrette:
Whisk together all of the dressing ingredients except for the oil.
Slowly drizzle the oil into the other ingredients as you vigorously whisk.
Pour the dressing over the salad and toss or serve the dressing on the side as desired.