To kick off the new year we are lightening things up just a little.  In an effort to help any who have resolved to cut a few pounds we have cut out the fats for this treat. Don't think that means less taste, though. This little serving of sorbet is bursting with flavor.
Clementines are populating shelves around the US this month. This is a great time to take advantage of them and save some money, too. Their size makes them a great healthy snack. In our treat, their sweetness is punctuated with lemon juice to round out the flavor.
This combination freezes up so nicely in an ice cream maker. You are going to love it! Serve them in their own containers with a touch of frost from the freezer. It's the perfect winter treat.
savour… seasonal sweetness
FROZEN CLEMENTINE SORBET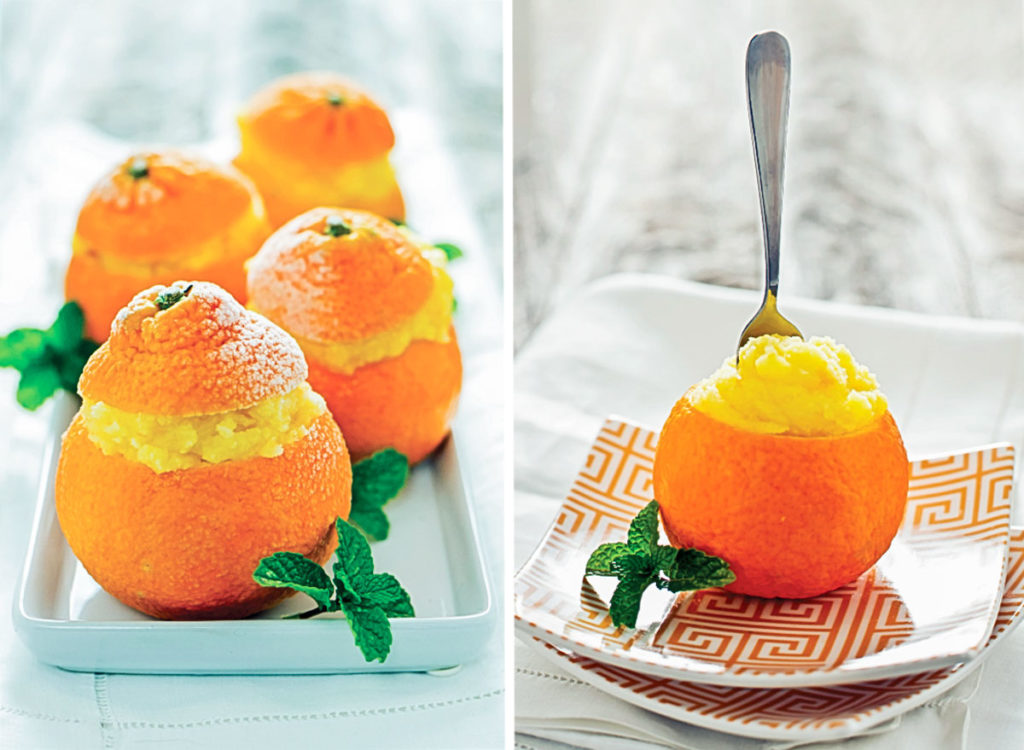 Before you start:
When scooping the flesh from the clementine shells get as much of the membrane as possible.
You need 3 ¾ cups of total liquid when finished. Make up any deficiency with orange juice.
You will likely have more sorbet than necessary. Store it in an airtight container in the freezer.
The ingredients:
12 clementines
1 ¼ cups orange juice (or enough to make 3 ¾ cups total liquid)
juice of two lemons
1 cup superfine sugar
7 tablespoons water
The method:
Slice off tops of 8 of the clementines to create lids.
Place the lids on a parchment-lined baking sheet.
Use the tip of a knife to loosen the flesh of the clementines. Carefully scoop out the flesh and place in a mixing bowl while keeping the shells intact.
Place the shells on the baking sheet with the lids and place them in the freezer to freeze.
Place the sugar and water in a medium heavy-bottomed saucepan and cook over medium-low heat until the sugar dissolves and liquid is clear. Stir occasionally.
Turn heat up to medium and boil sugar/water for 3 minutes without stirring. Remove from heat and allow to cool. 
Stir in lemon juice.
Zest the remaining 4 clementines. Add the zest and the juice from the 4 clementines to the lemon syrup.
Process the scooped out clementine flesh in a food processor or blender. Press the processed flesh through a sieve to extract as much of the juice as possible. Add the juice to the saucepan. Add the necessary amount of orange juice to make up 3 ¾ cups.
Place the mixture into an ice cream maker and churn until it expands and holds its shape.
Carefully pack the frozen shells with the sorbet overfilling a bit in the center. Place the lid on top and gently push down a bit.
Return to the freezer until the sorbet has frozen completely.
Move from the freezer to the refrigerator for about 30 minutes before serving.