With winter whipping around your ears you might be finding it more and more challenging to pull yourself out of bed. I think this ought to do the trick. Our treat of the week for today would be perfect for Sunday breakfast. We have made our classic oatmeal muffin and topped it with some Mostly Cream Cheese Icing and Citrus Marmalade.
The oatmeal muffin is a terrific breakfast pastry to have in your arsenal. This go-to treat is sweet, has just a few simple ingredients, and can be made very quickly. We turned down the sweet-meter on the cream cheese icing to counter the sweetness of the muffin and marmalade. The combination is heaven.
savour… a warm oven on a winter's day
OATMEAL MUFFIN WITH MOSTLY CREAM CHEESE ICING
The marmalade came straight from our post on Wednesday. Check it out by clicking the link and be sure to watch our Citrus Marmalade Video coming soon.
Before you start:
A word about muffins… generally speaking, two bowls are used, one for the wet ingredients and one for the dry ingredients. Prepare each of the bowls separately and then pour the wet ingredients over the dry ingredients and stir enough to moisten, but as little as possible. There will likely be lumps or some pockets of dry parts. Pour into tins with or without papers and bake immediately. There are exceptions, but this is how it usually goes.
Prior to placing in the oven, sprinkle on some raw oats and perhaps some turbinado sugar or brown sugar.
This recipe is very versatile in terms of flavor. Feel free to add some orange zest or chopped nuts.
The oats here are rolled oats. Do not use the quick cook sort.
The ingredients:
For the muffins:
1 cup rolled oats / 100g
1 ½ cups flour / 200g
½ teaspoon soda
Pinch salt
½ cup brown sugar, firmly packed / 110g
6 tablespoons butter, melted
2 eggs
1 ½ cups non-fat plain greek yogurt
For the icing:
4 ounces cream cheese, at room temperature
2 ounces unsalted butter, at room temperature
1 cup confectioner's sugar
½ teaspoon vanilla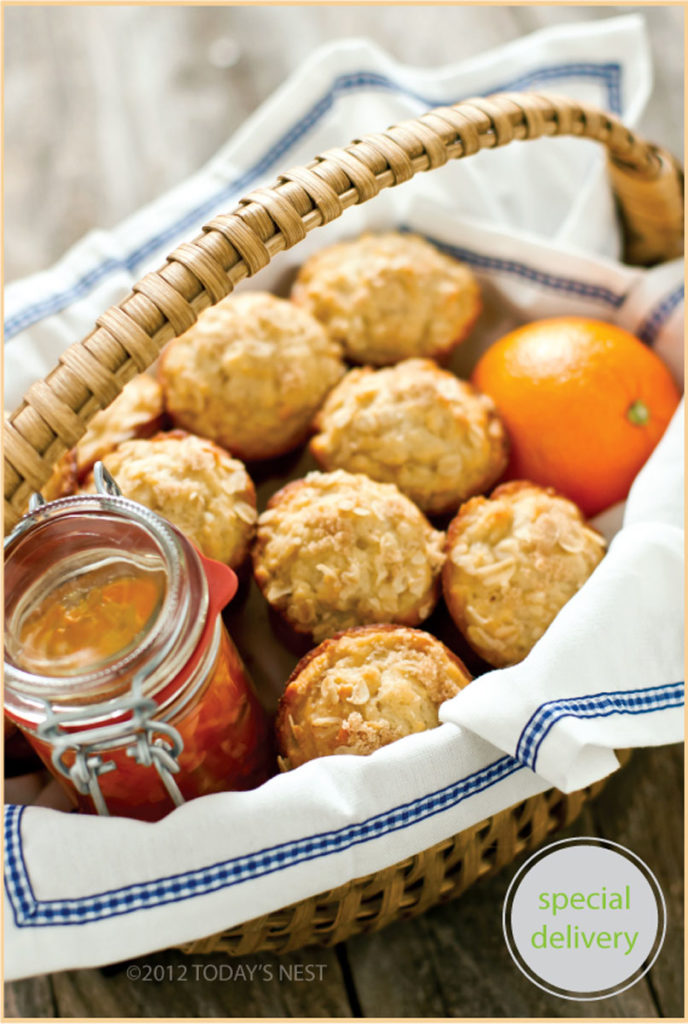 The method:
For the muffins:
Preheat oven to 350°. Line muffin tins with papers or grease with butter or cooking oil spray.
In a medium mixing bowl whisk together flour oats, soda, salt, and cinnamon. Set aside.
Melt butter in a medium saucepan. Remove from heat and add brown sugar. Mix well.
Whisk eggs in another mixing bowl. Add yogurt and mix well.
Add butter and sugar and mix well.
Pour wet ingredients over dry ingredients and mix just until moistened.
Fill muffin tins. Bake immediately for 15-20 minutes or until lightly browned on top.
Allow to cool for 1 minute in the tin before moving to a wire rack to cool.
For the icing:
Beat the butter and cream cheese together until smooth and creamy.
Add the vanilla. Mix well.
Add the sugar in thirds, mixing well after each addition.