We're leaping for joy today because we have an extra day in Hot Breakfast Month this year. We decided to celebrate with the Cocktail of the Month: Bloody Mary. Serve it with your hot breakfast items just a little later in the day as this drink has become synonymous with brunch.
The freshness of this drink really makes it stand out among bloody mary's. Not to mention you will have complete control over the sodium content. The taste here is spicy, smoky, and fresh.
Lastly, we made one of our favorite garnishes for this drink. We simply used a vegetable peeler to peel away one strip of cucumber and then another right after keeping some of the peel on the edges. Roll it around a jalapeno stuffed olive and insert a toothpick… voila!
savour… a toast for brunch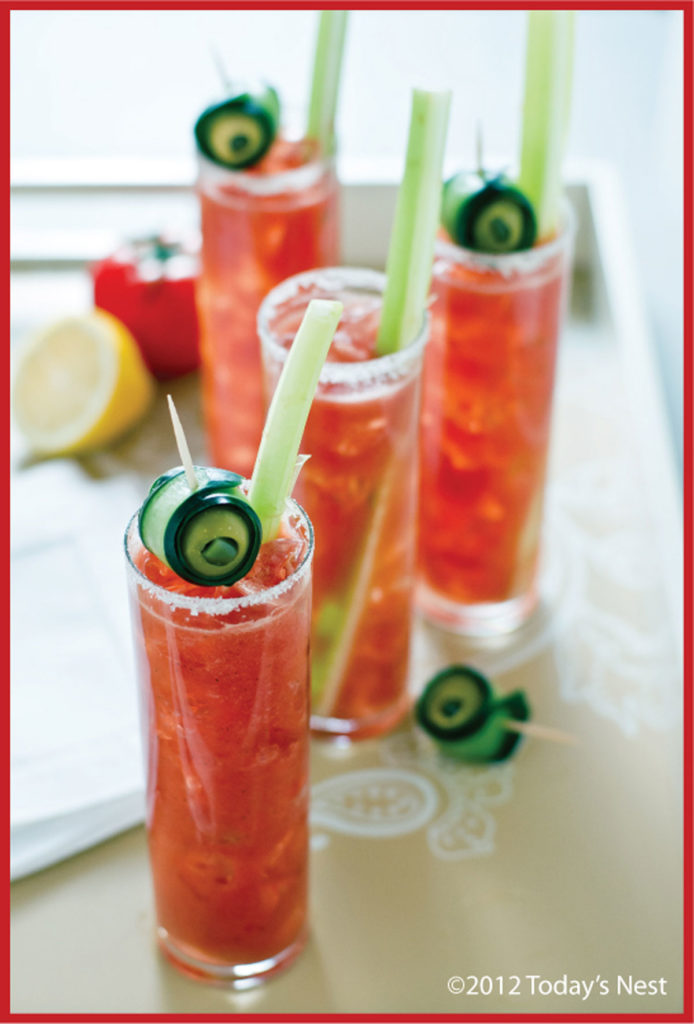 FRESH TOMATO BLOODY MARY
Before you start:
This is not too spicy, but if you have an aversion to spicy things you may wish to pull back on the pepper and hot sauce.
Liquid smoke is readily available in supermarkets and really tasty in this application.
We use a juicer to extract the juice from the tomatoes. You can certainly pulverize your tomatoes in a food processor and press through a fine sieve to get similar results.
The magic of a good bloody mary really is in the proportion of the supporting characters.
We found some pink Himalayan salt to put around the rim of our glass. It is relatively inexpensive for the amount you will need but adds a very nice touch.
The ingredients:
2 1/4 cup fresh tomato juice (about 3-4 medium tomatoes)
4 – 5 ounces chilled vodka
1/2 tablespoon tomato paste
1/2 teaspoon celery salt
1 tablespoon fresh squeezed lemon juice (save the lemon!)
1 teaspoon worcestershire sauce
1/2 teaspoon hot sauce
1/2 teaspoon liquid smoke
1/4 teaspoon salt
1/4 teaspoon ground black pepper
ice
For garnish:
2 ribs of celery trimmed and cut in half
4 jalapeno stuffed olives
4 cucumber slices
rim salt
The method:
Place all ingredients in a bowl and whisk together.
Use the lemon to moisten the rim of the glasses. Dip the rim of the glasses in rim salt.
Place a celery stick in each of the glasses. Fill with ice.
Pour the drink mix into each of the glasses.
Top with an olive garnish.
Serve immediately and COLD.