The very first 'pop' song I learned to play on the piano was Escape (The Piña Colada Song). It was quite a change from the waltzes and sonatas that I had been practicing for so long. The few chords were easy enough to bang out and the lyrics memorable enough that a lounge full of dormitory kids could belt them out and have a good time… and it was.
I sang that song about a hundred times over the past week. I have been making, writing, shooting, and eating this treat of the week since Saturday. Each time I look at them my brain radio goes straight to Rupert Holmes.
Like the song or not, you are sure to like the flavors in this Baked Piña Colada Doughnut. The pineapple is in the batter so the flavor is in every bite. We added some rum extract to the batter, too. That helps. Lastly, we topped it off with some pineapple glaze and shredded coconut. While there is some oil involved these are not fried and certainly not greasy. Close your eyes, take a bite and get ready to escape.
savour… getting caught in the rain
This is a very special post.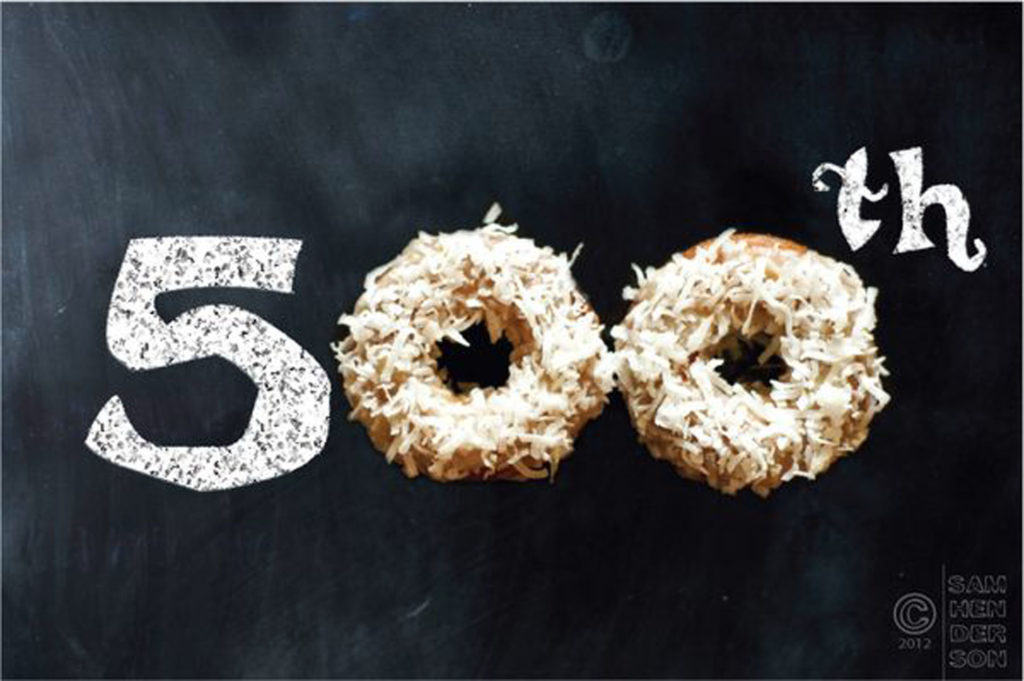 It's not enough that today is National Doughnut Day but it is also special for another very important reason. This post is our 500th post. I am sometimes shocked that we have been able to keep presenting posts week after week. I hope you have found them helpful and somewhat entertaining. If you haven't seen them all, I hope you will take some time to browse around and see what we've been up to for the past two years.
If you've been following along for some time now, I'd like to take this opportunity to thank you for your continued support. We have so much more in store for you this year. Stay tuned…
PINA COLADA BAKED DOUGHNUTS
Before you start:
You will be using one 20 oz. can of crushed pineapple. Strain the pineapple, but reserve the juice. You'll need to squeeze as much of the remaining juice out as possible using a cheesecloth or clean "non-fuzzy" tea towel. There should be some leftover to use for the glaze.
Do not overmix. Most steps require only enough mixing to combine.
If your doughnut pan only has six holes, you may have to execute 3 batches. This makes 18 doughnuts in an average pan.
The ingredients:
For the doughnuts:
2 cups cake flour / 230g
1 cup sugar / 215g
1 teaspoon baking soda
1 teaspoon salt
¾ cup vegetable oil
¾ cup buttermilk
1 teaspoon rum extract
2 eggs
1 teaspoon white vinegar
½ cup crushed pineapple, well-drained / 125g from a 20oz. can
For the topping:
Remaining pineapple (about 2 tablespoons)
1 ½ cups confectioners' sugar
3 tablespoons pineapple juice
1 ½ cups shredded coconut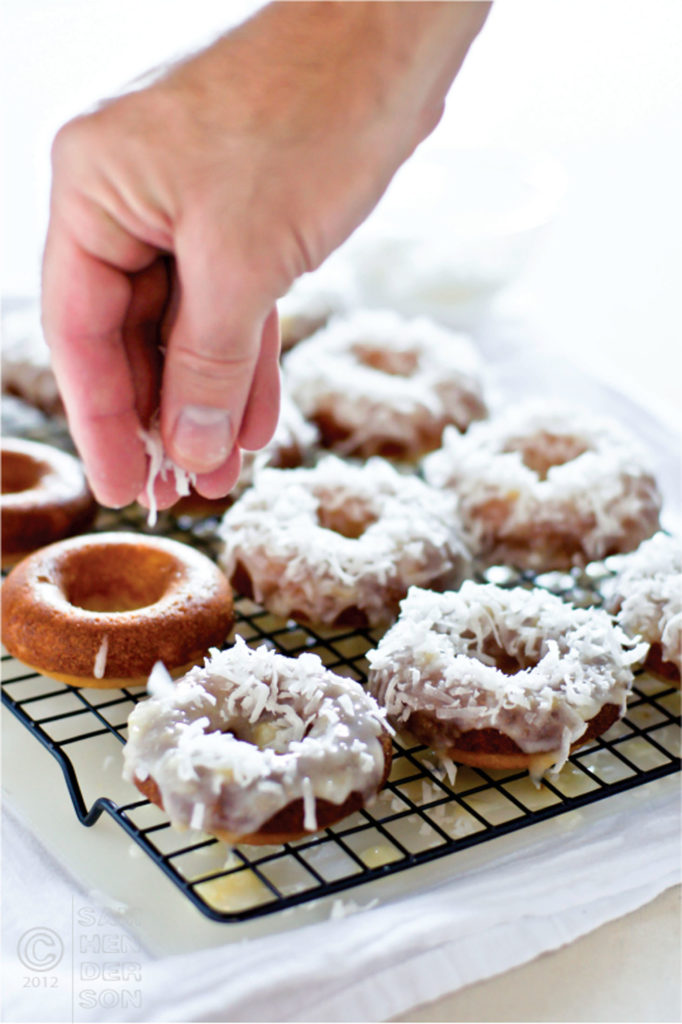 The method:
For the doughnuts:
Preheat oven to 375°.
Lightly coat doughnut pan with oil.
Mix together flour, sugar, baking soda, and salt. Whisk to fully combine ingredients.
In a separate bowl combine oil, buttermilk, rum extract, and eggs. Whisk until well combined.
Add the wet ingredients to the dry ingredients and mix only until moistened.
Add vinegar. Mix well.
Sprinkle in pineapple and fold in just until combined.
Fill doughnut wells only ¾ full.
Bake for 10-12 minutes or until golden brown.
Cool in pan for 5 minutes.
Turn out onto wire rack to cool completely.
For the topping:
Mix remaining pineapple, sugar, and pineapple juice in a bowl until smooth and creamy.
Spoon onto cooled doughnuts.
Sprinkle immediately with coconut.
Wait at least 10 minutes for glaze to set before serving.