Summer is filled with fresh fruit flavors. It should come as no surprise that July is Fresh Fruit and Vegetable Month. Coincidently, it is also National Ice Cream Month. As such, we will be featuring a different ice cream treat each Friday this month. Today we begin with Strawberry Pie Ice Cream.
We didn't eat out much when I was a kid, and when we did it was a very special event. One of my favorite places to visit was Duff's. It was a cafeteria, of sorts, but proudly called itself a smorgasbord. I had no idea what that word meant or how to say it. You can imagine the many permutations I uttered. I mostly knew it was a fun word and that it basically meant there would be more choices than I could possibly eat in one meal.
As you might have guessed, dessert was always my favorite part of the meal. In the summer there was the inevitable Strawberry Cream Pie. This fluffy pink slice of heaven was the perfect ending to my summer feast.
Today we have turned this cafeteria-style pie into an ice cream… crust included. It's all of the fun, familiar flavors in an icy cold bowl. The strawberry flavor is punctuated by lime juice and zest and the slightly salty crust adds just the right amount of balance. This is sure to be a winner in your ice cream recipe tab.
savour…summer schmorgusborgs
STRAWBERRY PIE ICE CREAM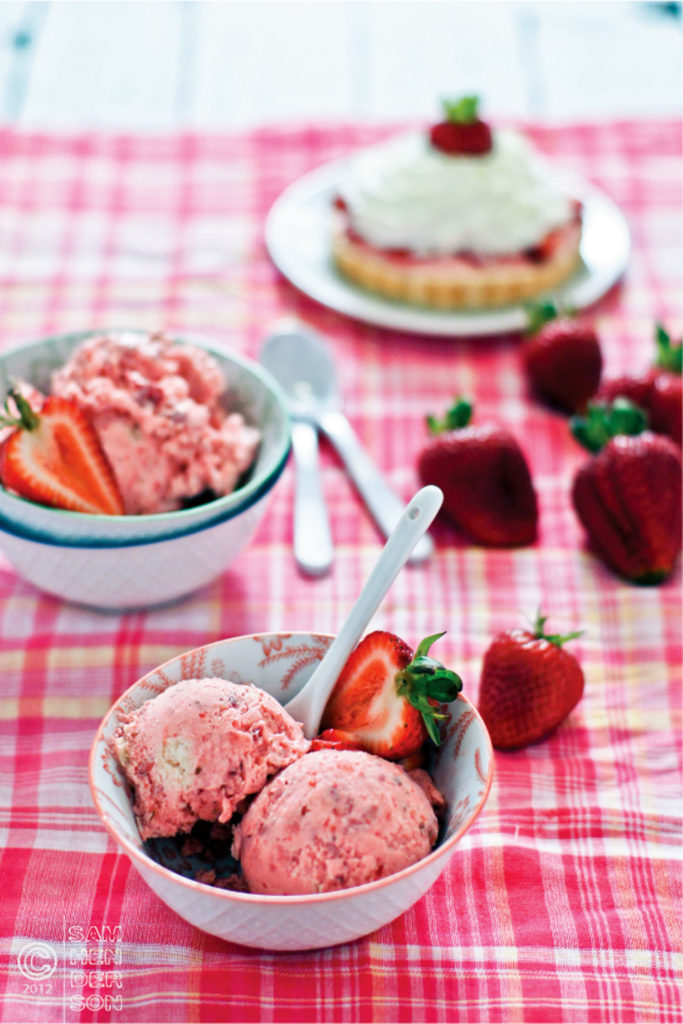 Before you start:
There are no eggs in this ice cream to create a custard base. Instead the gelatin used to make the pie filling acts as the 'body' of the cream.
You could just add the cooled gelatin mixture, cream, and berries together and put it in the pie crust to make a pie, but that would only be half the fun. Press on.
Wait until the very last minute to fold in the crust pieces. This will help to prevent them from getting soggy before they begin to freeze.
The ingredients:
1 package strawberry gelatin (4.5oz serving, unsweetened)
1 teaspoon freshly grated lime zest
¼ cup freshly squeezed lime juice (about 2 medium limes)
¾ cup boiling water
2 cups fresh strawberries, finely diced
1 ½ cups heavy cream
¾ cup confectioners' sugar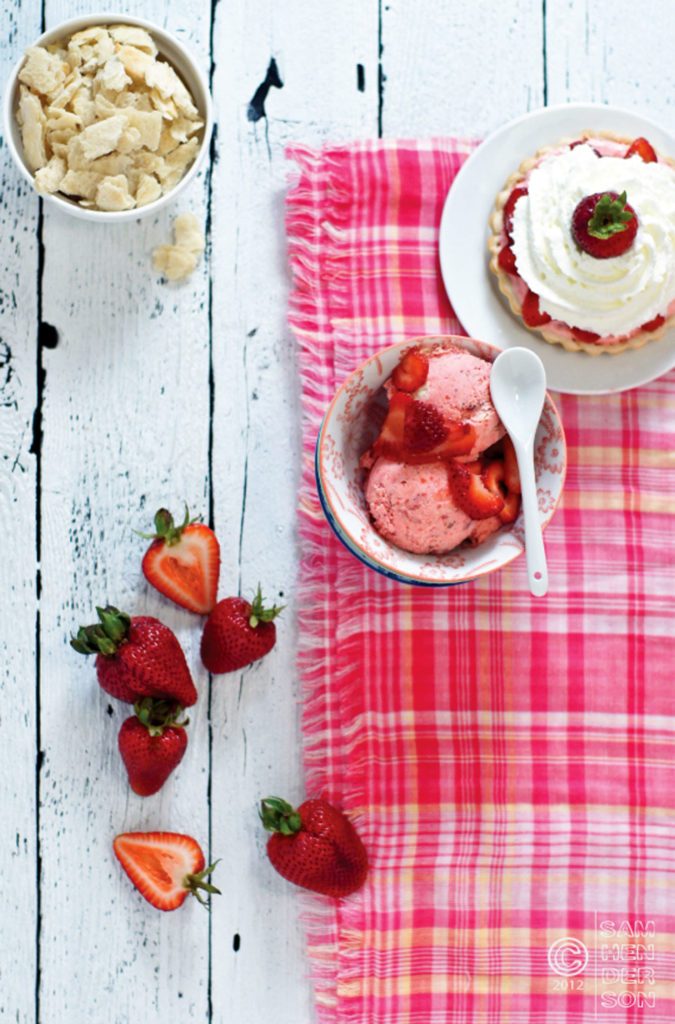 The method:
Preheat oven to 450˚F.
Place metal mixing bowl in the freezer to chill for making whipped cream.
Roll out pie crust to ¼ inch thick on a parchment-lined baking sheet.
Using a fork, prick holes all over the surface. Place in refrigerator for 15 minutes before baking.
Place gelatin in a heatproof mixing bowl. Add lime zest and juice.
Pour boiling water over gelatin and stir to dissolve completely.
Cool slightly at room temperature and then in the refrigerator for 1 hour.
After baking pie crust allow it to cool completely on wire rack. Break crust into small pieces (about 1-inch square).
Remove the gelatin mixture from the refrigerator and mix on high for 3-5 minutes until light and fluffy. Set aside.
Add cream and sugar to the chilled bowl. Whip to stiff peaks.
Gently fold in gelatin mixture. 
Pour into ice cream machine and process according to manufacturer's instructions.
About 5 minutes before the process is complete add strawberries.
Transfer ice cream to mixing bowl and fold in pie crust pieces.
Cover with plastic wrap and freeze for 8 hours or overnight.