It's time for spooky and scary… and chocolatey and sweet. Over the next few weeks we have several Halloween themed posts planned for you. Today we are kicking off the festivities with this cute little sleeve for your fun-sized candy bars. It's super easy. We've done all the hard parts for you. All you need to do is print, cut, and glue.
This tombstone candy bar wrapper is perfect for kids' school parties or a Halloween party at home. Or poke a candy bar and lollipop in it and pass them around the office. If you're swinging by my desk, I like Almond Joy.
savour…spooky sweets
TOMBSTONE CANDY BAR WRAPPER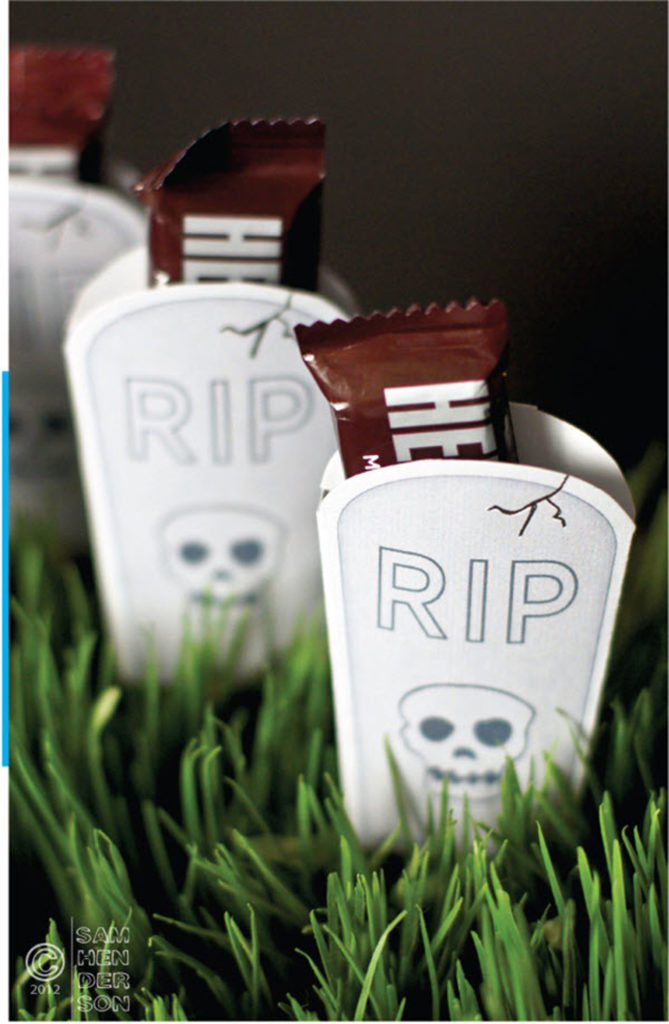 Before you start:
We printed ours on standard white cardstock. I can't say enough how invaluable this stuff is to have around.
The materials:
Scissors
Glue Stick
Ruler or another sturdy straight edge
The steps:
Print the template (a color printer will work best).
Carefully cut out each tombstone template.
Lay a cutout face down. While pressing the ruler down on the back of the cutout, pull one of the flaps which will create the back of the tombstone up and create a crease along the first black line. Move the ruler over a bit and fold up again at the next black line. This will create a triangle that will be the sides of the tombstone. Repeat for the other side.
Create a crease along the bottom of the tombstone to create the flap that will seal the back and bottom of the tombstone.
Flip the cutout over and apply glue to the edge of one of the side flaps (about ½ inch wide). Fold the other flap over and press to seal.
Apply glue to the bottom flap and fold over. Press to seal.
Insert candy.