Rarely do flavors come together in a way that make me as happy as these three… pumpkin, chocolate, and caramel. Making matters even better is the fact that it comes in the form of a rich yet fluffy cheesecake square. This is sheer fall perfection… pumpkin cheesecake bars with salted caramel glaze.
You are going to be delighted at how simple this is to make. The flavors are remarkable and the texture is what dessert is all about. Use this for your Halloween party or hold onto it for Thanksgiving. This one is a keeper.
PUMPKIN CHEESECAKE BARS WITH SALTED CARAMEL GLAZE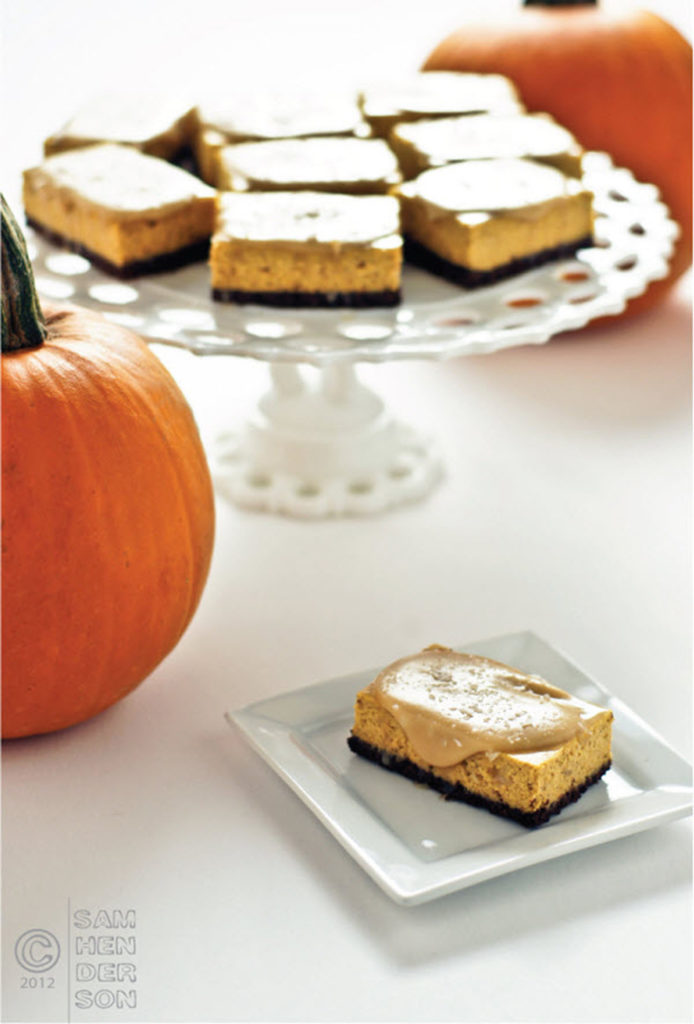 Before you start:
The chocolate graham crackers are D-licious! If you can't find them you could use some chocolate wafers if available or oreo type cookies without the filling.
Even if you don't make these bars, be sure to take note of the Caramel Glaze. We use it for all sorts of treats. You'll find the recipe for it in our Pumpkin Cookies with Salted Caramel Glaze post.
The ingredients:
2 cups ground chocolate graham crackers
½ cup butter, melted
2 packages cream cheese (8oz each), softened
½ cup sugar
½ light brown sugar, packed
1 15 oz. can of pumpkin puree
3 eggs, room temperature
1 teaspoon vanilla
3 tablespoons all-purpose flour
1 ¼ teaspoon pumpkin pie spice
¼ teaspoon salt
Flake salt for garnish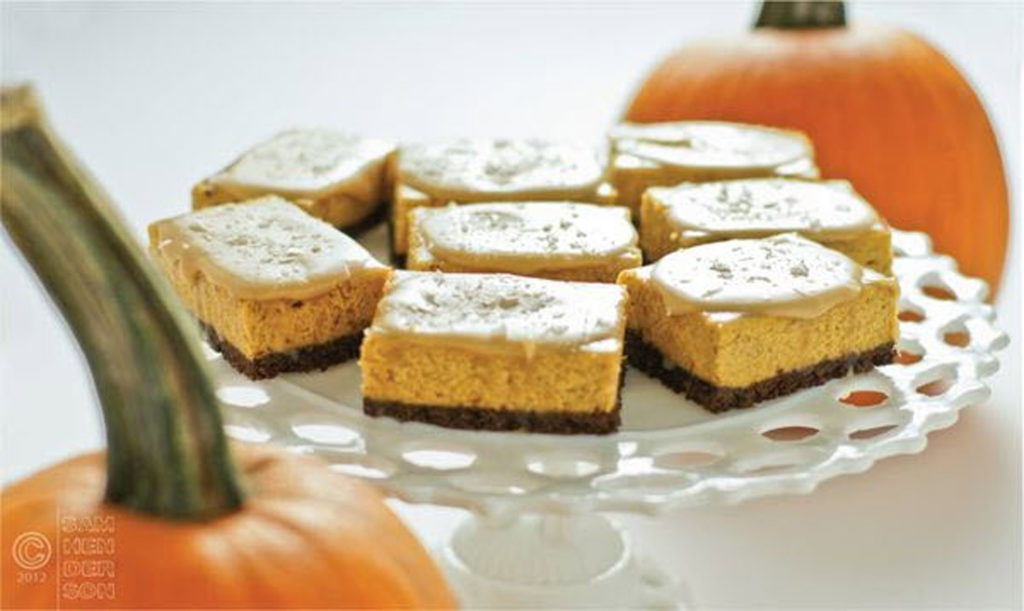 The method:
Preheat the oven to 350˚F.
Line a 9×13 pan with parchment paper with enough overlap to use as handles to lift bars from the pan later. Spray lightly with cooking oil spray.
Place graham cracker crumbs in a mixing bowl. Pour melted butter on crumbs and mix together with a fork until well combined.
Pour crumb mixture into the lined pan and spread evenly. Using the bottom of a glass or something else with a smooth flat surface, press the crumbs together firmly.
Bake for 10 minutes. Remove and allow to cool on a wire rack.
In a large mixing bowl combine cream cheese and sugars. Mix with an electric mixer until smooth and creamy (about 3 minutes).
Add the pumpkin and combine well. Add eggs one at a time, mixing in
completely after each addition.
Add vanilla, flour, spice, and salt. Mix in well.
Pour mixture onto cooled crust and spread evenly.
Place pan on a rimmed baking sheet.
Place the baking sheet in the oven and fill it almost to the top with water.
Bake for 40-45 minutes until lightly browned on top. The cheesecake
should have pulled away from the sides slightly and will be set around the edge but still a little jiggly in the center.
Remove from the heat and allow to cool completely. Cover and continue cooling/setting in the refrigerator for at least 4 hours or overnight.
Make the 5 Minute Caramel Glaze.
Lift the cheesecake from the pan using the flaps you created. Cut
into evenly sized bars.
Top each bar with caramel glaze and sprinkle with a few pieces of flake salt.