At last it's here… my favorite week of the year (at least at Today's Nest). Cookie Week has arrived and we have 5 great recipes in store for you. The cookies range from chocolatey to crispy to bacon… yes, bacon. To kick off cookie week we present rum shortbread with date filling. This cookie is light and crumbly with just the right amount of rum flavoring. Truly, you could just eat them without the filling, but the filling does take them right over the edge.
The filling is hearty and screams holiday. We added just a bit of rum to the filling to drive the point home. The pecans add a bit of crunch and texture. This is one tasty sandwich.
savour…cookie week
RUM SHORTBREAD WITH DATE FILLING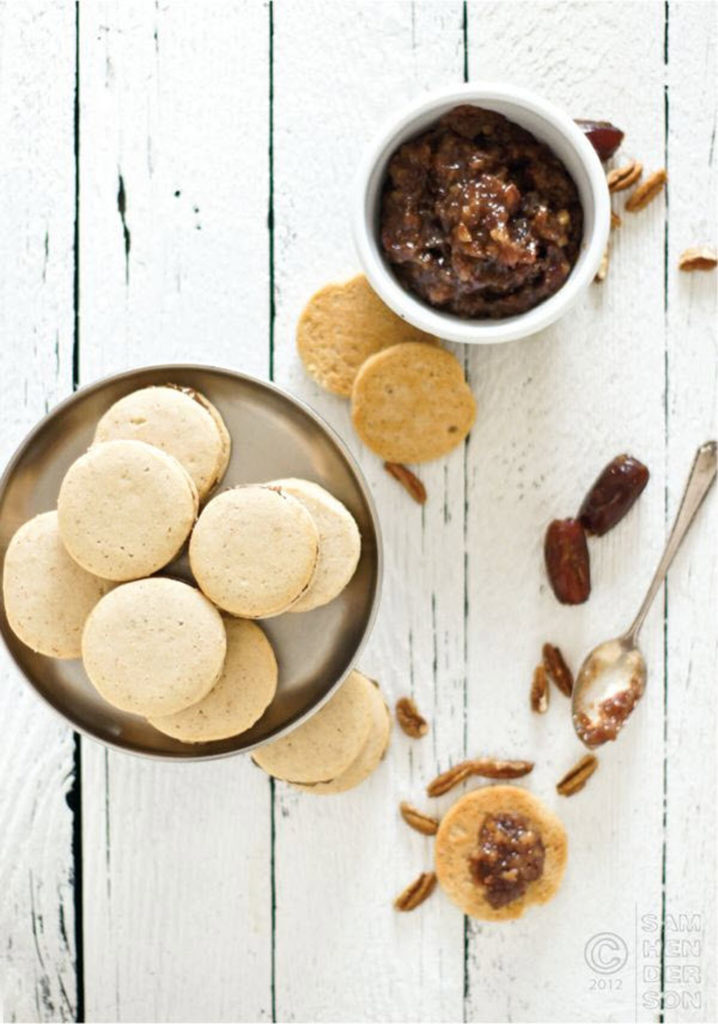 Before you start:
We used Myers Dark Rum, but you can use another variety if you choose. This cookie is meant to be full of robust fall flavor.
You can leave the rolled up dough in the fridge overnight if you wish or even for a day or two before baking.
You'll only need to leave about ¾" space between the cookies. They do not spread much. We got 5 rows of 4 on a standard baking sheet.
The cookies are quite delicate so handle with care when assembling.
This recipe will likely make more filling than you need depending on how much you sandwich between the cookies.
The ingredients:
For the shortbread:
½ cup powdered sugar
1/3 cup chopped pecans
1 cup butter, softened
2 tablespoons rum
½ teaspoon vanilla
2 cups flour
½ teaspoon baking powder
¼ teaspoon salt
For the filling:
1 cup sugar
3 tablespoons corn starch
1 ¼ cups water
2 tablespoons rum
2/3 cup finely chopped pecans
1 cup finely chopped dates
¼ teaspoon cinnamon
¼ teaspoon allspice
1/8 teaspoon nutmeg
dash salt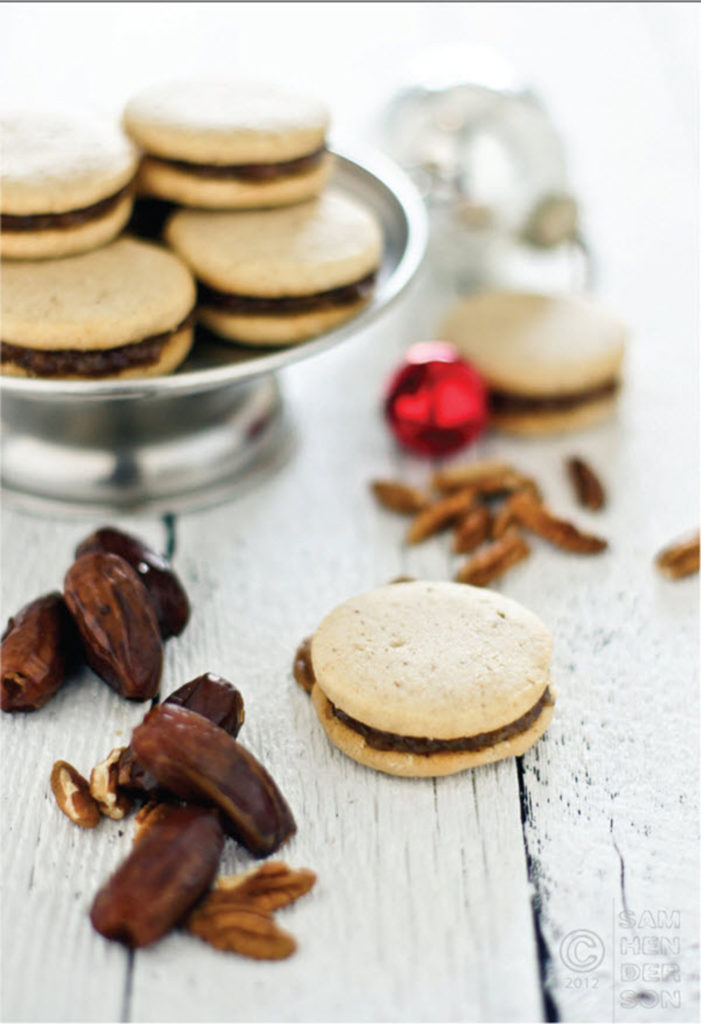 The method:
For the shortbread:
In a food processor grind the pecans with the powdered sugar until finely minced (about a minute).
In a mixing bowl, whisk together butter, rum, and vanilla. Add pecan mixture and combine thoroughly.
In a separate bowl, whisk together flour, baking powder, and salt.
Add flour mixture to wet mixture gradually and combined completely.
Separate dough into two equal parts and roll into logs about 9 or 10 inches long.  Wrap each log tightly in plastic wrap and place in the refrigerator for at least 2 hours.
Preheat oven to 375˚F.
Line a baking sheet with parchment paper.
Remove the dough from the fridge, remove the plastic wrap, and cut ¼ inch slices. Place slices on the tray.
Bake for 10-12 minutes rotating the tray halfway through. Edges should be very lightly browned.
Remove from the oven and allow to cool on the baking sheet for at least 3 minutes before attempting to move.
Move to wire cooling rack and cool completely before filling.
For the filling:
Place sugar, cornstarch, and ¼ cup of the water in a small saucepan. Bring to a boil over medium heat.
Add remaining water, rum, nuts, dates, and spices. Cook over medium low heat for 10-12 minutes, stirring frequently.
Remove from heat and transfer to a bowl to cool. Cool completely to room temperature before filling cookies.
Fill cookies by matching up sizes as closely as possible and putting together in pairs. Turn one of the cookies over and place a teaspoonful of filling in the center. Place the other cookie on top and press carefully, but firmly to distribute the filling evenly.
Store in an airtight container.