I have often wondered how someone stumbled upon the perfect pairing of chocolate and mint. These two, it seems, were made for each other.  Apart, they each enjoy good chemistry with a variety of other flavors, but when they come together it is sheer magic.  They are the Liz Taylor and Richard Burton of culinary couples.
Our treat for this week is a super simple chocolate tart paired with mint mascarpone cream. I first made this mint mascarpone cream for Pineapple Upside Down Cheesecake, but it truly has found a better home here. Mint and chocolate are once again happily together on a single plate.
savour…perfect matches
CHOCOLATE TART WITH MINT MASCARPONE CREAM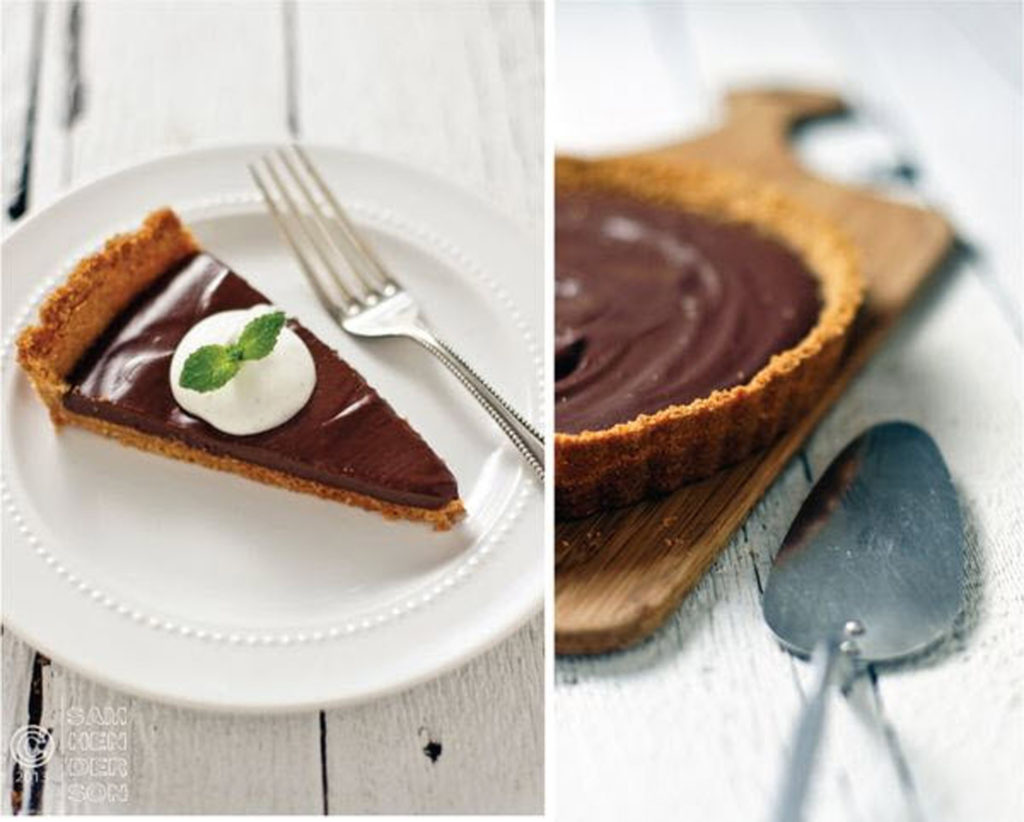 Before you start:
Letting this cool completely before serving will allow it to dry out a bit and, yes, a 'pudding skin' will form. That's intentional.
You may wish to adjust the mint up or down. This produces an adequate mint flavor, but if you prefer more intense mint add a few extra leaves.
The ingredients:
For the crust:
2 cups graham cracker crumbs, finely ground
¼ cup sugar
1 stick unsalted butter
For the filling:
¾ cup granulated sugar
3 tablespoons cornstarch
1/3 cup cocoa powder
1/8 teaspoon salt
4 egg yolks
2 cups milk
1/2 cup heavy whipping cream
1 ounces semisweet chocolate
3 ounces dark chocolate
1 teaspoon vanilla
1 tablespoon butter, softened
For the cream:
4 oz. mascarpone cream
4 oz. heavy whipping cream
12-15 mint leaves, finely chopped
1 tablespoon sugar
The method:
For the crust:
Preheat oven to 325˚F.
Add all ingredients together in a small bowl. Use a fork to combine
them to a coarse sand consistency.
Mash the crumbs into your tart pan.
Bake for 10-12 minutes.
Allow to cool completely.
For the filling:
Gather your materials and ingredients.
Whisk together the sugar, cornstarch, cocoa powder, and starch in a heatproof bowl.
Whisk in 1/2 cup of the milk and mix well.
Whisk in one egg yolk at a time.
Set this mixture aside.
Place heavy whipping cream and remaining milk in a saucepan. Bring to just boiling, stirring frequently.
Remove from heat.
Slowly pour the heated milk mixture into the chocolate/egg mixture while whisking.
Transfer the pudding mixture to a clean saucepan and cook over medium heat.
Stir constantly until thickened (about 4 or 5 minutes).
Remove from heat and pour into a heatproof bowl through a strainer into a heatproof bowl.
With a rubber spatula, stir in butter and vanilla.
Add 1-ounce semisweet chocolate and 3 ounces dark chocolate to the bowl.
Stir until well combined.
Cool for about 3 minutes before pouring the mixture into prepared crust. Smooth top with a rubber spatula.
Cool, uncovered, completely before covering loosely with plastic wrap and storing in refrigerator.
Top with Mint Mascarpone Cream to serve.
For the cream:
Muddle the mint leaves and the sugar together with a pestle and mortar.
Add the mixture to a bowl with cheese and whipping cream.
With the whisk attachment start whipping on low speed and work up to the highest speed.
Whip until stiff peaks form (around 2 – 3 minutes).
Store in refrigerator.