We've got you covered today with a dessert that is perfect for your Memorial Day celebration. It is a classic cheesecake covered in a blueberry sauce made from fresh berries. The cheesecake is simple to make and I often regard it as the last cheesecake recipe you will ever need.
The blueberry sauce is perfectly sweet and just a little tart. I like to make it just thick enough to stick together but not be too gooey. The sauce would be perfect for topping vanilla ice cream, too. In fact, both of the components are keepers for other ideas.
savour... something you can rely on
BLUEBERRY CHEESECAKE
Before you start:
We used low fat cream cheese in our dessert, but you could substitute with full octane if you wish with no consequence.
If you do not have superfine sugar on hand, you can make some by whizzing regular granulated sugar in your food processor for 30-45 seconds.
Tip: If you make some superfine sugar, make extra to have on hand. It is perfect for sweetening iced tea in the summer. Consider placing the leftover vanilla bean in the sugar to flavor it after you've scraped out the seeds.
Be sure to stir the berry sauce very gently if you wish to have plump full berries on top of your cake. They become quite fragile with heat.
The ingredients:
For the crust:
4 oz graham crackers
4 oz ginger snaps
4 tablespoons unsalted butter
For the filling:
1/4 cup cornstarch
1 cup superfine sugar
2 1/2 cups light cream cheese, at room temperature
1 vanilla bean
2 eggs, at room temperature
1 1/4 cups sour cream
For the sauce:
1/3 cup superfine sugar
3 tablespoons water + 2 oz water
3 1/2 cups fresh blueberries
1 teaspoon
cornstarch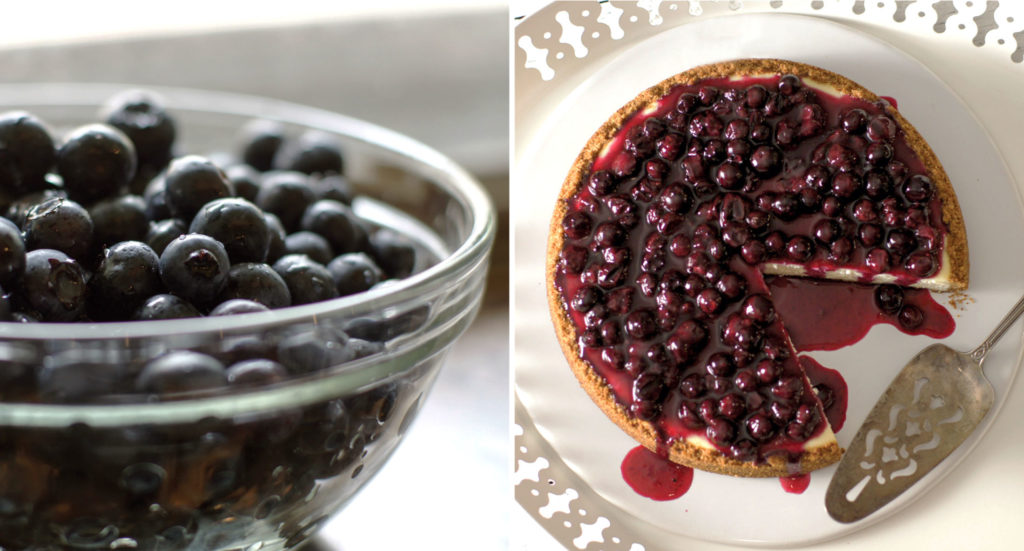 The method:
For the crust:
Preheat oven to 350˚F.
Line the bottom of a springform cake pan with a circle you cut from parchment paper.
Crush graham crackers and ginger snaps into fine crumbs using a food processor or plastic bag and rolling pin.
Melt butter and pour over crumbs. Mix completely with a fork.
Press the crumbs into the bottom of the springform pan. Using a glass or other flat bottomed tool, press the crumbs firmly into the pan and up the sides about 1 1/2 inches.
Bake at 350˚F for 10 minutes. Remove and allow to cool slightly before adding filling.
For the filling:
Whisk sugar and cornstarch together in a large bowl.
Add cream cheese and mix thoroughly.
Split vanilla bean down the center and scrape inside. Add to mixture along with the eggs. Mix thoroughly.
Add sour cream and mix until smooth and creamy.
Pour filling into crust and smooth out top with a rubber spatula.
Bake at 350˚F for 10 minutes.
Reduce heat to 275˚F and bake for 35-45 minutes. The outsides will be firm and the center will still be a bit jiggly.
Turn off the heat but leave the cake inside the oven undisturbed for 2 more hours.
Remove from the oven and allow to cool slightly before placing in the refrigerator.
Refrigerate at least 8 hours.
Top with blueberry sauce and serve.
For the sauce:
Place sugar and 3 tablespoons water in a medium saucepan. Stir to dissolve sugar. Bring to a boil over medium-low heat.
Add fresh blueberries Gently stir to coat berries with syrup. Cover the pan and cook for 5 minutes, stirring gently once at the halfway point.
In a small glass or bowl add 2 oz of cold water to 1 teaspoon cornstarch. Stir to dissolve.
Add cornstarch to blueberries. Stir gently for about 30 seconds. Remove from the heat and allow to cool.