It is no wonder the Mediterranean Diet continues to grow in popularity. The fresh, wholesome ingredient approach to cooking provides flavor and nutrition. By using a combination of foods that bring out the best in each other, you can create a plate that is packed with goodness and tastes great, too.
This Mediterranean Chicken and Quinoa Salad gathers together some of the most familiar flavors of the region in a dish that will be the highlight of your spring and summer gatherings. The quinoa and chicken provide plenty of protein power. The supporting fresh ingredients add a robust backdrop without adding loads of unwanted fat and calories. It is super light and satisfying. Enjoy it as a side or even the main course of a light lunch.
savour… light food, full flavor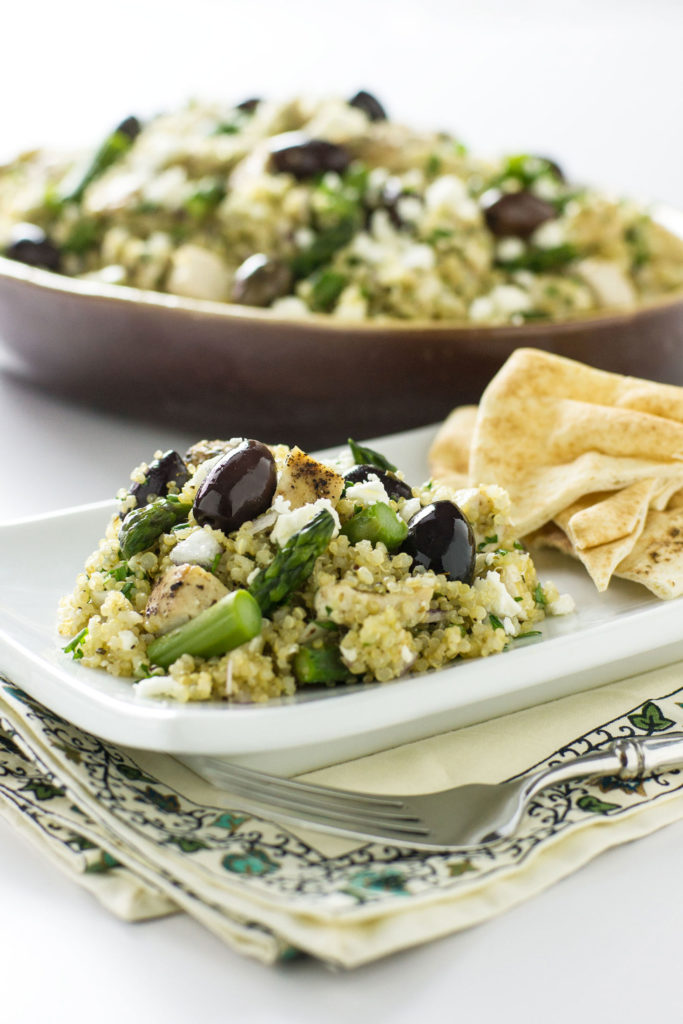 MEDITERRANEAN CHICKEN AND QUINOA SALAD
Before you start:
The olives and feta will add quite a bit of saltiness to the salad. For that reason, wait until you have assembled all of the ingredients and taste the salad before adding any additional salt.
Looking for a vegetarian approach? Substitute the chicken with 1 1/2 cups of garbanzo beans that have been lightly sauteed in olive oil and a bit of salt and pepper.
The ingredients:
1 cup quinoa
2 cups water
1/2 teaspoon salt
1 1/2 cups grilled or roasted chicken breast
1/2 cup kalamata olives
1 cup asparagus (10-12 medium stalks), cut into 1 inch pieces
1/3 cup red onion, diced
1/4 cup fresh parsley, finely chopped
1 1/2 tablespoons fresh oregano, finely chopped
1/2 teaspoon garlic powder
1/2 cup feta cheese, crumbled
3 tablespoons olive oil
The method:
Prepare the chicken breasts by lightly coating in olive oil and covering with salt and black pepper. Roast or grill until fully cooked and lightly browned. Allow to cool completely and cut into 1/2 inch chunks.
Prepare quinoa by bringing water to a boil in a medium saucepan over high heat. Add quinoa and 1/2 teaspoon salt. Reduce heat to medium and cook, covered, for 12 minutes. Remove lid and fluff with a fork. Remove from heat, replace lid and let it rest for 15 minutes or until quinoa is light and fluffy and all of the water has been absorbed. Cool slightly, then place in refrigerator to cool completely.
Bring about 1 1/2 inches of water to a boil in a medium saucepan over high heat. Snap ends off of asparagus. Add asparagus stalks to the water, cover, and remove from the heat. Let it steam for 4-5 minutes. Immediately place steamed asparagus in an ice bath to halt cooking. When chilled, remove asparagus and cut into 1 inch pieces.
Add chicken, olives, asparagus, onion, parsley, oregano, and garlic powder to a medium bowl. Toss gently. Add quinoa, feta, and olive oil. Toss gently. Serve with fresh pita, if desired.