September has finally arrived! I've been seeing many autumn photos in my Instagram feed from people around the country, people clearly further north of the equator than I am. For many of you leaves are starting to turn and you are waking up to cooler temperatures. I am anxiously awaiting those days. In the meantime, I am doing what I can to push summer out the back door by embracing the flavors of fall.
This pumpkin and dark chocolate mousse ought to do the trick. In the past couple of years I have embraced pumpkin and dark chocolate like peanut butter and dark chocolate or mint and dark chocolate. I'm beginning to see a pattern here. What doesn't taste good with dark chocolate? I find that what really enhances the dark chocolate are the spices associated with pumpkin desserts like cloves and cinnamon and ginger.
These mousses are very easy to make. They can (and should) be made a little in advance making them perfect for a Halloween party or Thanksgiving dinner. We've garnished ours with a marshmallow, but it would be equally good with a dollop of whipped cream.
savour... light and fluffy
PUMPKIN AND DARK CHOCOLATE MOUSSE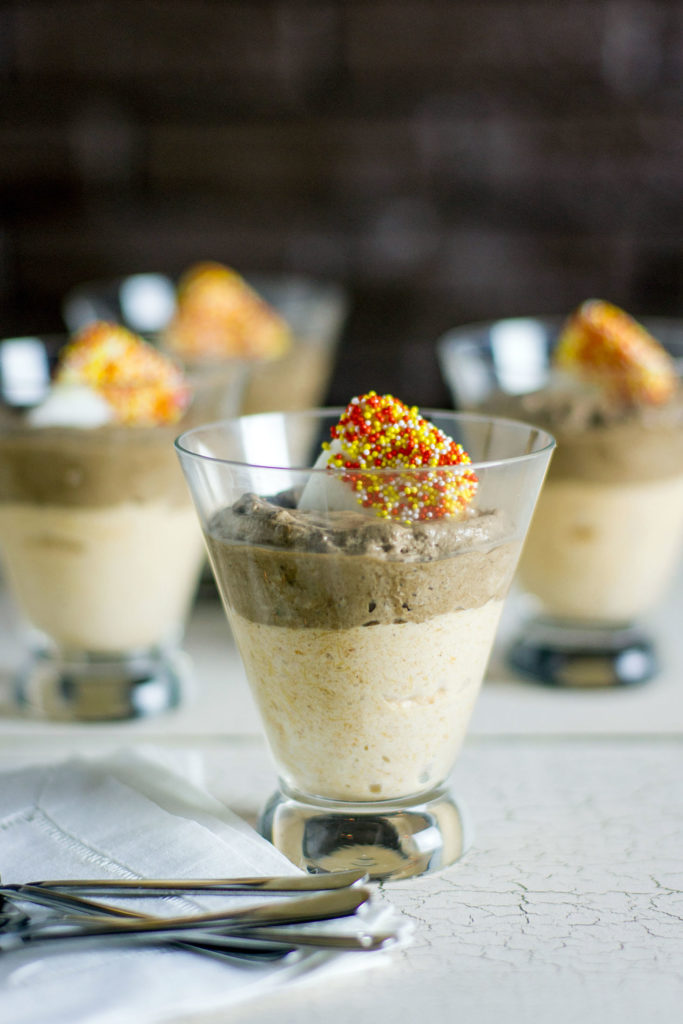 Before you start:
Buy the best quality chocolate you can afford. Good taste starts with the best ingredients.
To make the marshmallow garnish cover most of the marshmallow with your hand. Very lightly mist the exposed part with a spray bottle filled with water. Dip the moistened end into sprinkles or sanding sugars and let dry before inserting into the mousse.
You can use canned pumpkin puree if you wish. In fact, the recipe is written with that in mind. The amount of pumpkin in the recipe is equal to the amount in a 15 oz can. However, the fresh-roasted pumpkin will have a better flavor. In our case, we actually used fairy tale squash, but the flavor is identical.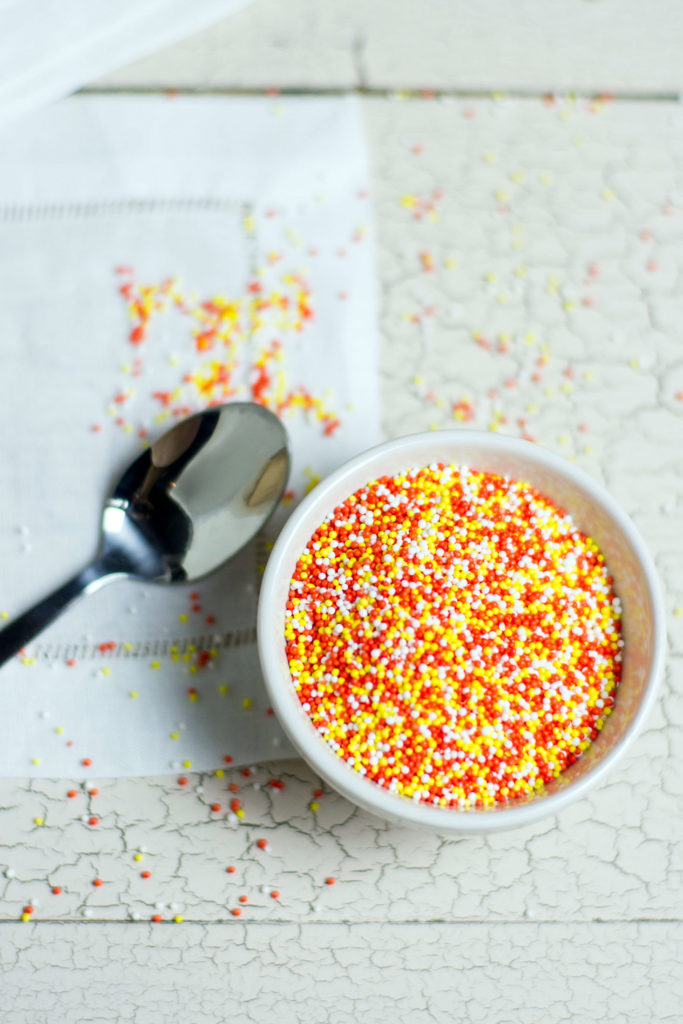 The ingredients:
For the pumpkin mousse:
1 3/4 cups pumpkin puree (15 oz can or freshly roasted)
1 cup + 2 cups heavy cream
¾ cup of sugar
1 teaspoon pumpkin pie spice
pinch of salt
1 teaspoon vanilla extract
For the chocolate mousse:
7 oz. of dark chocolate ( I like at least 70%)
7 eggs, yolks and whites separated
2 tablespoons sugar
1 ¼ cups heavy cream
pinch of salt
Garnish:
8-10 flat marshmallows
sprinkles or sanding sugars
The method:
For the pumpkin mousse:
Add pumpkin puree, 1 cup of cream, sugar, salt, and spice to a medium saucepan. Bring just to a simmer and continue simmering for 5-6 minutes, stirring frequently. Remove from heat and cool before proceeding.
Place the remaining 2 cups of heavy cream and vanilla extract in a chilled metal bowl and beat to stiff peaks.
Gently fold pumpkin into whipping cream in thirds. Cover bowl with plastic wrap and store in the refrigerator for at least 4 hours before serving.
For the chocolate mousse:
Place chocolate in a heatproof bowl over a small saucepan with about an inch of water in the bottom. Bring the water to a simmer and continue simmering until the chocolate is almost completely melted. Remove from heat and continue whisking until chocolate is completely melted. Set aside to cool completely.
In a small bowl, whisk egg yolks together until smooth. Set aside.
Place heavy cream in a chilled metal bowl and whisk to stiff peaks. Set aside.
In another clean, metal bowl whisk eggs whites and salt to soft peaks. Add sugar and whisk to stiff peaks.
Gently fold yolks into egg whites. Add chocolate and fold again gently. Lastly, add whipped cream in thirds, folding gently but thoroughly. Cover the bowl with plastic wrap and refrigerate for at least 4 hours before serving.
Assembly:
Place about 1/3 cup of pumpkin mousse in the bottom of a bowl or glass. Add an equal amount of chocolate mousse. Tap the bottom of the bowl or glass gently on the counter to fill in large air pockets.
Moisten the end of a flat marshmallow and dip in sprinkles or sanding sugars. Insert the dipped marshmallow into the chocolate mousse. Serve chilled.