Add a little life to your Day of the Dead celebration with a cocktail party. We have everything you need to put you on the right track with two new recipes – Arroz con Leche Cupcakes and Tequila Sunrise Mimosas. Not only are they pretty, but super tasty, too. The cupcakes are moist and delicious and the splash of grenadine in the mimosa creates a beautiful sunrise effect.
Watch the video for step by step instructions. You will find the full recipe below.
savour… scary good
VIDEO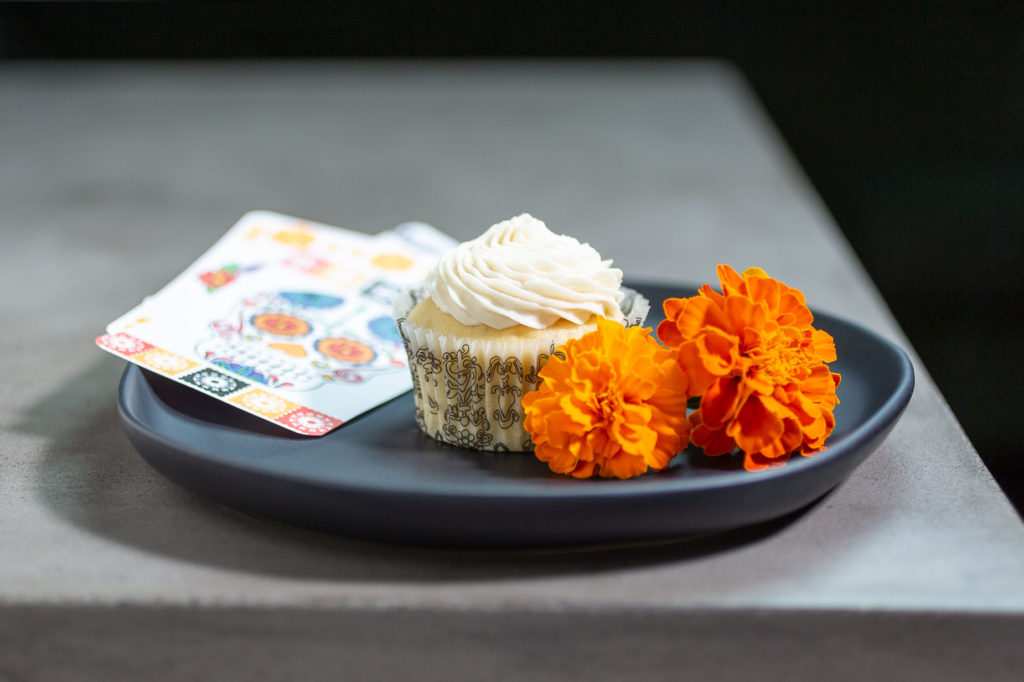 ARROZ CON LECHE CUPCAKES
24 servings
prep time: 20 min, cook time 25 min
The ingredients: 
½ cup medium-grain rice
2 cups water
2½ cups evaporated milk
¼ cup cornstarch
2 teaspoons vanilla extract
1 cinnamon stick
3¾ cup all-purpose flour
1¼ cup sugar
¾ teaspoon salt
1 tablespoon baking powder
1 cup milk
½ cup vegetable oil
½ cup unsalted butter
2 tablespoons Greek yogurt
2 eggs
4 cups vanilla buttercream
6 tablespoons caramel sauce
The method: 
Bring rice and water to boil in saucepan over high heat. Reduce to medium and simmer until soft, about 30 minutes.
Add 2 cups evaporated milk and ¼ cup sugar. Raise heat to high. While the mixture comes to a boil, mix 1¼ cups milk with ¼ cup cornstarch.
Add the cornstarch mixture and 1 teaspoon vanilla extract at boiling point. Stir well to combine. Remove from heat. Spread rice mixture in large flat container, cover with cling film and refrigerate for 1 hour.
Preheat oven to 350˚F. Prepare cupcake tins.
Sift together flour, baking powder, remaining sugar, and salt. Add to a mixing bowl with softened butter. Mix on medium speed to fine sand consistency.
In a separate bowl, whisk together milk, eggs, yogurt, oil, 1 teaspoon vanilla, and 1 cup of rice pudding.
With mixer on low, add wet ingredients to dry ingredients in a slow stream just until no dry ingredients are visible.
Fill each cupcake liner 3/4 of the way. Bake for 20-25 minutes or until cupcakes pass clean toothpick test. Cool completely.
Prepare caramel frosting by adding caramel sauce to buttercream. Mix until fully combined.
Core the center of each cupcake and fill with rice pudding. Smooth the top with back of spoon.
Use a piping bag to add frosting to top of each cupcake.
TEQUILA SUNRISE MIMOSAS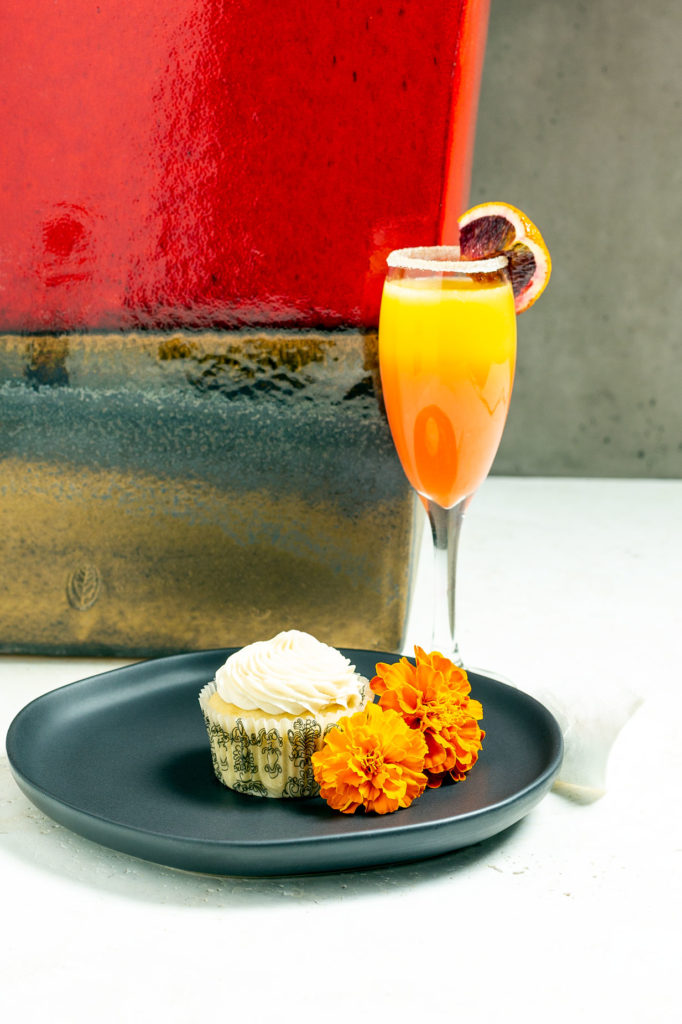 2 servings
prep time: 5 min
The ingredients: 
blood orange wedges from 1 blood orange
sugar for dipping
3 oz. tequila
champagne
orange juice
Few splashes grenadine
The method: 
Coat each glass rim with orange juice, then dip in sugar.
Add 1.5 ounces tequila to each glass, then fill the glass halfway with champagne.
Fill remainder with orange juice and a splash of grenadine.
Garnish with an orange wedge.