Hey there! Big NEWS – this month marks twelve (12!) years since we started Today's Nest. As the saying goes – time really does fly when you are having fun! We are still going strong (and having fun), but seeking opportunities to continue to build this community in new and exciting ways. We have gone through several changes over the years, but the mission remains the same: help make the lives of our audience better by sharing food, lifestyle, and travel content that informs and entertains. There is a load of fresh, new content coming your way this month. I hope you will find it entertaining and useful. If you love it, I hope you will share it with others, too. You will find SHARE buttons at the top and bottom of every article.
Cheers to another 12 years!
"Thank you" isn't quite enough, as it is not lost on me that we could not have kept going without this community. I am eternally grateful for the fact you continue to return to our site, but for so much more than that. You see, Today's Nest not only gave me an opportunity to reach people by following my passion, but it also made it possible for me to live the life I imagined. Shortly after the site began, I took a leap of faith and changed my career forever from boring office job (for me, at least) to content creator, where I have been able to develop my skills in areas that bring me real joy. I owe all of that to Today's Nest, and of course, to you.
wait... what happened to lola?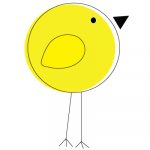 Many of you have been with us since the beginning and I can't tell you how incredible it is to hear from you from time to time. If you followed us back then, you likely remember our mascot, Lola. She was a cute little yellow birdie who was on all of our marketing and the inspiration for many articles like
Lola's Lemon Cupcakes
, which we made for our second anniversary. Some of you may even have a Lola necklace, which we sent out around year five, I think. If you still have one, send us a photo.
Lola has since retired, but her spirit lives on in our daily work. It is possible that she will return someday in a cameo appearance. For now, however, she is enjoying her days with tea and seed and playing Wordle with her friends.
There will be so much for you to see in March at Today's Nest. We've got everything from what to EAT. SEE. DO in Dublin, Ireland to potato chip cookies. I hope you will visit frequently… and to make sure that you don't miss anything, please subscribe at the bottom of the page. As always, if you have comments or questions, please feel free to contact me at sam.henderson@todaysnest.com.