This is Lola. In case you haven't met her, she is the inspiration for just about everything we do around here. Lola is a thrifty girl with modern sensibilities. She loves smart, simple design, making things from scratch, and good food. Lola is a modern homemaker raising two little canaries and juggling all that comes with that… and one other thing about Lola… she LOVES cupcakes.
Since yesterday was her birthday, we have dedicated our treat of the week to her. Lola's Lemon Cupcakes are thick, moist cake with a limoncello buttercream icing. It's a lemon explosion… in a really good way. It is cocktails meets cupcakes. What a wonderful way to celebrate!
savour… cupcakes and candles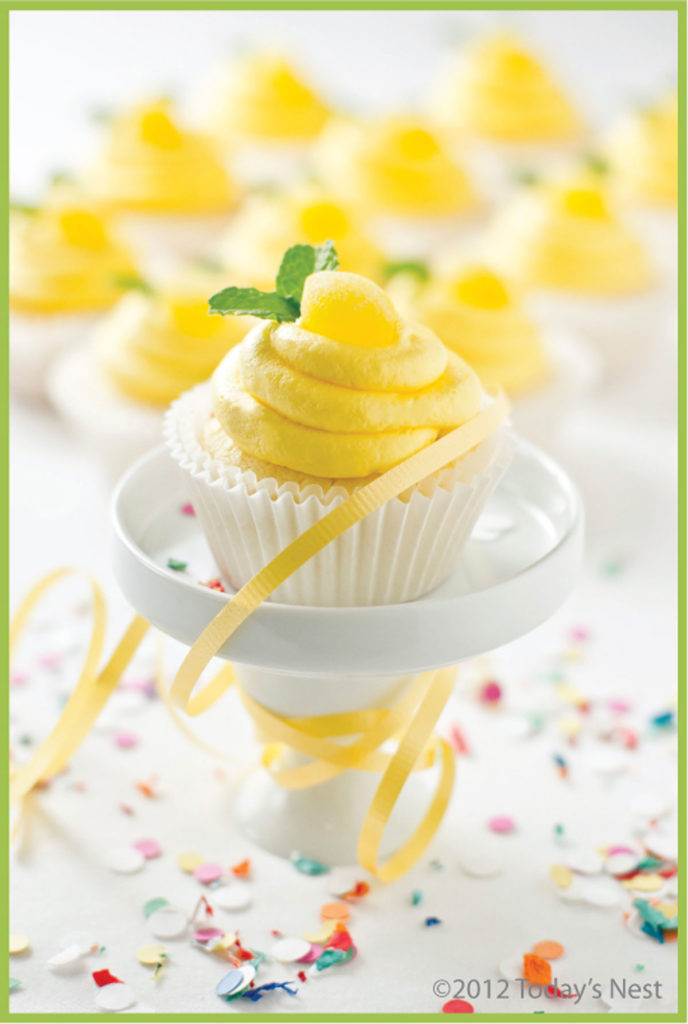 LOLA'S LEMON CUPCAKES
Before you start:
If you don't want the alcohol of limoncello, you could substitute ¾ teaspoon lemon extract in the buttercream. Reduce the confectioners' sugar to 3 ½ cups.
We garnished our cupcakes with a lemon drop and tiny fresh mint leaves. You could certainly use Lemonheads or a candied lemon peel instead. For that matter, a light sprinkling of sparkly sugar would be very pretty, as well.
The ingredients:
For the cake:
4 oz cream cheese, softened
6 tablespoons unsalted butter, softened
2 eggs
2 teaspoons fresh lemon zest
2/3 cup sugar / 135g
scant cup all purpose flour / 115g
½ teaspoon baking powder
Pinch of salt
For the limoncello buttercream:
½ cup unsalted butter, 1 stick
½ cup shortening
4 cups confectioners' sugar, sifted
3 tablespoon limoncello
½ teaspoon powdered food dye (optional)
Thanks for two wonderful years!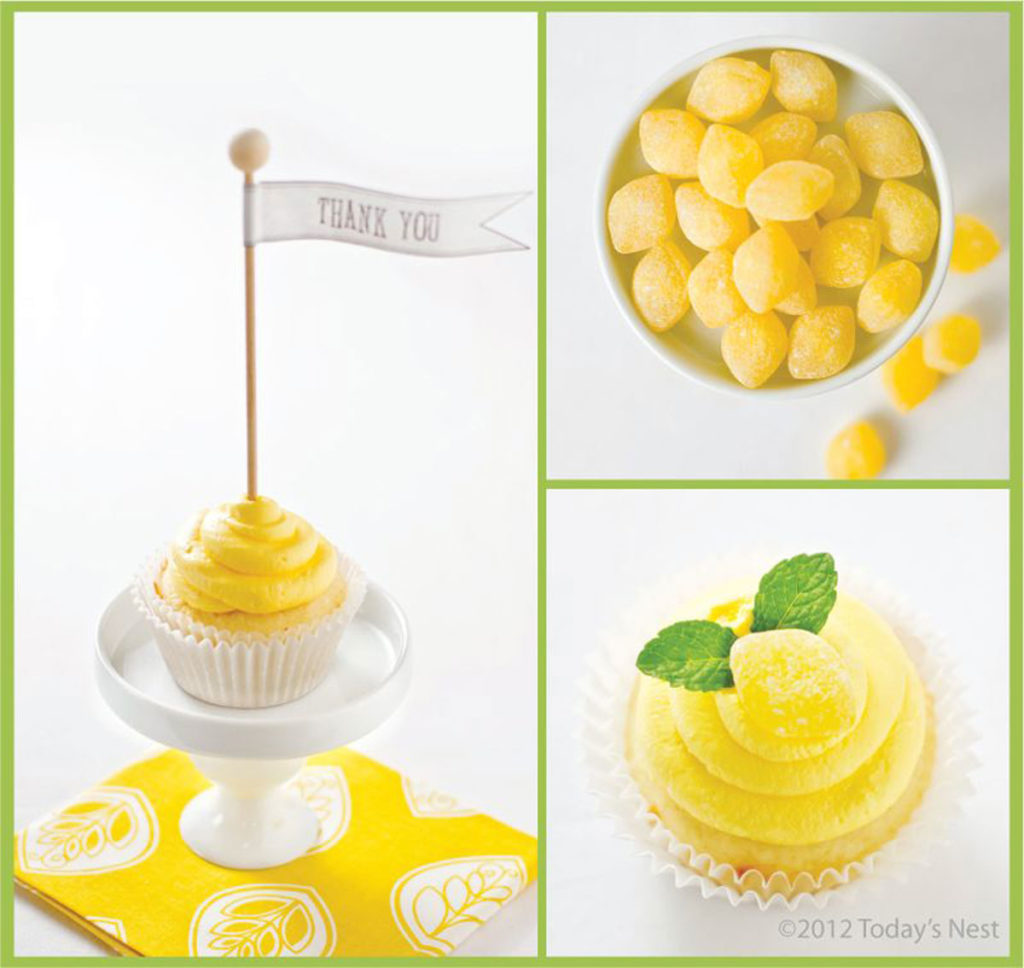 The method:
For the cake:
Preheat oven to 350˚. Line cupcake tin with papers. Set aside.
Place the cream cheese, butter, eggs, zest, and sugar in a mixing bowl. Mix until light and creamy.
Sift together the flour, baking powder, and salt.
Add dry ingredients to cream cheese mixture while mixing on low speed. Mix until well incorporated.
Divide batter among one dozen cupcake papers. Smooth out the tops with the back of a teaspoon.
Bake for 18-20 minutes or until lightly browned. They should pass the clean toothpick test.
Cool in the tin for 3 minutes before removing to cool completely on a wire rack.
Top with Limoncello Buttercream and garnish with fresh mint leaves and a lemon drop. Makes 1 dozen.
For the limoncello buttercream:
Cream together the butter and shortening until light and fluffy.
Add sugar and beat on low speed for 30 seconds.
Add limoncello and beat on medium high for 3-5 minutes or until smooth and fluffy.