It's less than a week until Easter. I am kicking off the week with one of our Easter favorites… cascarones.This Easter tradition comes to us from Mexico. If you live in the southwestern United States you may have seen these before. We first saw cascarones while living in San Antonio several years ago. They have been an Easter mainstay ever since.
The idea is to take a confetti-filled eggshell and either crush it in your hand over someone's head or (depending on your familiarity with the target) crush it directly on their head. I will leave the method up to your judgment. Either way, it can be great fun.
The process of making them is simple. It is easy for children to participate. The materials are inexpensive… and all biodegradable. This project is a slam-dunk. It will take some advance preparation in that you must have the eggshells to start. We begin collecting the shells weeks ahead of time.
To collect the eggs begin carefully cracking eggs very near the top whenever you use them. Peel away a "circle" about 1 inch in diameter around the crown of the egg. Utilized the contents as usual, but rinse out the egg and dry, hole side down, on a wire rack or paper towel. When the egg is completely dry be sure to tear any membrane that may remain at the bottom of the shell inside. This will help you later.
You will find the instructions below for making the cascarones. You can make them as plain or elaborate as you wish. Let your imagination run wild. I have even heard of birdseed- filled cascarones used at weddings. I would love to see some photos of your results.
A word of caution: You reap what you sow. Be prepared to get your "do" full of confetti. The fun is contagious. Once you start smashing cascarones, it is difficult to stop.
savour… sneak attacks
CASCARONES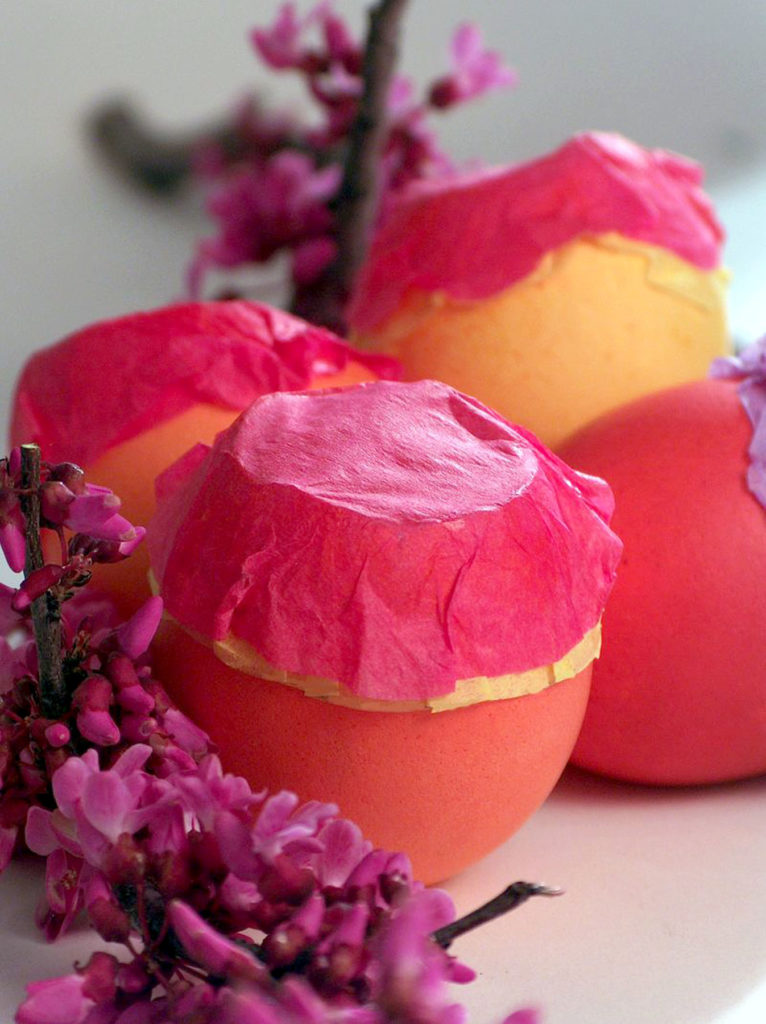 Before you start:
Our eggs are dyed with food color. If you choose to go all natural, try this.
The key to saturated color is patience. Get many small containers and let your eggs soak for hours if not overnight.
Tearing the membrane inside the egg will eliminate the air pocket it creates. This will help to keep your eggshell submerged in the dye.
I used two tissue paper circles on each egg for added color. Only one circle is necessary.
Save the egg carton. It will make it far easier to work with the eggs for filling, etc.
The materials:
Eggshells
Egg dye
White vinegar
Cups or other containers for dyeing
Paper confetti
Scissors
White school glue
Drying rack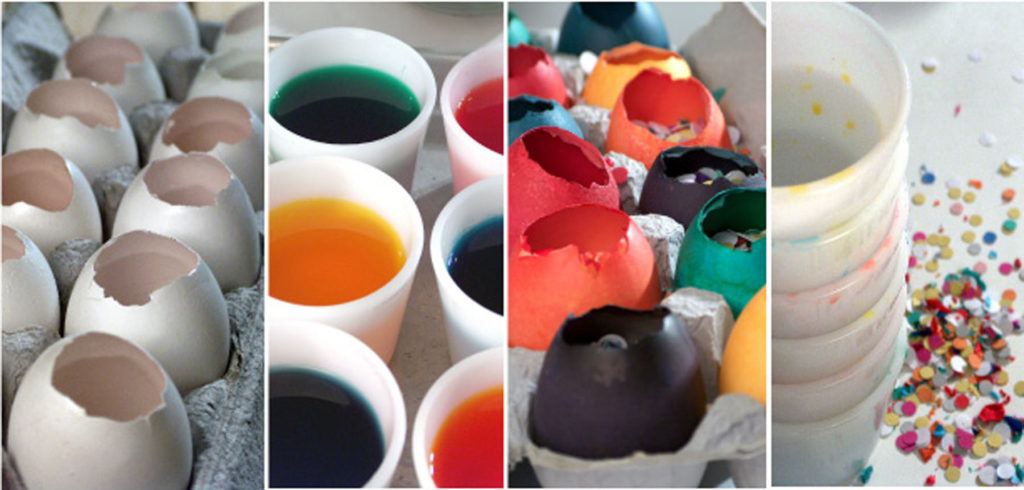 The method:
Collect and dry eggshells.
Dye with your preferred method.
Allow them to dry completely.
Fill with paper confetti.
Outline 2-inch circles on several colors of tissue paper and cut out.
With your finger or small brush apply glue to egg around the perimeter of the hole you created.
Apply tissue paper.
If you wish, apply a small amount of glue and another contrasting piece of tissue paper.
Allow drying completely before use.
Have fun.