新年快乐 Gung how fat choy (loose phonetic translation)… This is the traditional Cantonese Happy New Year greeting, which literally means, "May prosperity be with you".
Today marks the beginning of the Spring Festival. This is the oldest festival in China. Most of us know it as the Chinese New Year. It marks the reawakening of the Earth and the beginning of a new growing season.
This is also the period that a new phase in the 12-year cycle begins, each named after a different animal. This year is deemed the year of the horse. People born in this year of the 12-year cycle are said to have great communication skills and enjoy being in the limelight.
Have fun with the idea and celebrate it in your own way. Around here, we like to have Chinese take out (clearly American style Chinese food) and embrace some of the other traditions. For a boost in the right direction, I have included my favorite quick and easy fried rice recipe. Although I make the rice at home, I always get the eggrolls from our neighborhood Chinese restaurant.
savour… leaving some things to the experts
Chinese New Year
The Chinese New Year comes with many traditions. Even if you are not Chinese, you may wish to have some fun with these traditions with your own family. Here are some things you could try:
Clean your house – tradition says that the kitchen god will come and visit your home and make a report to the heavens about its condition.
Pay any debts- This is an attempt to get a fresh start.
Get a haircut- This is another attempt to put your best foot forward for the new year.
Set off fireworks – on New Year's Eve people often stay up late and set off fireworks to scare off the evil spirits.
Red envelopes – red envelopes are decorated and filled with money to pass out as an offering of prosperity. The red is for luck.
Paint the town red – or at least put out plenty of red stuff. As a tradition, many people give their door a fresh coat of red paint.
Create strong family ties – often lights are left on all night and everyone, including kids, stays up very late playing games and celebrating.
Bring the blooms – decorate your home with white narcissus, plum blossom, or chrysanthemum.
Easy DIY Red Envelope:
For the red envelope, we created a fun template that you can print on red paper. Print front and back templates on one sheet of paper. We chose a textured one. Then simply fold the flaps and secure with a glue stick. Embellish the artwork with a gold pen and stuff with a little cash.
You will find the printable template here:
Red Envelope Template Front
Red Envelope Template Back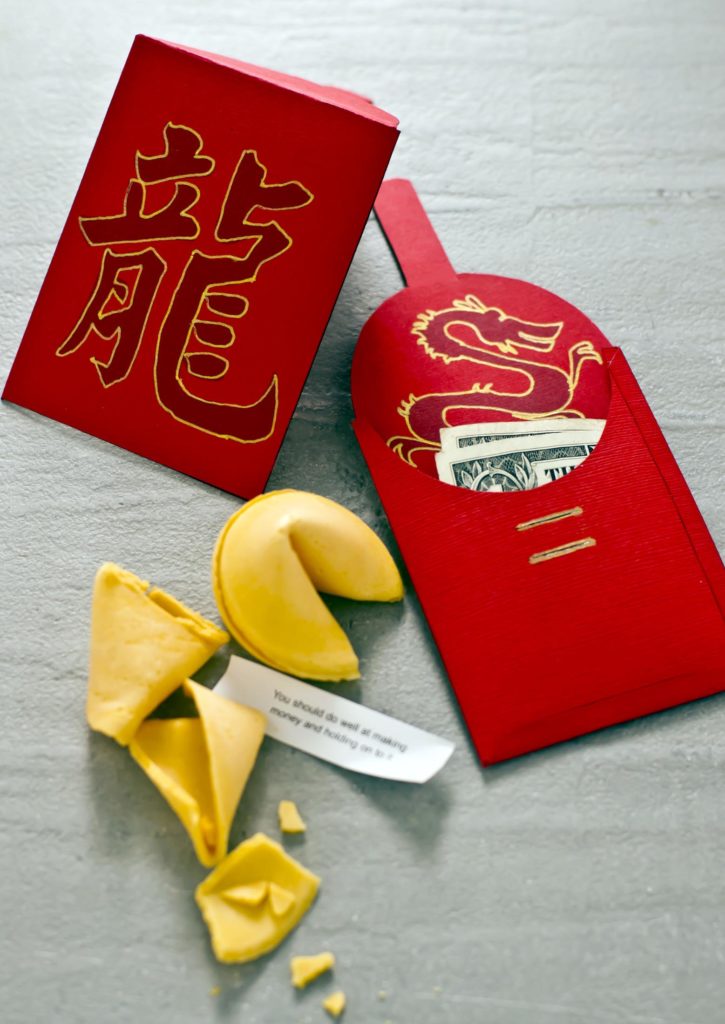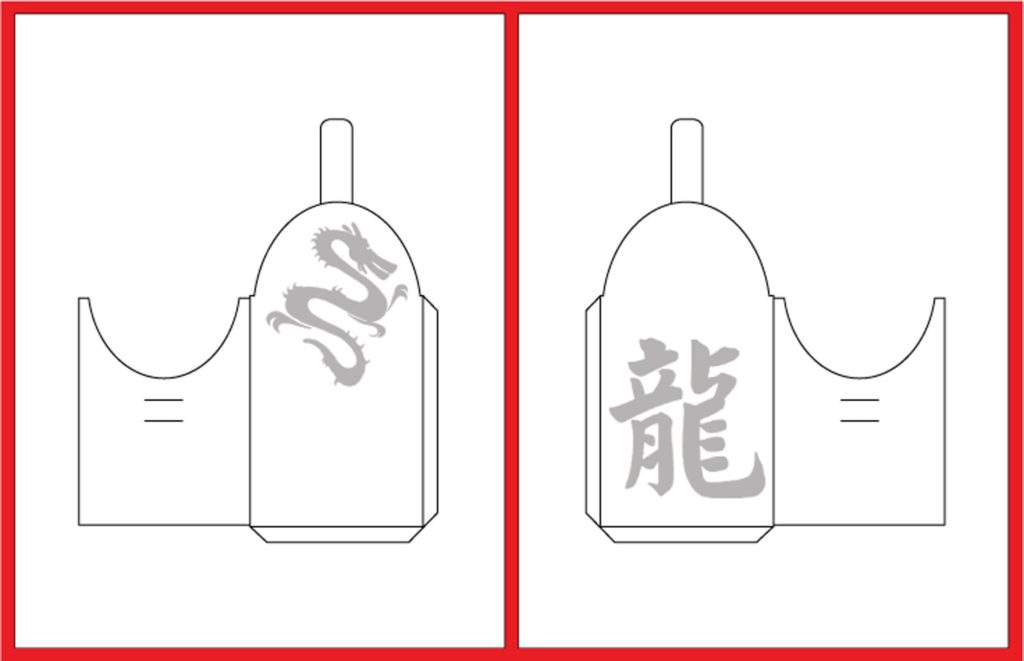 EASY FRIED RICE
Before you start:
Your rice must be cold. Make it ahead for a successful dish.
Invest in sesame oil. It is more expensive, but you won't use it often and it adds a layer of flavor that you won't get from standard vegetable oil.
You can adjust the ginger to your taste. ½ teaspoon is a good, mild start.
Cut the carrot and celery in similarly sized, smaller pieces for quick cooking.
If you have a wok, be sure to wash it immediately afterward and apply a little oil to preserve the seasoning. I have had mine for 20+ years and it cooks perfectly.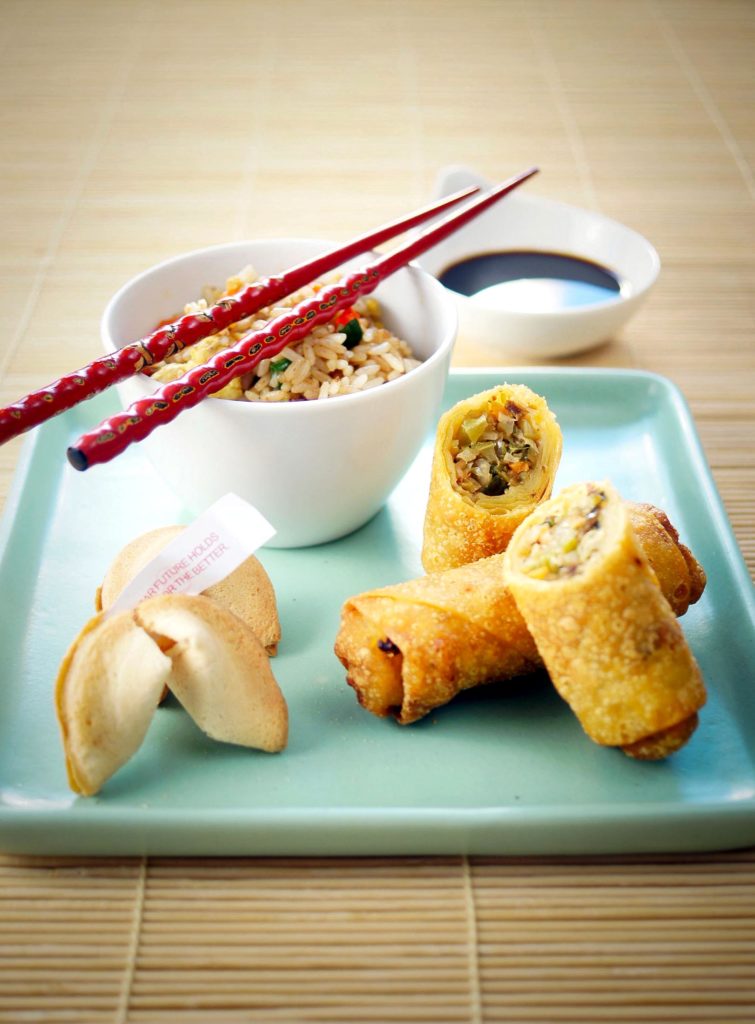 The ingredients:
4 tablespoons sesame oil
3 green onions
½ red bell pepper
1 clove garlic
½ teaspoon fresh ginger, finely chopped
1 medium carrot, peeled and chopped
1 stalk celery, chopped
Frozen edamame
2 eggs, slightly beaten
4 cups rice
1-2 tablespoons soy sauce
salt and pepper to taste
The method:
Heat 2 tablespoons oil in a heavy-bottomed non-stick skillet or seasoned wok over high heat.
Add onion, garlic, ginger, bell pepper, carrot, and celery. Cook for 3-4 minutes until slightly softened.
Add frozen edamame and continue cooking until thawed but still slightly crisp (about 3 minutes more).
Transfer vegetables to a bowl. Set aside.
Return pan to heat and add 1 tablespoon of oil.
Add eggs and stir as needed.
Put eggs in a bowl with cooked vegetables.
Return pan to heat and add 2 tablespoons of oil.
Add rice and cook for 2-3 minutes.
Add scallions and soy sauce.
Season with salt and pepper to taste.