I am pleased to welcome Miesha Jones to Today's Nest today for a guest post. Miesha is an event planner in the DFW area. From birthday parties to casino nights, she knows how to throw a party with chic, simple elegance. Learn more about her on her site, Love Jones Design.
I met Miesha for the first time recently to shoot an idea she was dying to share, a New Year's Eve Pajama Party that incorporates a bar cart that can be switched out from New Year's Eve to New Year's Day. What a fun concept! Read on for Miesha's ideas and recipes.
LAST WORDS: You know how you meet someone and instantly know you'll like them? That's exactly what happened when I worked with Miesha. Look for more madness from the two of us coming soon.
The holidays are known for tradition, and for many, tradition has been to spend New Year's Eve partying the night away. Well, no longer do I have energy to party into the early morning of the New Year. If you're like me, you are more likely to ring in the new year with a group of friends and their kiddos at home rather than traditional wild and crowded New Year's parties.
When hosting a small group, I love using bar carts. I love bar carts mainly because they are practical, portable, and stylish pieces that are sure to get the party rolling. Since NYE marks the end of the holiday season, it's the the ideal time to put your bar cart to use!
I've got a few simple ways to create a festive holiday bar cart complete with cocktails and kid friendly mock-tail recipes. If you have those who have guests who simply can't get them selves home, let them stay over. I've got you covered with a low energy, brilliant breakfast transformation of the most versatile piece of furniture in your home: the bar cart.
Happy New Year!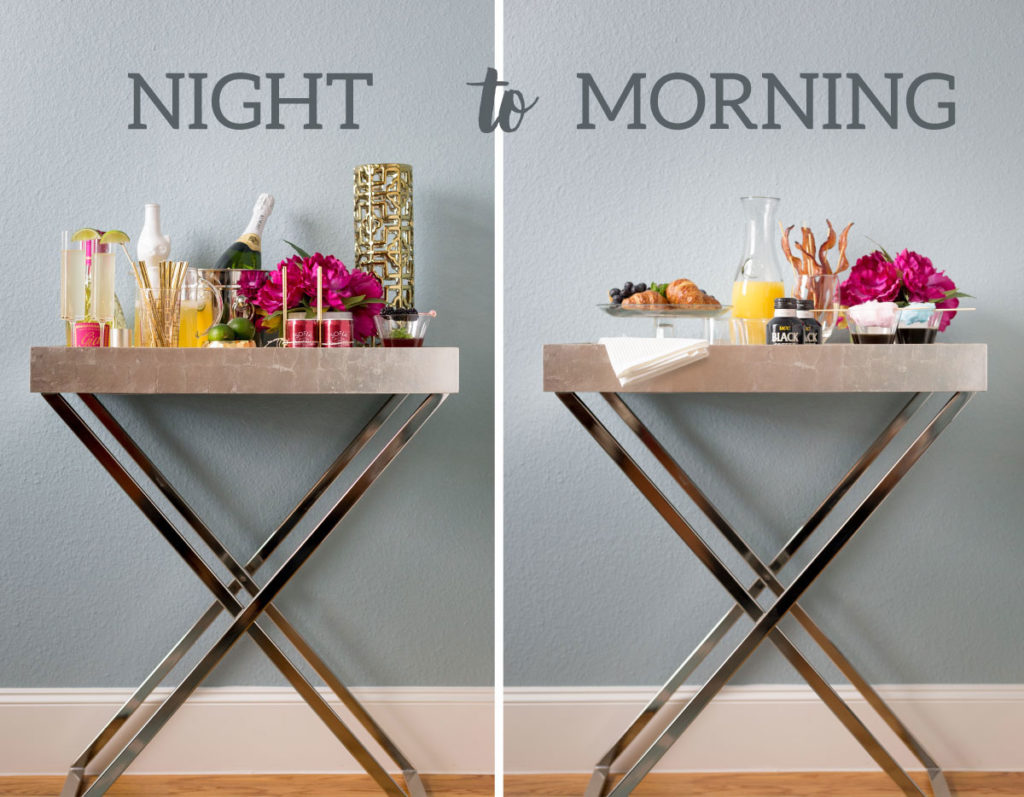 PM CART INCLUDES: Flutes and high ball glasses, shaker, champagne bottle, Sophia champagne mini cans with gold straws, cat wine bottle, floral, fruit, pitcher and a personal art piece.
Champagne Margarita, Yep, you heard me, champagne margaritas! In my opinion this is a party in a glass! Certainly a fun little glass of bubbly with a twist.
The ingredients:
For 2 Margaritas:
4 tablespoons Rose's Sweetened Lime Juice
2 ounces white tequila
2 ounces Triple Sec or Cointreau
1 tablespoon fresh lime juice
6 ounces Brut champagne/sparkling wine
For sugared rims & garnish:
1 tablespoon turbinado sugar
1 tablespoon granulated sugar
lime wedges
The method:
For the sugared rims
Combine turbinado and granulated sugar in a shallow dish. Wet the rim of each glass, all the way around, with a lime wedge. Dip each rim into the sugar to coat. Set aside.
For the margaritas:
Fill a cocktail shaker with ice. Add the Rose's Sweetened Lime Juice, tequila, Triple Sec, fresh lime juice, and champagne. Gently shake two or three times.
Strain into the prepared glasses and garnish each with a lime wedge. *Do yourself a favor and bypass the premixed margarita mix. You're welcome.
Blackberry Mules
Moscow Mules and their copper mugs are everywhere! For this version we've removed the alcohol and the copper mug and added in some blackberries. This is a great signature drink for New Year's Eve. Not only does this look gorgeous, but the flavors are bold and refreshing.
The ingredients (for two):
1 cup blackberries (the sweeter the blackberries, the less added sugar you'll need)
1 tablespoon simple syrup
1 bottle non alcoholic Ginger Beer ( add vodka for cocktail)
ice
additional blackberries and mint for garnish
The method:
In a large glass container muddle blackberries, sugar (and vodka) until berries are mashed and smooth. Set aside.
Fill 2 tall glass with ice and fill each glass halfway with ginger beer.
Tilt glass and gently pour in blackberry mixture until the glass is full.
Garnish with additional blackberries and mint.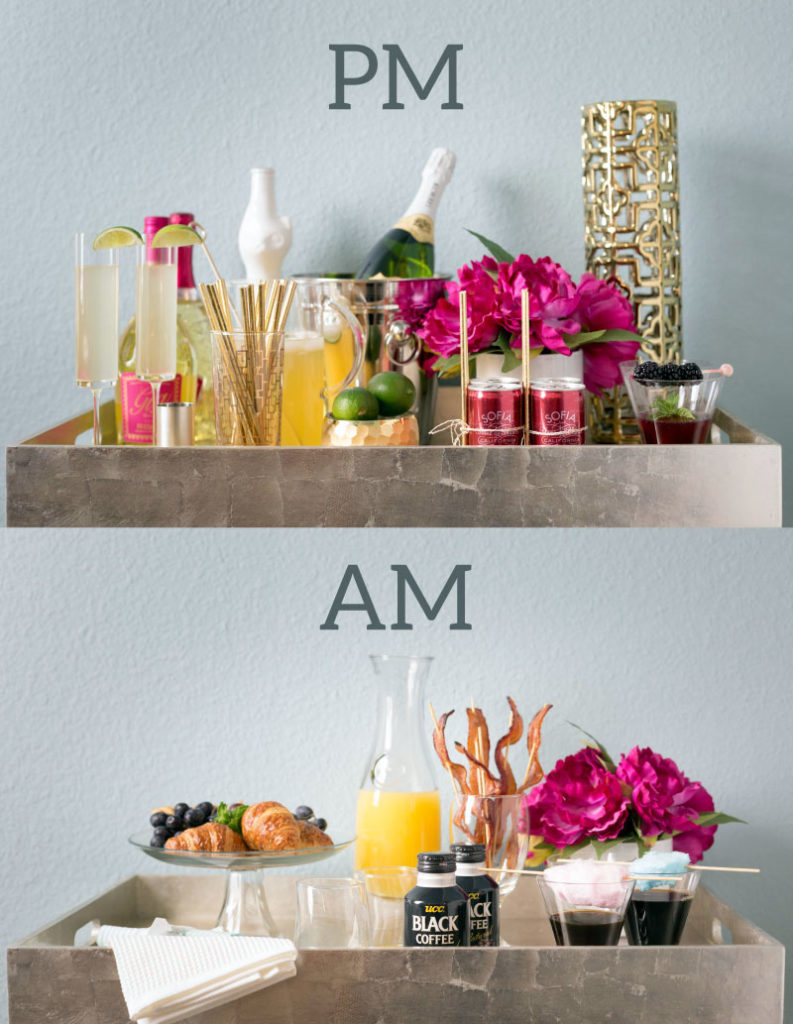 AM CART INCLUDES: cotton candy, clear glassware, bacon in tall glass or on a tray, cans of UCC coffee, stirrers, carafe of juice, florals, fruit.
On New Year's morning you can usually find me with cup of coffee, on the couch watching the Rose Parade. For me, the morning after nearly anything is all about the coffee. I've got 3 delicious and different ways to enjoy your coffee to add to your New Year's morning traditions.
Cotton Candy Coffee
I am a huge fan of espresso poured over sweets. Not only does it provide a whimsical display for your guest but it is usually full of sweet caffeinated deliciousness. Even if you like your coffee without sugar, I'm sure you and your guest will enjoy this candied morning cup.
The ingredients:
2 shots of espresso (I used a Nespresso capsule)
½ a glass of milk
a handful of cotton candy
The method:
Pour the milk into an 8oz or 12oz glass with ice cubes. If you like your coffee stronger, use an 8oz glass.
Gently shape the cotton candy so it forms a ball just a bit bigger than than the top of the glass youare using. Stick a skewer through the center of the ball and rest the cotton candy on the glass.
Slowly pour the hot espresso over the cotton candy.
Mix and serve.
Coffee Glazed Bacon
Is there anything I need to say about this? This might be the best breakfast EVER!
The ingredients:
12 slices of thick-cut smoked streaky bacon (use the best bacon you can get your hands on)
1 shot of espresso
1 tablespoon maple syrup
¼ teaspoon paprika
¼ teaspoon black pepper
2 tablespoons dark brown sugar
The method:
Preheat oven to 350°F. Line a baking tray with parchment paper.
In a small bowl, mix together the espresso, maple syrup and dark brown sugar until combined and the sugar is mostly dissolved.
Lay out the bacon evenly across the pan.
Using a brush, brush on half of the maple and coffee glaze on the bacon. Only brush the maple and coffee glaze on one side of the bacon at this time.
Bake in the oven for 7 minutes. Remove the pan from the oven and turn the heat up to 400°F Carefully, flip each slice of bacon over. Brush on the remaining maple and coffee glaze.
Put the pan back in the oven and bake for another 7 minutes.
Allow to cool slightly before removing the bacon from the pan.
Note: Once the sugars solidify you'll have crispy, sugary coffee & bacon goodness.
UCC Black Coffee
Don't let the can fool you. This coffee has a hint of a very dark chocolate without being bitter. In case you are aiming for a healthy new year, this comes unsweetened. That counts right?
Happy New Year to you all!!