With the holiday entertaining season upon us, one struggle continues to be how to put together tempting fare without spending all of your time in the kitchen. What good is a get-together if you're too pooped to party?
Today I have three simple appetizers that are short on time commitment, but long on flavor and appeal. These three starters will have you done in time to prepare yourself to be the hostess with the mostest.
EASY APPETIZERS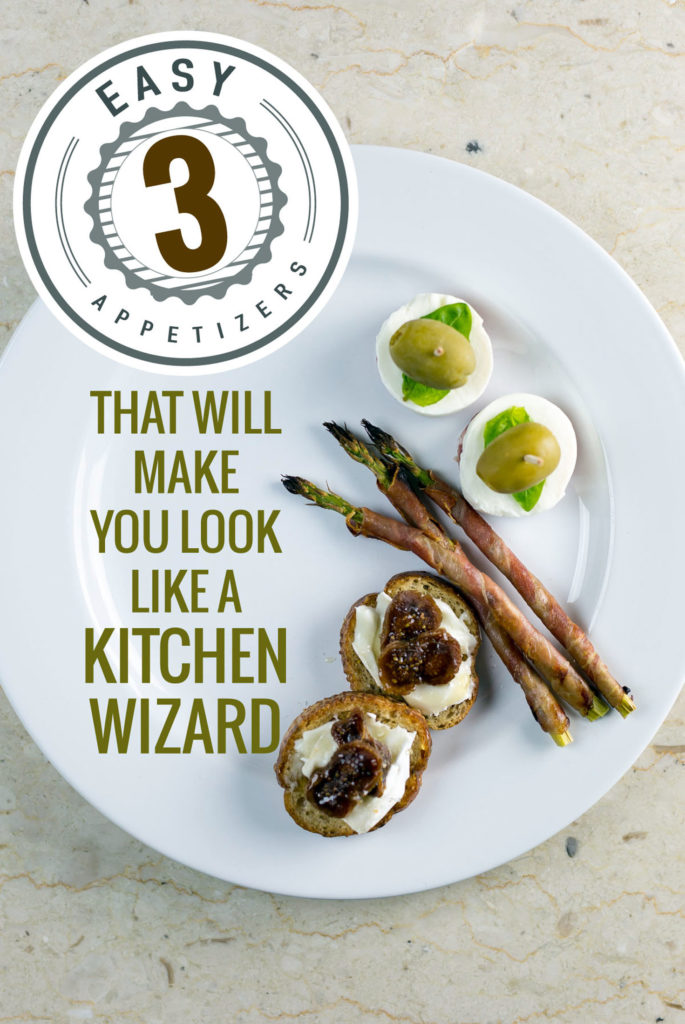 Before you start:
These are great, quick solutions, but you can use these as a basis for your own creations. For example, switch out the brie for another soft cheese if you don't like brie. If you can't find dried figs, consider dates… or even thinly sliced, fresh pear (tossed in a little lime juice to keep it from browning).
Appetizer #1
Cut dried, cured meat into ¼" slices. Add a slice of fresh mozzarella. Top with a fresh basil leaf and olive. Keep it all together with a toothpick.
NOTE: This is very simple so flavor is the key here. This is not a time to visit the lunchmeat section of the supermegamart. Pay a visit to a proper charcuterie or meat shop or similar department of a specialty market for quality meat and cheese.
Appetizer #2
Cut pancetta into strips that are about 1-2″ wide. Spiral the pancetta strip around thin stalks of asparagus starting at the bottom. Place the wrapped asparagus on an unlined baking sheet and place under the broiler, 4-6 inches from the source, for about 10-12 minutes, or until evenly browned and crisp, turning a quarter turn every 2-3 minutes.
NOTE: No salt should be necessary. The pancetta is salty enough to flavor the dish.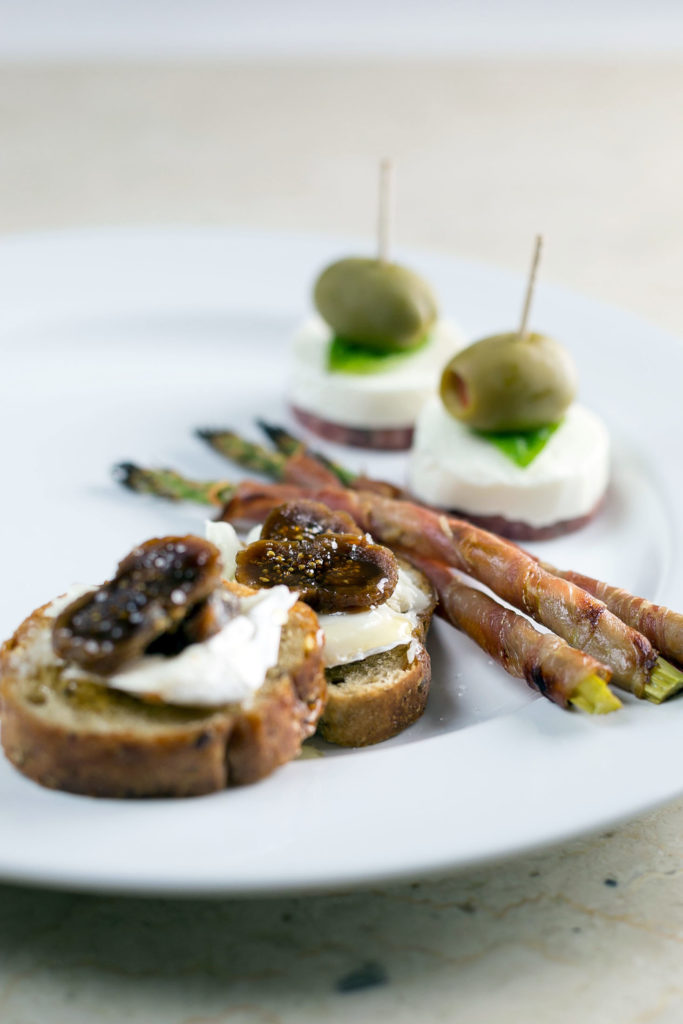 Appetizer #3
Make bruschetta by cutting a baguette into ½" slices. Brush one side with olive oil. Place the rounds, oil side down, on a parchment lined baking sheet. Bake at 450˚F on the top rack for 5-7 minutes or until the tops are slightly toasted. Spread brie, at room temperature on the oiled side of the bruschetta. Chop dried figs and place on top of the brie. Drizzle the tops with a bit of honey and finish with a light sprinkling of fleur de sel.
NOTE: If you don't have fleur de sel in your pantry, you can substitute with coarse sea salt or salt flakes.