My green arrow is pointing in a different direction today. I wanted to talk about a simple floral arrangement. As with most things designed, I prefer simple. Sometimes that does not mean less work, it just means less fussy.
I believe there is a place for a very elaborate floral design with an appetizing color palette, but single color arrangements are both easy on the eye and easy to understand. Then all you need do is come up with clever ways to display them.
You can get inspiration from a number of places. Hotels and restaurants are good places to start. Either visit them in person or virtually on the web. You may also want to search at flickr.com. This photo resource is loaded with good ideas.
Once you have some inspiration, go get some flowers. For today's post, the choice was easy… green. Think beyond the usual.For example, you will see kale in the upcoming photos. Some of the greenery also came straight from a houseplant.
Next, you will need some vessels. Again, it does not have to be a traditional vase. It certainly does not have to be expensive. In two of the arrangements here, I used drinking glasses. The square ones are cocktail glasses and the long tall ones are German beer glasses.
You will need some tools, but not many. I have at the ready a pitcher filled with room temperature water, kitchen shears, thin gauge wire, a chopstick, a couple of floral frogs, and a towel. Dissolve a packet of flower food in the water before you get started.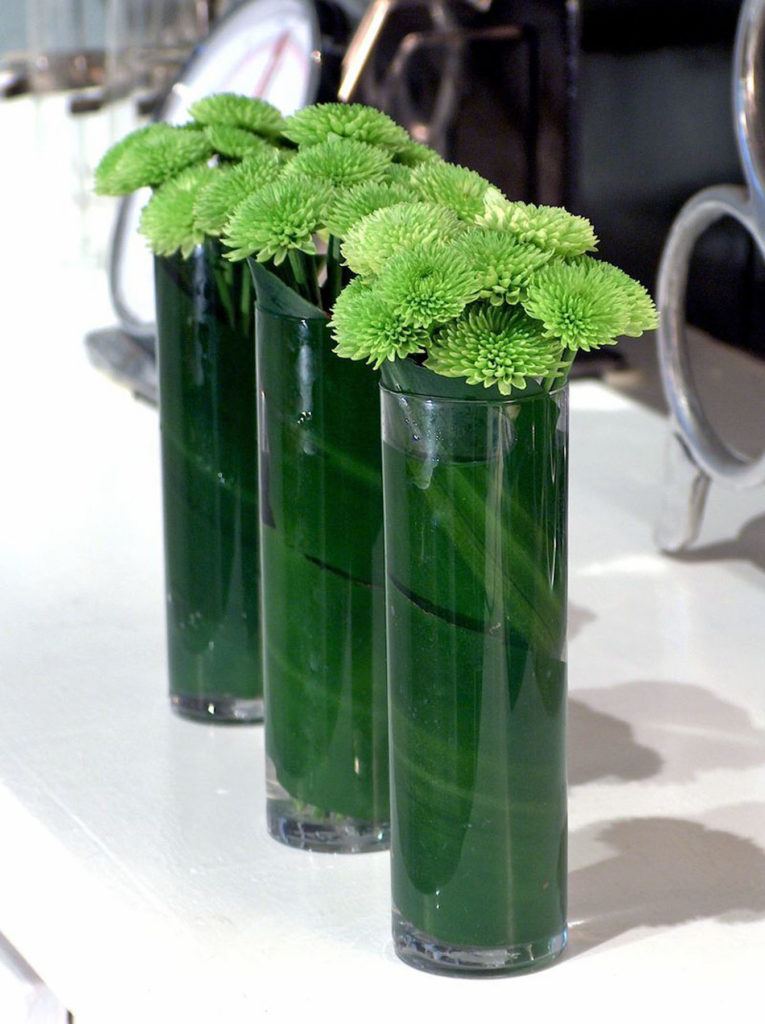 For a tight bouquet type of arrangement start by cutting a piece of wire approximately 6-8 inches and set aside (This will save you some aggravation later). Begin forming the bouquet in your hand by adding one flower at a time and turning the bunch just a bit each time to keep it uniform. Do not worry if it isn't perfect right away. You will have an opportunity to fix it. When you have all the flowers in your hand the way you want them, loosely wrap the floral wire around them high enough up the stems so that they stay in place, but not so tight that you cannot adjust them.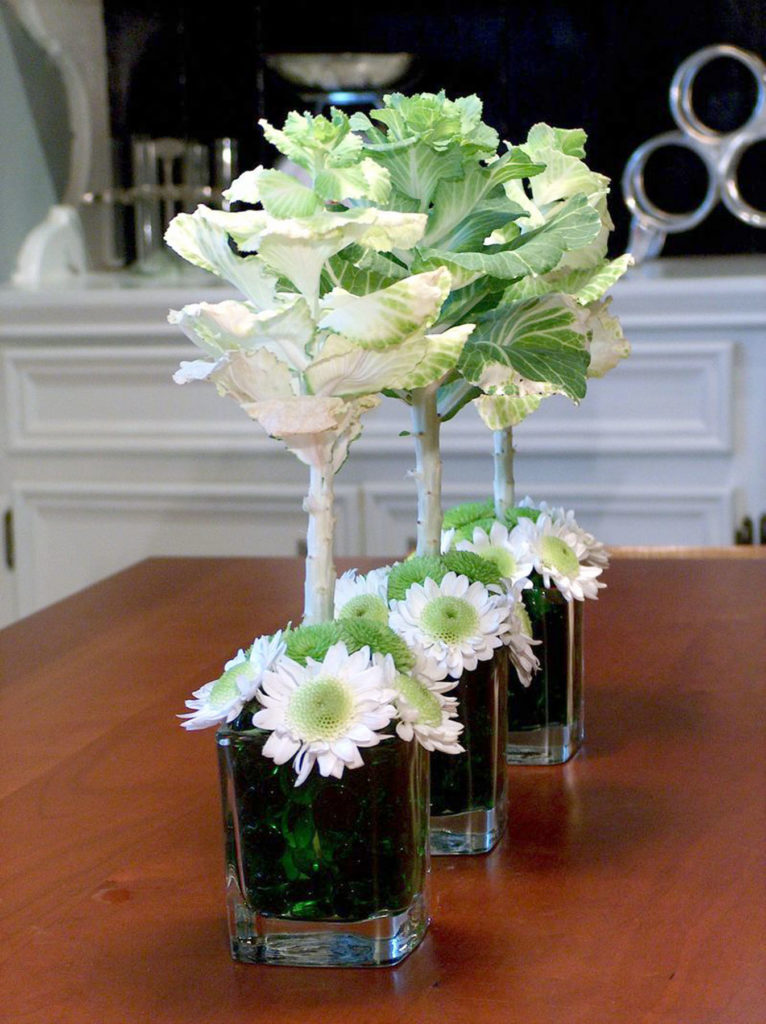 Snip the bottoms of the stems to make level, and place it in the vessel of your choice. You may need a frog in the bottom of the mouth of your vessel is wider than your bouquet. You can fill in space with greenery as needed. Use the chopstick to insert under the heads and lift as necessary.
Creating beautiful floral arrangements is easier than most people think. For more modern designs, think in terms of shapes, textures, and scale. Remember that less is more here. Resist adding too much. Not only will this make for a cleaner presentation, but it may also stretch your floral dollars. What's better than making green arrangements? Saving green as you do it.
savour… fresh flowers