You may remember reading Julius Caesar in your high school English class. If so, you may also recall that famous line "Beware the Ides of March". The Ides of March is today, the 15th. As fate would have it, it is also the day that Caesar was murdered. Today begins our "green" week. Green may be represented in many ways here this week. Today it will be salad – Caesar Salad.
I am using some creative license here. The salad, contrary to popular belief, was not named after Julius Caesar at all. In fact, it was created and named centuries later by an Italian-born Mexican named Caesar Cardini. There have been variations over the years, of course. The original, reportedly, did not include anchovies.
Here you will find my favorite recipe for this salad. It is green… and delicious. It may not be directly linked to Julius Caesar, but to use a quote from Brutus rather loosely it is "a dish fit for the gods".
savour… heavenly flavor
TODAY'S CAESAR SALAD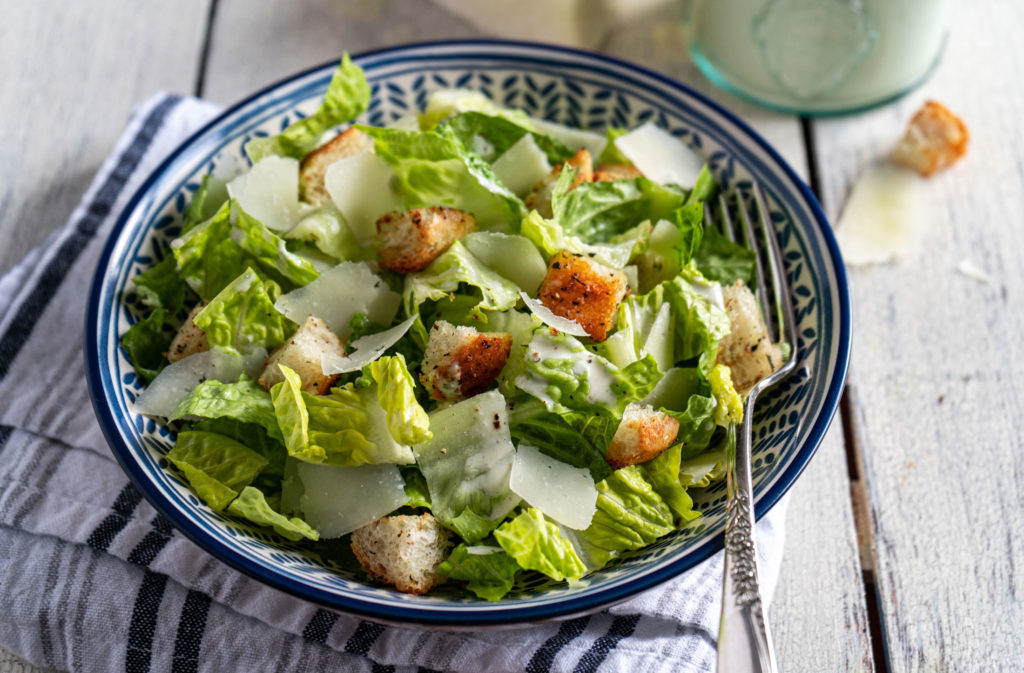 Before you start:
The croutons are a critical part of this salad. You may want to double the recipe and save some in an airtight container or plastic zip bag for future salads. They are that good and nothing like store-bought.
To coddle the egg, simply put an egg at room temperature in a bowl and completely cover with boiling water for 1 minute exactly. Immediately start running cold water over the egg until it can be handled and then set it aside. This will yield a creamier dressing.
As with nearly every dressing, if you want it to emulsify you must be certain to add the oil very slowly as you whisk it into the other ingredients.
The ingredients:
Croutons:
2 cups of French bread cut into ¾ inch cubes
3 tablespoons extra virgin olive oil
2 cloves of garlic
1 pinch of salt
Salad:
3 tablespoon lemon juice (plus a little zest if you like it)
1 teaspoon Worcestershire sauce
1 teaspoon Dijon mustard
1 teaspoon anchovy paste (about 3 canned anchovies minced)
1 pinch of salt
½ teaspoon freshly ground pepper
½ teaspoon of garlic paste (use roasted garlic from croutons if possible)
1/3 cup extra virgin olive oil
1/3 cup parmesan cheese
1 egg – coddled*
2 medium heads of romaine lettuce
The method:
Croutons:
Preheat the oven to 350˚F.
Roughly chop the garlic.
Place all of the ingredients in a bowl and toss until all bread cubes are lightly coated.
Pour onto a parchment-lined baking sheet.
Bake for 12-15 minutes or until lightly toasted.
Remove and let cool.
Remove garlic for salad.
Salad:
Rub a wooden bowl with some garlic.
Coddle the egg.
Crush roasted garlic from croutons to make a paste.
In a separate bowl, whisk together lemon juice, Worcestershire sauce, mustard, anchovy, salt, pepper, and garlic.
Add the coddled egg and whisk until smooth.
Slowly drizzle in olive oil while whisking.
Remove outer leaves of lettuce heads and discard.
Tear leaves into 1 to 2-inch pieces.
In the wooden bowl toss lettuce, croutons, and cheese together with about ½ of the dressing.
Drizzle remaining dressing on top.
Garnish with parmesan shaving and/or lemon zest if desired.