About twice a month we have roasted chicken for dinner. Usually, we roast it ourselves. Occasionally we purchase a rotisserie chicken from the supermarket. It may seem a little like cheating, but it is quick and tasty and it can be used in many recipes.
No matter which we use, we almost always save the carcass for stock. Making chicken stock is far easier than you might think. The product of our efforts is thicker and more flavorful than any store-bought version I have ever tasted. Better yet, I control the ingredients and sodium content.
You could add just about any vegetable you want to the mix. I caution against using things that are too strong (fennel seed might be a stretch) or too much of any one flavor (garlic and pepper jump to mind). The overall concept is to have a base that can be utilized in many ways. If, on the other hand, you intend to use the whole batch for a particular soup then punch it up with whatever is necessary. When making stock for tortilla soup, for example, I always add cilantro and peppers.
savour… multi-purposing
BASIC CHICKEN STOCK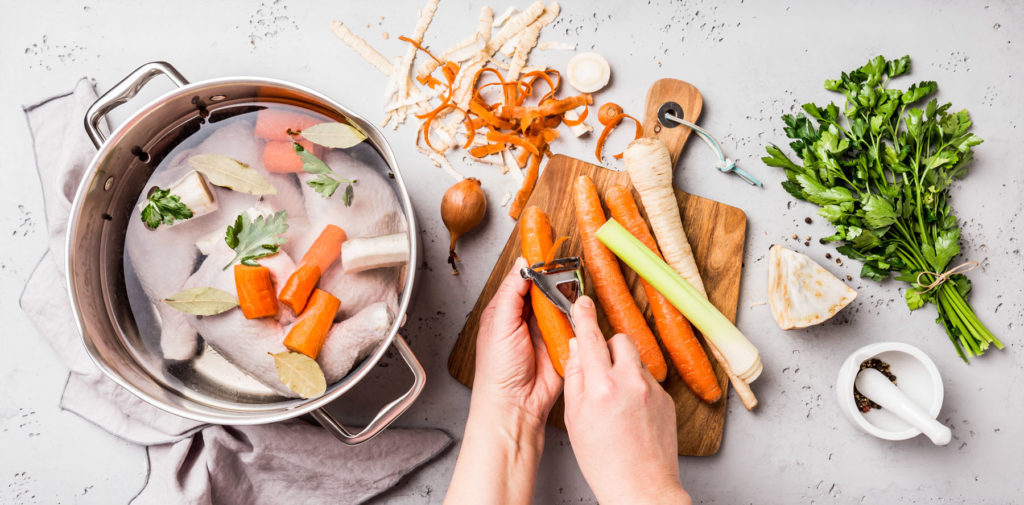 Before you start:
Although the ingredients are mainly up to the individual, there are a few essentials – carrot, celery, and onion. Luckily, these three are in almost every home at any given time. The spices may vary, but I regularly add a bay leaf, pepper, and thyme. You may want to leave the salt out completely and add it to your final recipe instead.
One practice that I have adopted is a veggie freezer bag. In our freezer, there is a bag where we put suitable scraps throughout the week. This may be onion skins, potato peel (they must be clean), or vegetables that won't make it much longer. It usually yields a fairly large amount by the time we are ready to make the stock. Secretly, it makes me feel a little better to not be wasting food, also.
How you store chicken stock depends on how you intend to use it. I keep several 2 ½ cup plastic "deli" containers in the freezer because it is just enough to make rice. Many people store it in freezer bags to save space. Others put it in ice cube trays to create small enough portions to use only what they need.
The stock can be used in many ways. Use it for rice, mashed potatoes, pasta dishes, stuffing, and the obvious – soup. In fact, I usually keep one container in the fridge to splash a little on the kibble for our dog, Grace. That produces mad tail wags every time.
The ingredients:
Chicken carcass
2 carrots
2 ribs celery
½ medium sized onion
8 – 10 whole peppercorns
1 bay leaf
1 teaspoon fresh thyme or ½ teaspoon dried thyme
Water (enough to cover solids; 3-4 quarts)
Miscellaneous vegetable scraps
The method:
Place carcass in a stockpot. If using your own roasted chicken be sure to deglaze the roasting pot with a little water and add it to the stockpot.
Wash carrots and celery, but carrots need not be peeled. Add to pot.
Remove just the outermost peel of the onion. Place onion with remaining peels in the pot.
Add the remaining ingredients.
Bring to a boil, then reduce heat and simmer.
Cook for at least 1 ½ hours. Longer times result in richer, thicker stock as more gelatin is produced from the bones.
Check occasionally for foam floating on the top and skim off as necessary.
Pour stock through a mesh strainer into a metal bowl or another pot.
Discard solids.
Place metal bowl or pot with stock in the cold water bath in the sink to safely lower temperature.
When the stock is at room temperature or lower (less than 30 min) move to refrigerator. Store overnight.
On the next day, skim any fat that has accumulated on the surface.
Pour the remaining stock into containers of choice and store in the freezer.