Today's treat of the week combines many of my favorite things. I absolutely love pineapple and I don't think there is any single food better than cheesecake. I have put them together and taken the flavors a step further with two more of my favorite things… mascarpone cheese and mint. The mint is a lovely companion for the pineapple and the mascarpone adds body and flavor to the whipping cream. C'est parfait.
I baked each cake in a mini bundt pan to carry out the theme of the shape. Each pineapple ring fits perfectly in the bottom of the pan. Speaking of rings, you could probably use the canned pineapple rings, but I cannot guarantee the flavor would be as good. Besides, if you cut it yourself you end up with disks of the core. At our house we call these "pineapple pucks" and despite what you may think, they are quite tasty. My wife would rather eat those than the actual pineapple.
Caution: the bundt pan yields what appears to be a single serving, but it should yield 2 or 3 for a reasonable person. No judgment. Enjoy and aloha.
savour… perfect pairings
PINEAPPLE UPSIDE DOWN CHEESECAKE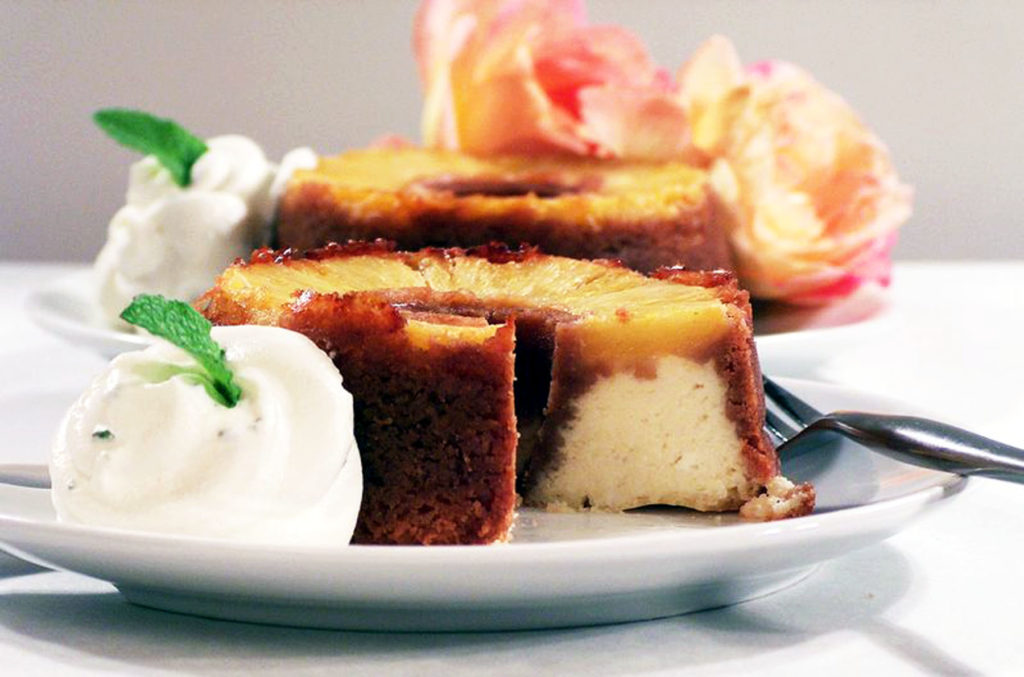 Before you start:
The pan underneath the bundt pans is crucial for a variety of reasons. It helps regulate the heat and catches any spills; do not leave it out.
To check for doneness, the filling should be firm but a little jiggly.
It is critical that you muddle the mint with the sugar to release the flavors. I strongly discourage the use of mint extract. It does not give you a fresh taste. In contrast, it will produce a cream that tastes something more like chewing gum. FYI… this cream could be used for many other desserts. I am thinking as a complement to double fudge brownie.
When whipping the cream and mascarpone, start slow. As soon as the two begin to combine turn up the speed. If you start on high you will wear more than you eat.
Pineapple Upside Down Cheesecake
The ingredients:
11/2 cups crushed lemon snaps
1/4 cup (1 stick) butter melted + 4 tablespoons cold butter
3 8oz. packages cream cheese at room temperature
1 teaspoon grated lemon zest
1 fresh pineapple
1 cup granulated sugar
4 teaspoons brown sugar
2 tablespoons all-purpose flour
2 eggs
1 egg yolk
1/4 cup milk
The method:
Preheat oven to 375˚F.
Crush lemon snaps and put them in a bowl.  Use a food processor if you have one, or just put them in a plastic bag and pound them with something if you need the therapy.
Melt the butter and pour over the crumbs.
Mix the two together.  You should have the consistency of wet sand and it should mold together when you squeeze it.
Peel the pineapple and cut into 1/4 inch to 1/2 inch discs.
Cut a circle out of the center of each disc the size of the center of your mini bundt pan.
Break small pieces of butter into the bottom of the bundt pan (about a tablespoon).
Sprinkle a little brown sugar into the bottom of the bundt pan (about a teaspoon).
Place a pineapple ring on top of the butter and brown sugar.
Create a crust around the inside of the pan with the crushed snaps; don't forget the inside spike.
In a large bowl or stand mixer, beat cream cheese, sugar, flour, zest, and vanilla just until well combined.  
Add eggs and yolk and beat on the lowest speed just until combined.
Add milk stirring just until combined. 
Pour filling into prepared bundt pans.
Put bundts in the oven on a baking sheet.  Bake for 45 – 50 minutes.
Remove from oven and place on a cooling rack for at least 15 minutes.
Invert on a plate and remove bundt pan.
Cool in refrigerator for at least 4 hours before serving.
Mint Mascarpone Cream
The ingredients:
4 oz. mascarpone cheese
6 oz. heavy whipping cream
1 tablespoon sugar
10-12 fresh mint leaves
The method:
Muddle the mint leaves and the sugar together with a pestle and mortar.
Add the mixture to a bowl with cheese and whipping cream.
With the whisk attachment start whipping on low speed and work up to the highest speed.
Whip until stiff peaks form (around 2 – 3 minutes).
Store in refrigerator.