We wrap up this week with a light and airy treat… angel food. I don't know how something called angel food can seem so sinful. The softness of this cupcake combined with the jam and frosting is, dare I say… heavenly. The frosting alone could do you in.
I found these dehydrated fruits at the market a couple of weeks ago and I have been dying for a reason to use them. I considered using them for a new macaron flavor, but I keep seeing macarons everywhere and decided they needed a timeout. However, adding them to this frosting allowed me to keep the consistency I wanted and so much flavor.
Independently, these are both good recipes for other uses. The angel food recipe could certainly be used in a tube pan. You would just need to invert the pan on a cooling rack as soon as it comes out of the oven and let it cool completely before removing. Then you could top with fruit and whipped cream…delicious. The frosting is so light and sturdy. You will instantly become a fan. Together they are a great summer combination.
savour… heavenly treats
ANGEL FOOD CUPCAKES WITH STRAWBERRY WHIPPED CREAM FROSTING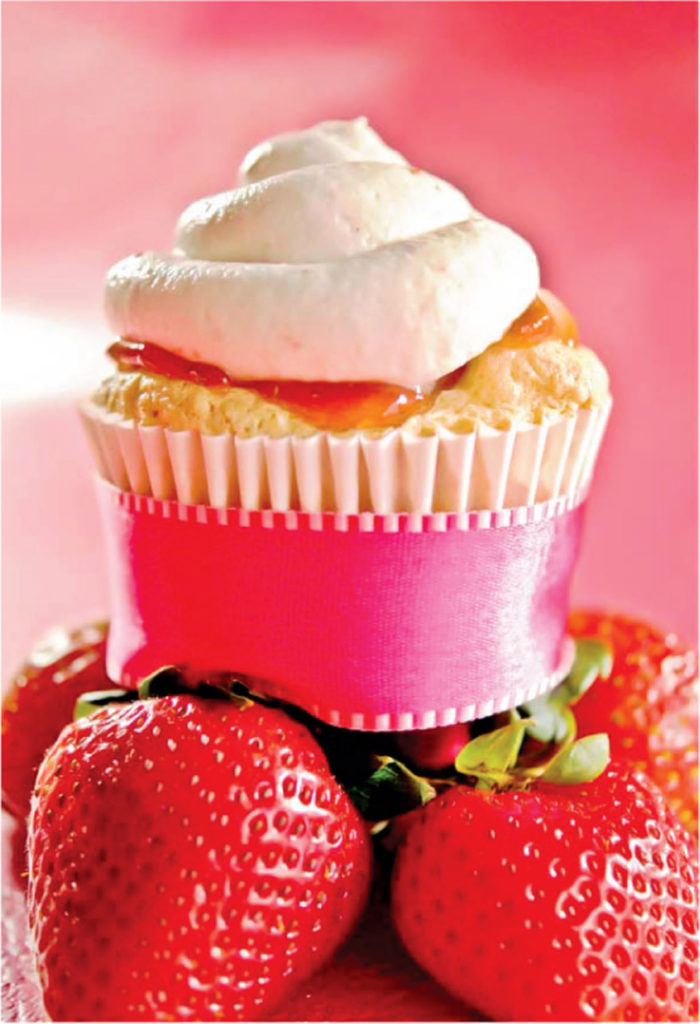 Before you start:
Starting with eggs at room temperature is best. Put the eggs and the cream cheese out hours before you are ready to begin.
Soft peak… stiff peak. It can be very confusing. The idea is that soft peaks will curl a little when you pull out the mixer or whisk (sort of like the top of soft-serve ice cream). Stiff peaks will mostly stand straight up (it may lean a little). You may have to stop a few times to see if you have it right.
I included mixing times only as a guide. There are some variables at play so your time may not be the same. Pay close attention.
You could substitute all-purpose flour for cake flour. I am not sure if the results would be exactly the same. It would definitely not be as white in the middle. If you choose AP flour, leave out the extra 1 tablespoon.
Folding is a necessary skill for making many baked goods and desserts. It is not tough but may take some practice. You should only be incorporating the ingredients…gently. This is meant to mix without deflating one (or all) of the ingredients.
Once you put the mix in the cups you can poke it with a butter knife and smooth it out on top. This will get some of the air out and prevent some of the tips that may stick around through the baking process.
This recipe yields 36 medium cupcakes. I usually end up with a couple of quitters. Eat them.
I found the dehydrated strawberries at Whole Foods. They are great because they add the flavor without the extra moisture.
The Cupcakes
The ingredients:
11 or 12 egg whites – enough to make 1 1/2 cups
1 1/2 cups confectioner's sugar
1 cup and 1 tablespoon cake flour
1 1/2 teaspoons cream of tartar
1/2 teaspoon vanilla extract
1/2 teaspoon lemon extract
1 cup granulated sugar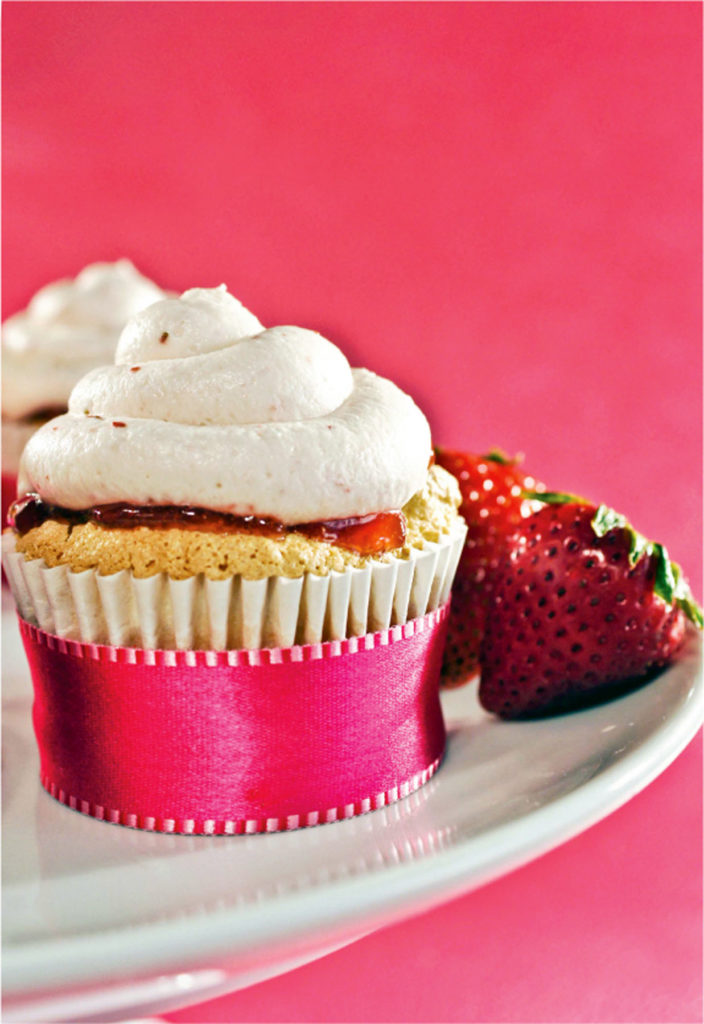 The method:
Place egg whites in a large bowl and let them stand at room temperature for 30 minutes.
While waiting, sift together confectioner's sugar and cake flour 3 times.
Place the oven rack on the lowest level.
Preheat oven to 350˚F.
Add cream of tartar and extracts to the egg whites.  Beat on medium speed until you reach the soft peak stage (6-8 minutes).
Start sprinkling granulated sugar gradually and beat until stiff peaks form (an additional 3-5 minutes).
Sift about a quarter of the dry mixture over the beaten egg whites.  Gently fold it in until moist.
Repeat with remaining quarters of dry mixture folding gently until moistened each time. 
Fill paper cupcake liners about 3/4 full.
Bake for 20-23 minutes on lowest rack in oven.
Allow cupcakes to cool in the pan for at least 10 minutes.
Remove cupcakes to wire cooling rack and cool completely before serving. 
Strawberry Whipped Cream Frosting
The ingredients:
8 oz. cream cheese (1 package) softened
1 1/4 cup confectioner's sugar
1/2 cup dehydrated strawberries
pinch of salt
1 1/2 cups heavy whipping cream
The method:
Grind strawberries in the food processor until they are powder.
Place strawberries, cream cheese, sugar, and salt in a bowl. Beat on medium speed until smooth (2-3 minutes).
With the whisk attachment, whip cream until stiff peaks form (7-9 minutes).
One scoop at a time, gently fold whipping cream into cream cheese mixture only until incorporated.
Refrigerate until ready to use.