Chocolate lovers rejoice! I made this one especially for you. This is one of the most requested cookies we make. I believe part of the allure is the identity crisis this cookie suffers. It dances dangerously on the line between cookie and brownie. It is crispy and crinkly on the outside and oh so soft and chewy on the inside. Brace yourself.
Because of their "brownie-ness" I thought they might be perfect for a brownie sundae. I opted instead to put a slab of vanilla bean ice cream between two cookies and make a decadent ice cream sandwich. I was lucky enough to find the wild strawberries out in the garden (nowhere near the "tame" strawberries). The result was nothing short of heavenly.
savour… chocolate-induced comas
CHEWYSOFT CHOCOLATE FUDGE COOKIE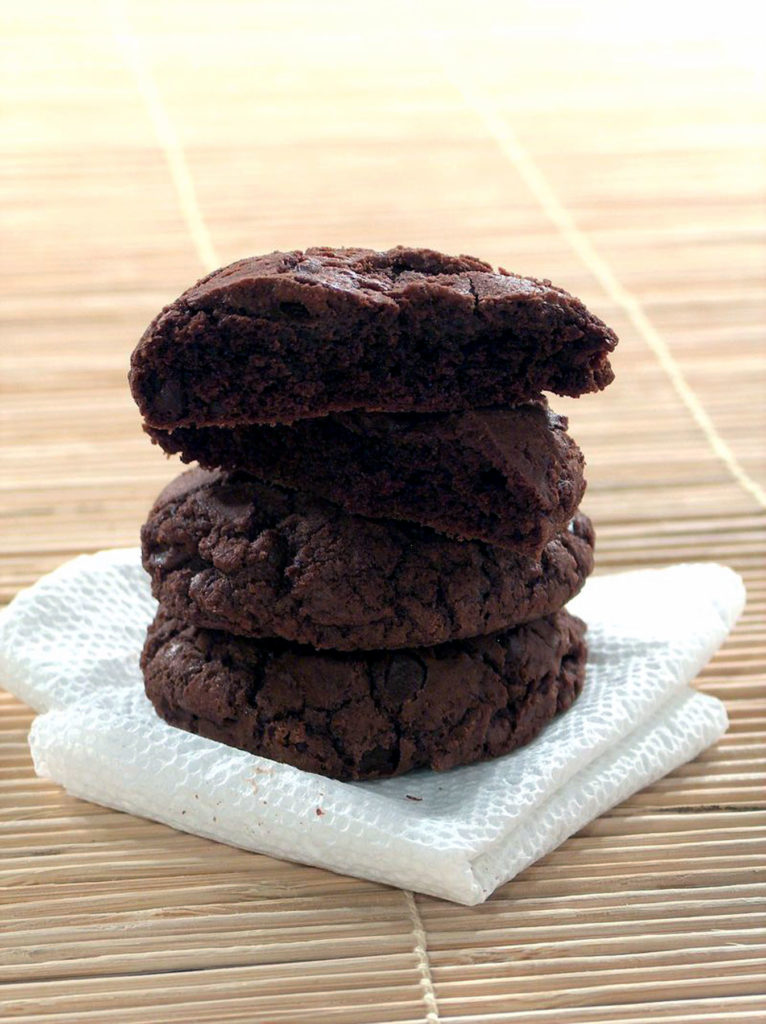 Before you start:
One of the most prevalent errors in cookie baking is over-cooking. Many otherwise good cookies go wrong by staying just a little too long at the party. Be sure to watch closely until you know which time will produce the best results. As a rule, you should probably pull them out a little sooner than you think is necessary.
Dark cookies make determining "doneness" by sight even more difficult. Get used to how a cookie should feel on the edges and center. It is truly the best way.
To make the ice cream sandwiches I first froze the cookies I would need. Then I scooped somewhat softened ice cream into a shallow bowl and returned it to the freezer. When it was firm again, I cut out circles with a biscuit cutter, assembled the sandwiches, and returned them to the freezer until ready to eat.
The ingredients:
2/3 cup (about 11 tablespoons) unsalted butter at room temperature
4 eggs
1 1/2 cups packed light brown sugar
1/2 cup granulated sugar
2 cups all-purpose flour
1/2 cups cocoa powder
2 teaspoons baking powder
1/2 teaspoon salt
12 ounces semisweet chocolate (can use regular-sized chips)
4 ounces bittersweet chocolate (can use chips here, too)
1 1/2 teaspoons vanilla extract
1 1/2 teaspoon instant espresso powder
1 cup milk chocolate chips
1/2 cup semi-sweet chocolate chips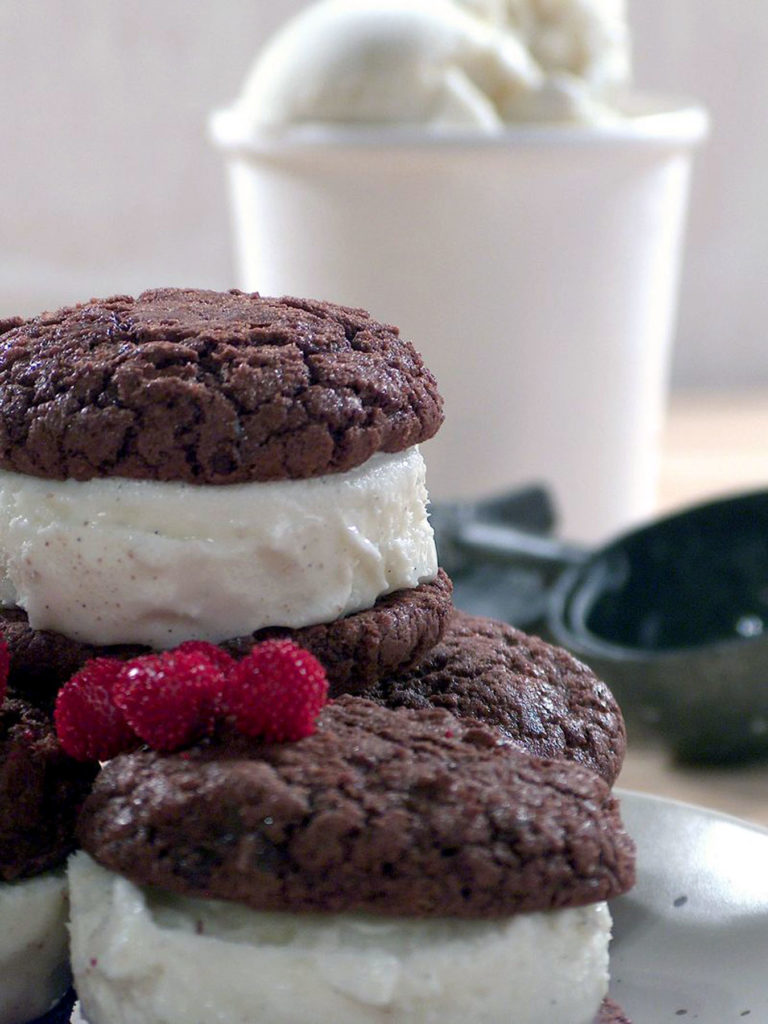 The method:
Preheat oven to 350˚F.
Melt the semi-sweet and bittersweet chopped chocolate in a medium heatproof bowl. You can do this over a simmering pot of water or in the microwave.  Do not burn it!
Set melted chocolate aside to cool.
Onto a piece of parchment, sift together flour, cocoa powder, baking powder, and salt.
In a bowl whisk eggs, vanilla, and espresso powder until well combined.
In a mixing bowl, beat butter until smooth and creamy.
Add sugar and beat until light and fluffy (about 60 – 90 seconds more).
Add egg mixture and beat until well combined.
On slowest speed, gradually add the melted chocolate and beat until combined.
Still on the slowest speed, slowly pour flour mixture from parchment to mixing bowl.  Mix only until combined.
Add chips and mix only until combined.
Cover the dough with plastic wrap and place in the refrigerator at least 20 minutes (it will look and feel something like fudge).
Scoop onto parchment-lined pans and bake for 12 – 15 minutes (edges will be firm, but the center will be soft).
Allow cookies to cool on sheets for 5 minutes before transferring to cooling racks. 
Allow to cool completely before transferring to airtight containers.