This week we turn down the difficulty dial a couple of notches with a super simple cookie. Shortbread is easy and requires very few ingredients. However, by using quality ingredients and adding a few extra touches you can make this simple cookie something very special. I cut my cookies out with a scalloped edge and stamped them with a fleur de lis wax seal stamp.
Butter is a prime player in this recipe. Using the best butter makes a difference. In the US you can determine the quality of butter by the USDA seal usually found at the end of the package. The ratings are assigned based on aroma, flavor, and texture. AA is the highest quality and must achieve a score of no less than 93 of 100 to qualify. A is next with a score of 92. B is next with a score of 90. Be sure that your butter is AA quality.
Choosing quality ingredients will almost always yield better results. Vanilla is no exception. An extract can be very useful, but I must caution… do not use imitation vanilla! It simply does not compare. That goes for imitation just about anything.
To hurry summer along I have added lemon zest to the mix. You will need a good amount of lemon zest to convey your message. The tartness of the zest combined with the salty-sweet of the cookie makes it very tasty. To help with the texture I substitute cornstarch (corn flour) for some of the flour. The result is a cookie that has some tooth at first but then melts away. Enjoy.
savour… simple elegance
LEMON SHORTBREAD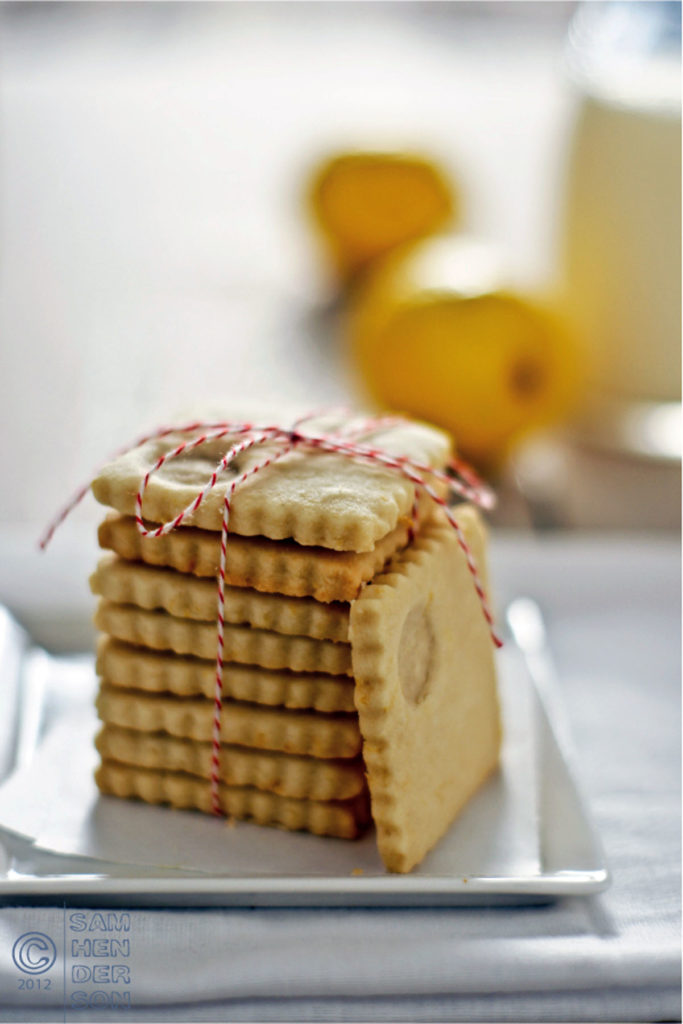 Before you start:
Using a microplane zester will give you the best results for this recipe. It makes very fine shavings of zest which helps to more evenly distribute the flavor.
If you have spacers for your rolling pin you will find it easy to get to 1/4 inch thickness. I use two extra-long paint stirrers from the hardware store. I put them on either side of the dough and roll the edges of my rolling pin on them. They happen to be exactly 1/4 inch thick.
Step 13 (refrigerating cut cookies before baking) is critical. Skipping it will produce dreadful results.
The ingredients:
1 2/3 cup flour / 220g
1/3 cup corn starch / 45g
1/4 teaspoon salt
1 cup butter at room temperature
1/2 cup confectioners sugar / 75g
1 teaspoon vanilla
1 tablespoon lemon zest (or more to taste)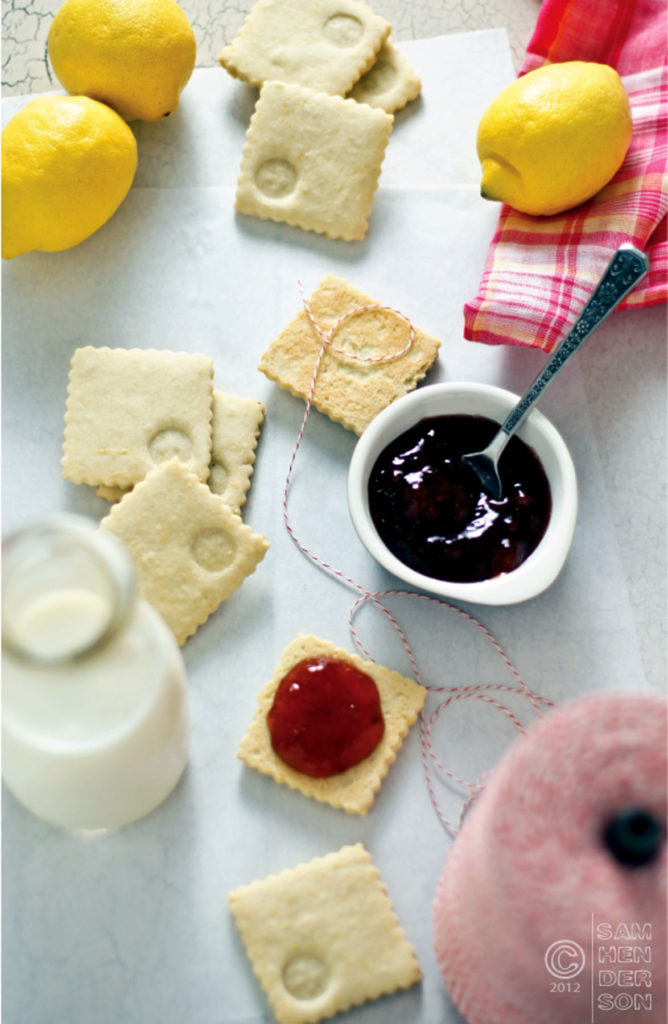 The method:
Preheat oven to 350°F.
Sift together flour, cornstarch, and salt on parchment sheet. Set aside.
Zest 2 large lemons.  Set aside
Beat butter until smooth (about 1 minute).
Add sugar and beat again until smooth (1 1/2 – 2 minutes).
Beat in vanilla extract and lemon zest just until combined. 
With the mixer on the lowest speed, add flour gradually and mix just until combined.
Remove dough from mixer bowl (if it is still too sticky, knead in a little flour).
Form dough into a flattened disk shape, wrap in plastic wrap and refrigerate for 1 hour. 
On a lightly floured surface roll the dough out to 1/4 inch.
Cut out shapes with the cutter of your choice.
Place on parchment-lined sheets at least 1 inch apart (stamp at this point, if desired).
Refrigerate for 15 minutes before baking
Bake 12-15 minutes (cookies should be very lightly browned).
Allow cooling on the sheet for 1 minute.
Move to a wire rack to cool completely.
Store in an airtight container.