I'm impatient. There, I've said it. No matter how I try, it is one of the things I must continually try to improve. I will say that I have become more patient with age, but not nearly patient enough.
At this time of year, my impatience is abundant. I simply cannot wait for fall. I have put on jeans twice in the last week thinking I would hurry things along. That was a failure. I mostly ended up sweaty and uncomfortable.
So I have decided on a more bearable approach. Today we are celebrating the apple. This apple cookie is simple and delicious.It is soft and nearly melts in your mouth. We have topped it off with a maple syrup brown sugar frosting for some added flavor (although it doesn't need it) and texture.
Perhaps if we all make them this weekend we can send Mother Nature a clear message that we have had enough of summer.
savour… autumn leaves
APPLE COOKIE WITH MAPLE BROWN SUGAR FROSTING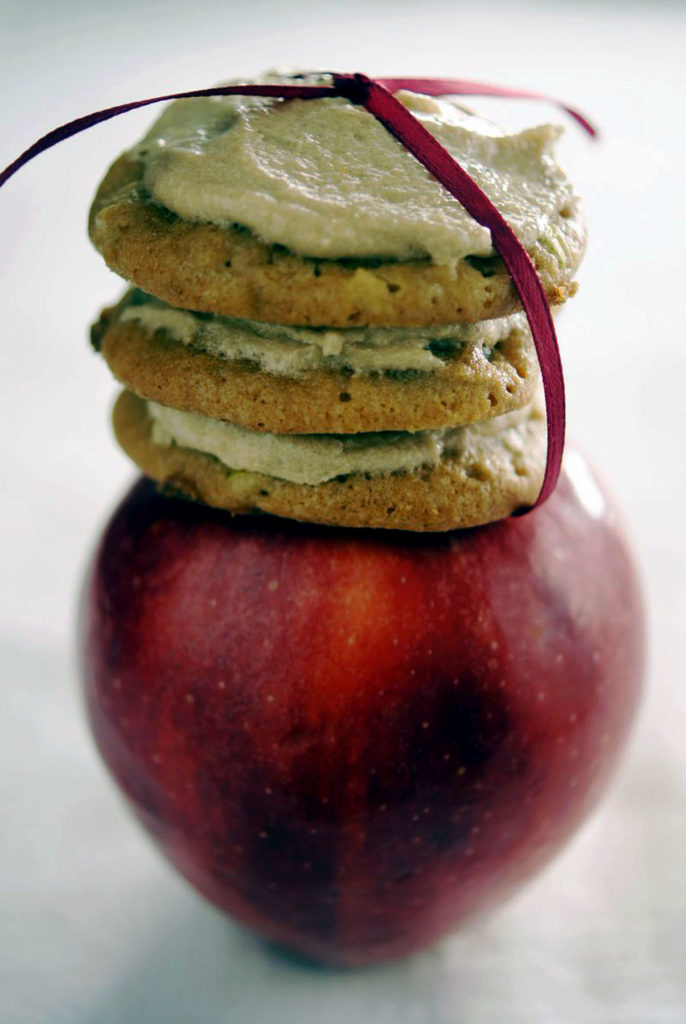 Before you start:
I like to use granny smith apples for their tartness, but you could use a different variety and get good results.
Use real maple syrup. Not maple-flavored syrup or even maple flavoring… it makes a difference.
These cookies are soft. Do not remove them too quickly or you will likely break them.
The brown sugar does not completely dissolve in the frosting. This will create a slight, expected crunch.
The ingredients:
Apple Cookie
½ cup unsalted butter at room temperature
¼ cup shortening
1 ¼ cup light brown sugar
1 egg
2 ½ cups all-purpose flour
1 teaspoon soda
½ teaspoon salt
1 cup raisins
1 cup fresh apple unpeeled, finely chopped
¾ teaspoon vanilla
¾ teaspoon cinnamon
¼ cup milk
Maple Brown Sugar Frosting
2 ½ cups confectioners sugar
½ cup dark brown sugar
½ cup unsalted butter – softened
1/8 teaspoon salt
½ cup maple syrup
¾ teaspoon vanilla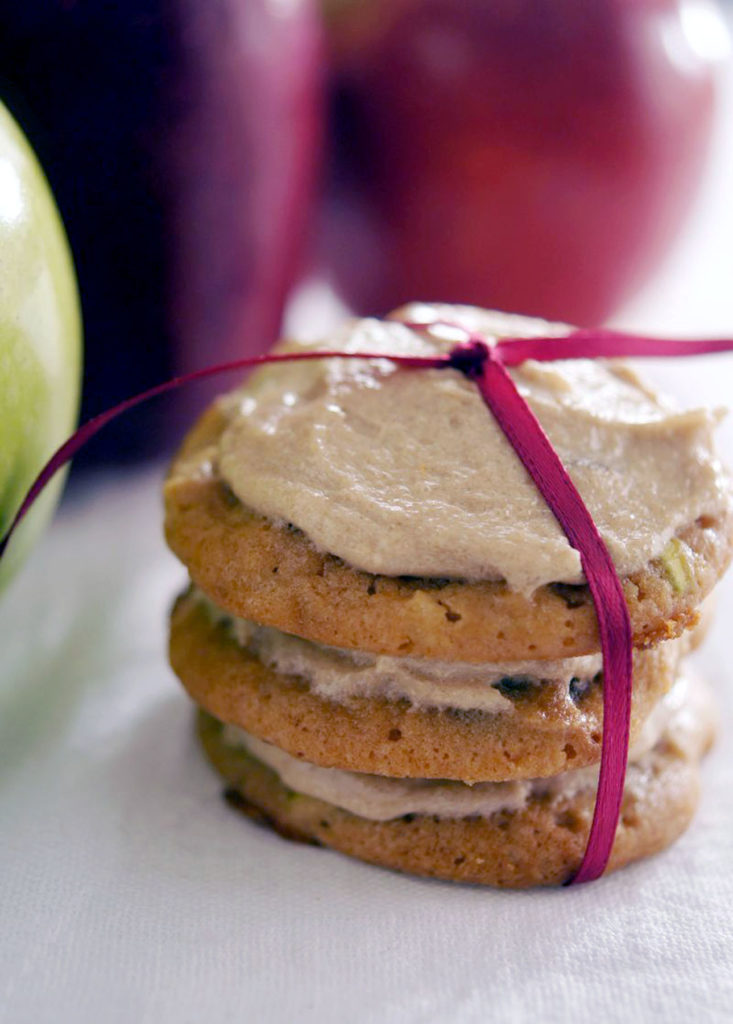 The method:
Apple Cookie
Preheat oven to 350˚F.
Sift together flour, soda, and cinnamon. Set aside.
Place butter, shortening, and sugar in a bowl and mix on medium speed until well combined.
Add egg, vanilla, and salt. Mix again on medium-high until light and fluffy.
With the mixer on low speed slowly add in dry ingredients just until combined.
Add milk and mix again until well combined.
Add in raisins and chopped apple. Mix only until well combined.
Place by spoonfuls onto parchment-lined baking sheets.
Bake at 350 degrees for 11-13 minutes or until lightly browned.
Allow to rest on baking sheet for 1-2 minutes before removing.
After completely cool, top with Maple Brown Sugar Frosting
Maple Brown Sugar Frosting
Place sugars and butter in a medium bowl and mix together on medium speed.
With the mixer still on medium speed, add maple syrup in a slow steady stream.
Mix in vanilla.
Increase speed to medium-high and mix until frosting is light and fluffy.