Tomorrow people all over the country will be celebrating pierogi. Truth be told, the majority of those people will be in the midwest or northeast, but the popularity of pierogi has spread across the nation. Just about anywhere that has a large Polish population has pierogi.
The pierogi or pierogi is similar to ravioli. However, the filling typically involves a mashed potato base and then other things are added after that. The one I remember the most from my childhood in the midwest was potato, caramelized onion, and cheddar cheese. There are many variations out there as you might imagine. In fact, as they have grown in popularity, more "American" versions have appeared including bacon and jalapeno. They are gone in just a couple of bites, but they are really good bites.
savour… carb therapy
PIEROGI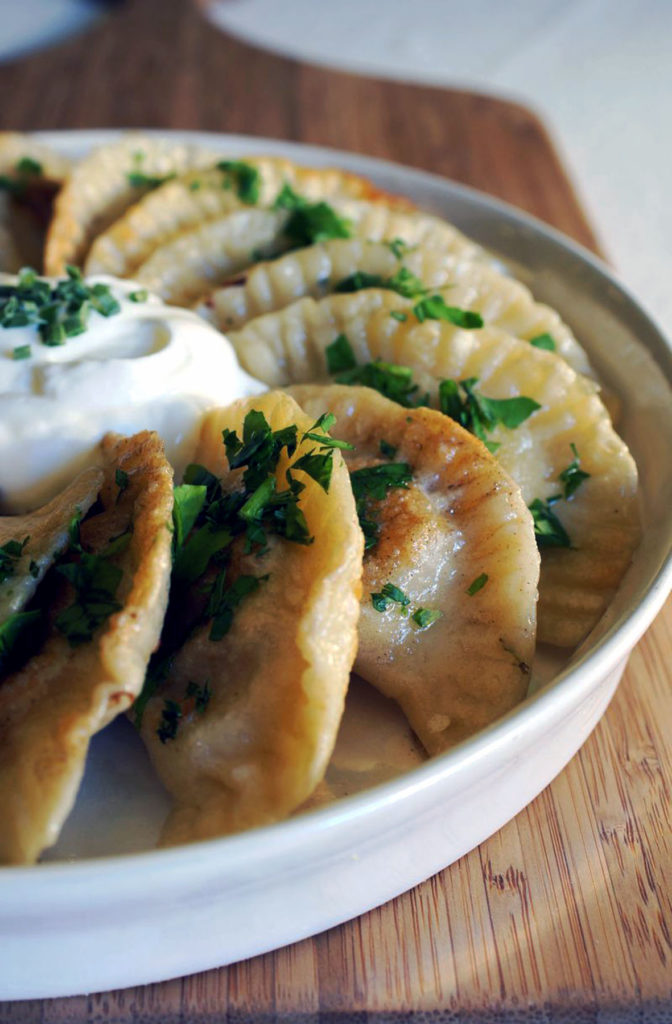 Before you start:
I use a food ricer to mash potatoes. Use whatever method works best for you.
Have a short bowl or glass of water handy to dab you fingers and very slightly moisten the edge of the circle cut out to help seal the filling inside.
A dessert version of pierogi can also be made, although I have never done it. I usually see these with standard pie fillings (cherry, apple) and served with some sort of sauce.
Be careful not to overwork the dough. Easy does it.
The ingredients:
For the dough:
2 cups all purpose flour
2 eggs
1 tablespoon sour cream
½ cup water
Butter or oil for sautéing
For the filling:
2 cups diced potato (about 1-inch cubes)
1 tablespoon butter
1 tablespoon olive oil
1/3 cup finely diced onion
½ teaspoon finely minced garlic
½ teaspoon thyme
1 cup finely shredded cabbage
1 ½ tablespoons grated parmesan cheese
1 teaspoon chopped flat-leaf parsley
Salt and pepper to taste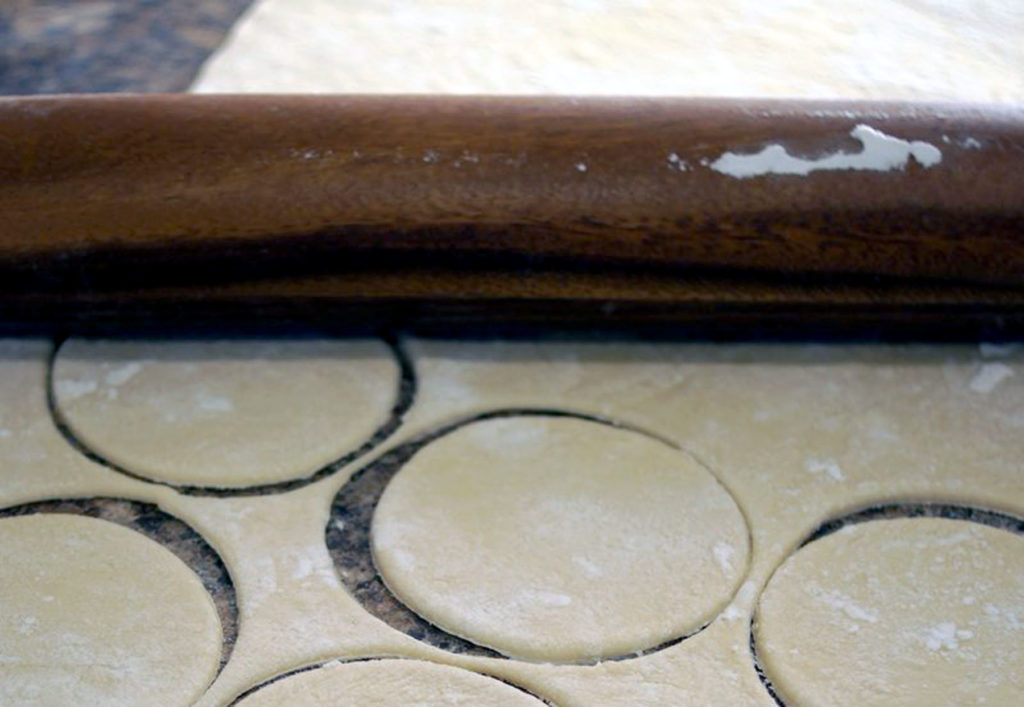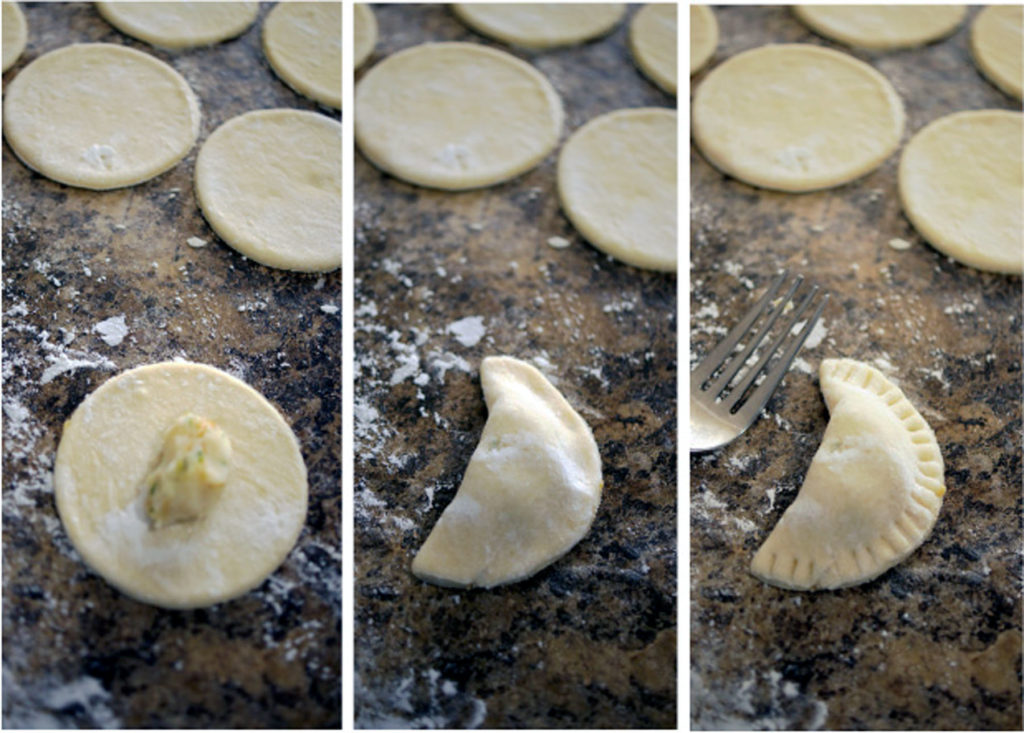 The method:
Place the potatoes in a large saucepan and fill with enough cold water to just cover.
Cook over medium-high heat for 15-20 minutes until soft, but not mushy.
While potatoes are cooking, melt butter and olive oil in sauté pan over medium heat.
Add onion, garlic, and thyme. Cook until onions are soft and translucent (about 2 minutes).
Add cabbage and cook an additional 7-9 minutes until cabbage starts to brown.
Lower the heat to low and cook an additional 20 minutes until the cabbage and onion are soft and caramelized.
When the potatoes are finished drain them thoroughly and pat them dry with a paper towel.
Place the potatoes, onion/cabbage mixture, cheese, and parsley in a bowl and mash them.
Add salt and pepper to taste.
Set the filling aside to cool while you make the dough.
In a large bowl, combine flour, sour cream, and ¼ cup of the water.
Mix the eggs in one at a time.
Add about half of the remaining water… more as necessary until the mixture comes together.
Place dough on a lightly floured surface and knead with your fingertips, lifting and dropping the dough on the counter.
You should knead (dusting with flour as necessary) until dough is smooth on the outside and slightly sticky when poked (about 5 minutes).
Loosely wrap in plastic wrap and set aside to rest for at least 20 minutes.
While it is resting, bring a large pot with water to boil over high heat.
When the dough is ready turn it out onto a lightly floured surface and roll about 1/8 inch thick.
Cut out circles with a cookie cutter or drinking glass.
Place a small amount of filling in the center of the disc and fold over to form a semi-circle.
Press the edge together with your fingertips and then mark with the end of a fork.
Drop the pierogi into the boiling water.
When they begin to float to the top, cook them for an additional 3 or 4 minutes.
Drain the pierogi.
Saute the pierogi in butter or olive oil over medium heat until slightly browned on both sides.
Serve with sour cream and garnish with chopped parsley.