Earlier this week we talked about finding your preference in wines. Maybe you tried some. Maybe you have some left over. I wouldn't, but that's me. Either way, get your hands on some white wine so you can make this treat. You won't be disappointed.
The poached pear is an eye-pleasing dessert that is far easier to make than your guests will believe could be true. The flavors and textures meld so well here. The texture of the pear, cream, and nuts are all very different but wonderful together. The wine sauce is a bit tart and sweet at once.
To make it even better you get a whole serving of fruit. Now that's a treat I can get behind.
savour... 5 a day
POACHED PEARS IN VANILLA SAGE WINE SAUCE
Before you start:
Choose pears that are firm to start. You do not want to end up with mushy pears.
I used white zinfandel because I wanted the color, but you could use any white wine. My only recommendation is that you choose a wine that leans more on the sweet side.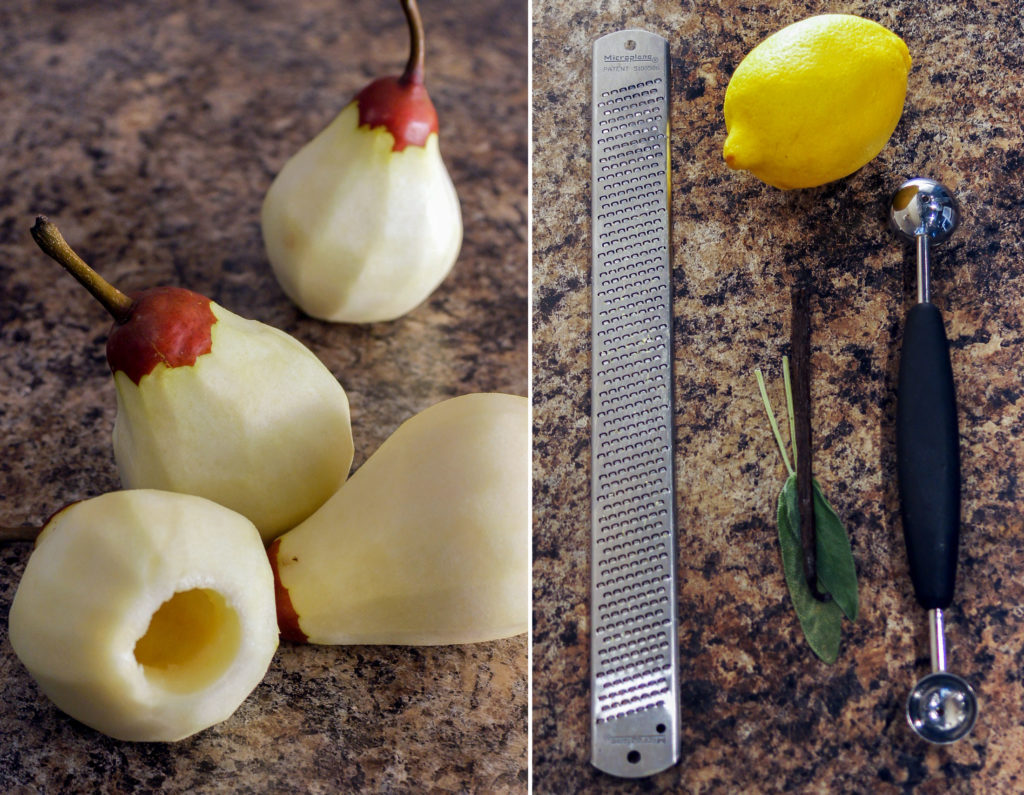 The ingredients:
4 pears
2 cups white wine
2 cups of water
1¾ cup granulated sugar
1 teaspoon lemon zest
1 teaspoon lemon juice
1 cinnamon stick
½ teaspoon vanilla extract
6-8 sage leaves
4 oz heavy cream
4 oz mascarpone cheese
½ cup chopped walnuts
The method:
Bring wine, water, cinnamon stick, sage leaves, lemon zest and juice, and vanilla to a simmer in a large saucepan over medium-high heat.
Peel the pears, leaving the stem and a little of the peel at the top.
Using a melon baller, scoop out the core of each pear.
Place pears in the hot liquid and poach uncovered for 8-10 minutes.
They are done when they are soft, but not mushy.
Using a slotted spoon, transfer the poached pears to a serving plate.
Return the liquid to a low boil and add sugar. Stir occasionally.
Maintain at a low boil for 15-20 minutes until the liquid is reduced to about 1/3 its original volume.
It is ready when it coats the back of the spoon.
Remove from heat. Remove the cinnamon stick and sage leaves.
Whip the heavy cream to stiff peaks.
Stir ¼ of the whipped cream into the mascarpone.
Gently fold the remaining whipped cream into the mascarpone.
Serve with a pear, a quarter of the mascarpone cream and walnuts.
Drizzle the wine sauce over the top forming a small puddle around the pear.