I am so pleased that the holidays are coming. I have so much to share with you. In fact, there is far more than can fit into one holiday season. Over the coming weeks we have several craft projects, holiday décor ideas, and, of course, treats in store for you.
Our treat of the week for this week is called Soccatunia. I am fairly sure that our home is the only place on Earth that calls it that… until now. This is actually a take on the Sock It To Me cake featured on the Duncan Hines yellow cake mix box. Ours is not made with cake mix (although I have made Duncan's version before). Once you taste this "from scratch" version you are going to be sold.
The name Soccatunia originated from a holiday season many years ago when my youngest son was very small and couldn't make out 'sock it to me'. Soccatunia was his version of the phrase and it has stuck ever since. He also called lollipops – chilipops and waffles were wackles. I love it when kids come up with their own words for things. I also love how soccatunia sounds like it might be a real word… some fancy Italian pastry or dessert.
While it is a standard enough cake to be served anytime of the year, it has become a holiday staple in our home. It is perfect for coffee and dessert with holiday guests. The cake is spongy and moist… and the cinnamon swirl gives this treat something to make you thankful… and merry.
savour… the most wonderful time of the year
SOCCATUNIA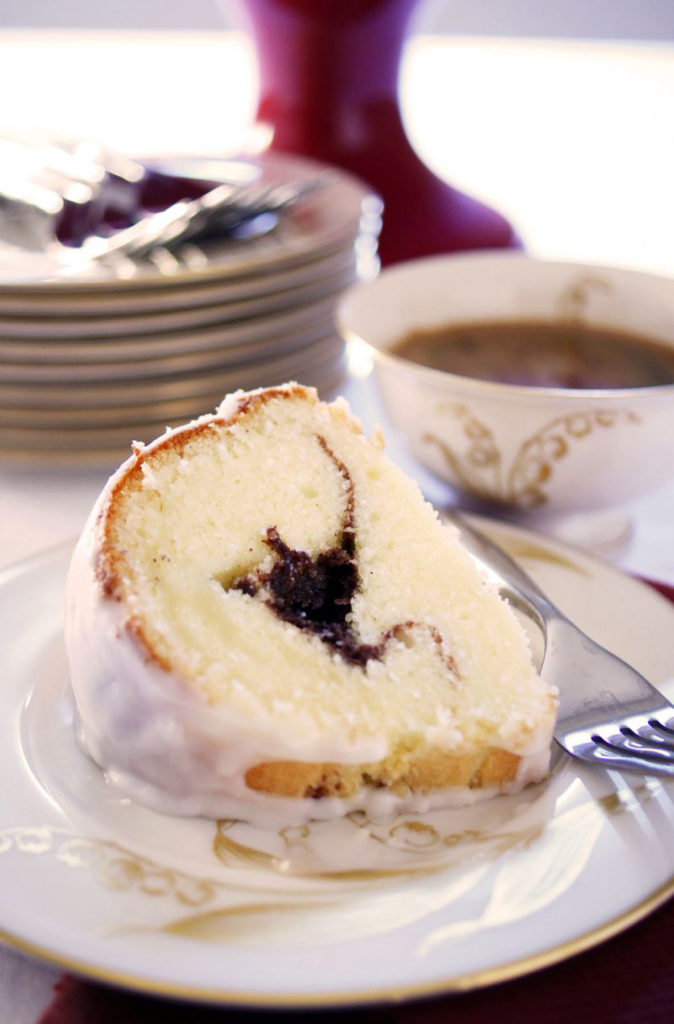 Before you start:
We used cake flour, but you could use AP flour with similar results. Just be sure to use a little less.
Sift the dry ingredients a couple of times to combine them well.
It is imperative that the butter and eggs be at room temperature.
Orange oil is not always easy to find and not necessary for the glaze, but it does complement the cinnamon very nicely.
One of the best things about this recipe is that it all goes in the mixer at once (no fat/sugar creaming necessary).
The ingredients:
The cake:
2 ½ cups cake flour
2 ½ teaspoons baking powder
½ teaspoon salt
2/3 cup butter
1 ½ cups granulated sugar
1 ½ teaspoons vanilla extract
4 eggs
¼ cup milk
1 cup sour cream
3 tablespoons brown sugar – packed
1 tablespoon cinnamon
The glaze:
2 cups confectioner's sugar
4 tablespoons milk
A few drops of orange oil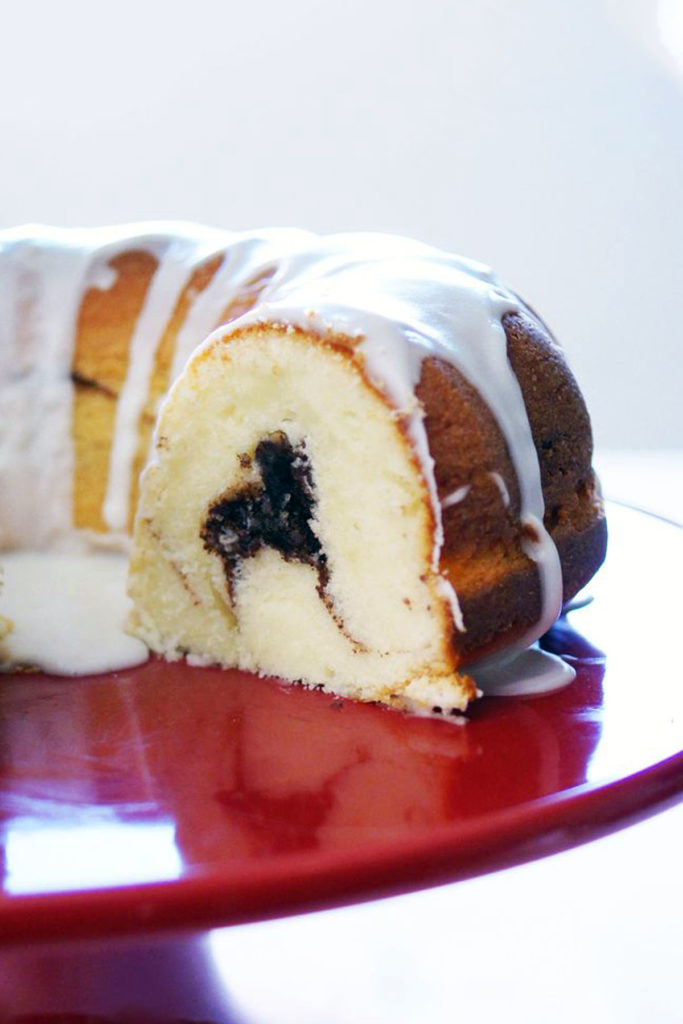 The method:
The cake:
Preheat oven to 350˚F.
Lightly grease and flour a bundt pan.
Sift together flour, baking powder, salt, and granulated sugar. Set aside. We'll call this dry ingredients #1.
In a separate bowl combine the brown sugar, cinnamon, and 3 tablespoons of dry ingredients #1.
Mix together well. Set aside. We'll call this dry ingredients #2.
Place dry ingredients #1 in your mixer bowl and add softened butter, vanilla, eggs, milk, and sour cream.
Mix on medium speed until batter is smooth and silky (about 30-45 seconds).
Pour 2/3 of the batter into the prepared bundt pan.
Evenly sprinkle the dry ingredients #2 over the batter in the bundt pan.  Insert the butter knife in various places to give the cake a marbled effect.
Pour the remaining batter into the bundt pan. Place on a baking sheet in the middle of the oven.
Bake for 50-55 minutes or until it passes the clean toothpick test.
Allow cake to cool in the pan for 30 minutes.
Invert cake onto a plate or cake stand. Remove bundt pan.
Allow to cool completely before applying the glaze.
The glaze:
Stir together the ingredients until smooth and well blended.
Allow mixture to set for 3-5 minutes before drizzling over cake.
Drizzle on top of the cake.