or as I like to call this post – what to make for the Treat of the Week when you are hundreds of miles away from your own kitchen and don't have your own tools or props at hand. You, on the other hand, may feel free to call it what to make with the panettone you don't usually eat and a little of the champagne you have on hand for New Year's Eve. No matter what you call it, you will definitely call it delicious.
If you have avoided panettone in the past, I urge you to give it another chance. Panettone is like the prettier sister of the fruit cake. It is light and somewhat delicate but still has the character of classic dried fruits. The cream filling tastes of champagne but is slightly sweetened. The body of the cream in fluffy yet sturdy thanks to the cream cheese. This is an excellent way to ensure a wonderful start to a Happy New Year.
savour… auld lang syne
PANETTONE WITH CHAMPAGNE CREAM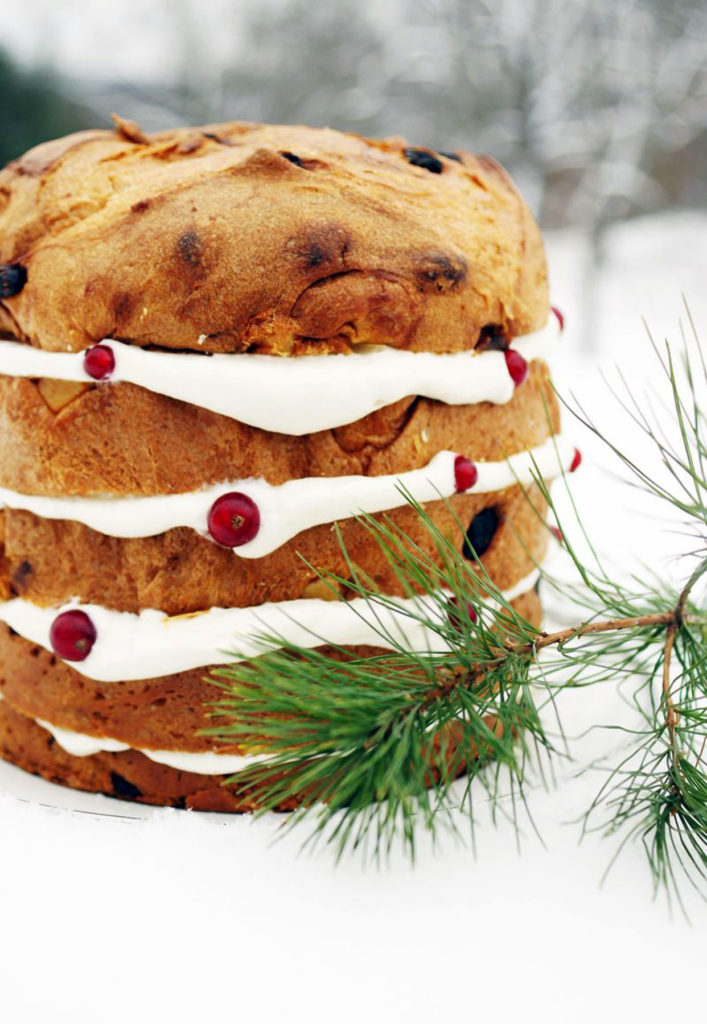 Before you start:
Peel the paper off the panettone carefully. Pull back on the paper and not up.
There is often an outer paper on the bottom and then another paper disk. If that is the case, leave the paper disk intact. It will help keep the cake together for cutting/serving.
The red currants add a nice bit of tartness. They are highly recommended, but if not available to you consider another garnish such as orange zest or chocolate shavings.
When applying the cream be sure to keep a nice ridge near the edges. This will provide that "spilling over" look that makes this cake so successful.
The ingredients:
1 cup heavy whipping cream
1 egg white
4 oz cream cheese
4 tablespoons confectioners sugar
½ teaspoon vanilla
1 teaspoon lemon zest
1/3 cup champagne
red currants for garnish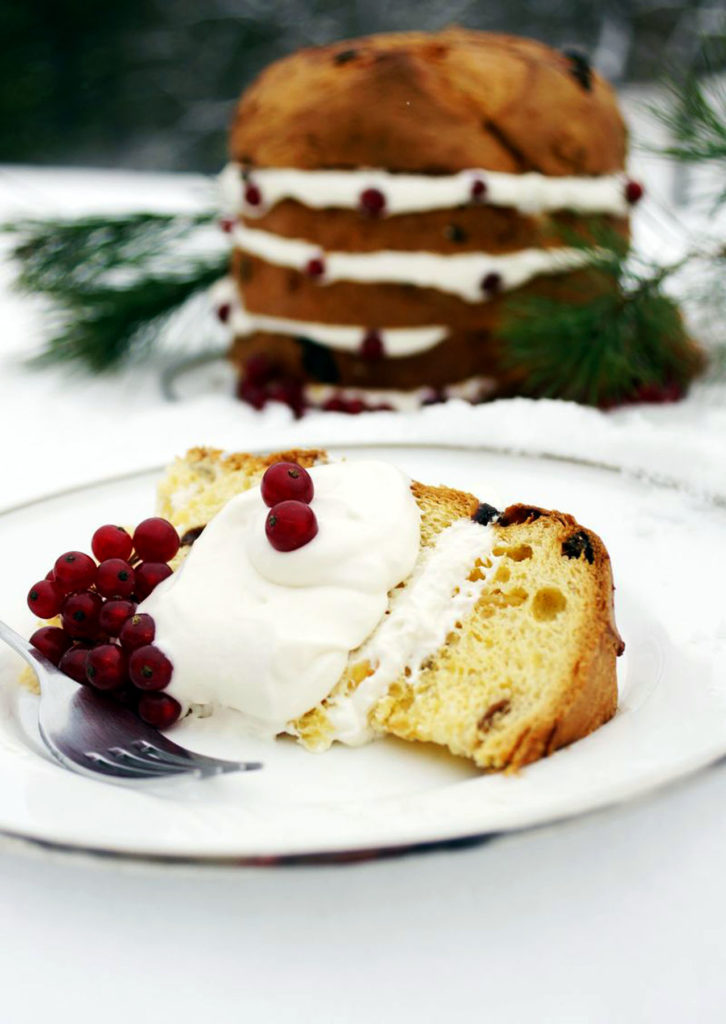 The method:
Slice the panettone just under the "cap".
Slice the remaining "stump" in half and then each half in half again. Set aside.
In a medium bowl, beat cream cheese, lemon zest, and champagne until smooth. Set aside.
In another medium bowl whip heavy cream and vanilla to soft peak stage.
In a small bowl, beat egg white to soft peak stage. Sprinkle in confectioners sugar while beating to stiff peaks.
Gently fold whipped cream into cream cheese/champagne mixture using only a quarter of the whipped cream at a time.
Gently fold in whipped egg white.
Place a dollop of cream in between each layer of panettone.
Replace the layers and garnish with red currants.
Serve with a little extra cream on the top.