Spring has arrived and with it an urge to be outdoors. This past weekend we cleaned up the grill and got it ready for a long outdoor season. There is nothing quite like the smell of grilling. One of the things I love to do while I already have the grill fired up is grill up a few chili peppers. They can be used right away or saved for a day or two in the fridge until you are ready. The process is simple and the flavor is incredible.
Our stuffing mixture for this recipe is fresh and tasty. The Tex-Mex style works well with the smokiness and a little heat goes a long way.
savour… subtleties
STUFFED CHILI PEPPERS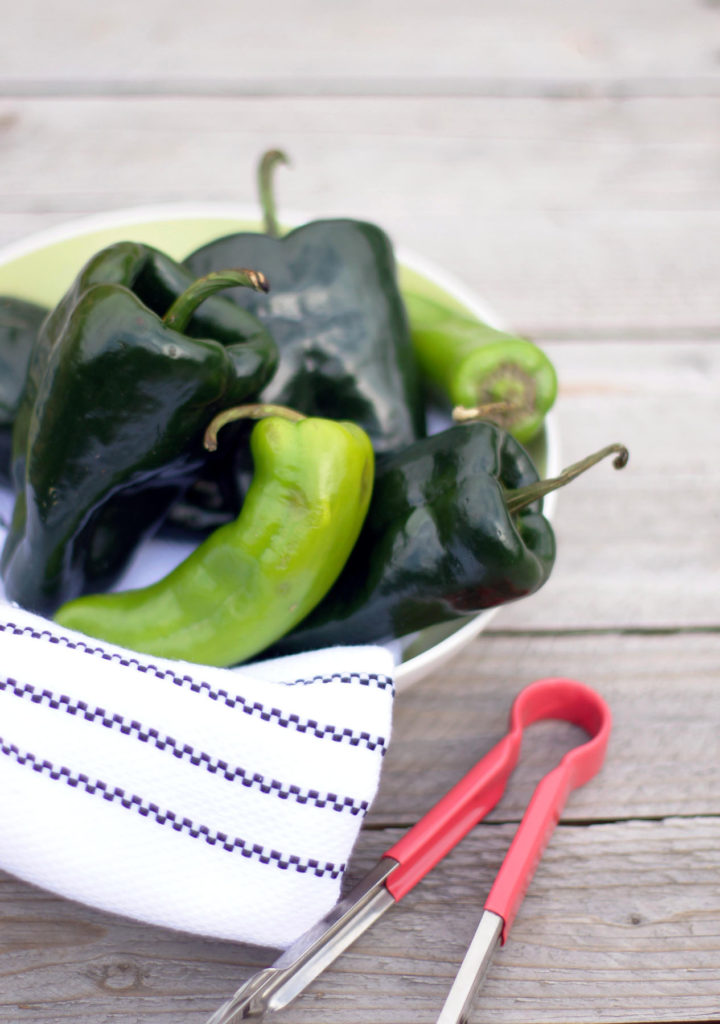 Before you start:
You may prefer to wear gloves when handling the chilies. At the very least be sure to wash your hands thoroughly when finished.
There is a fine line between blistered and burned. If your skins turn ashy, you have gone too far.
Once you put the peppers in the bowl allow the steam to do the work for you. Don't touch until you are ready to peel the skins away.
Don't be alarmed if all of the skins don't release. Scrape off what you can with a blunt knife.
Feel free to rinse the peppers when you have finished peeling them. I do not see a significant loss if any, of flavor when I do this.
You can also grill your peppers directly on your stove if you use a gas stove or under the broiler. You won't get the same smoky flavor, but they will be tasty.
The queso fresco works well because it is crumbly and isn't quite as melty as others. You may wish to experiment with different cheeses.
The ingredients:
6 poblano peppers
2 tablespoons olive oil
¼ cup chopped onion
1 clove garlic
2 cups diced grilled chicken
1 can pinto beans (15.5 oz)
1 tomato, diced
Generous pinch of salt
½ teaspoon cumin
1 cup cilantro, roughly chopped
10 oz Mexican queso fresco cheese, crumbled or finely chopped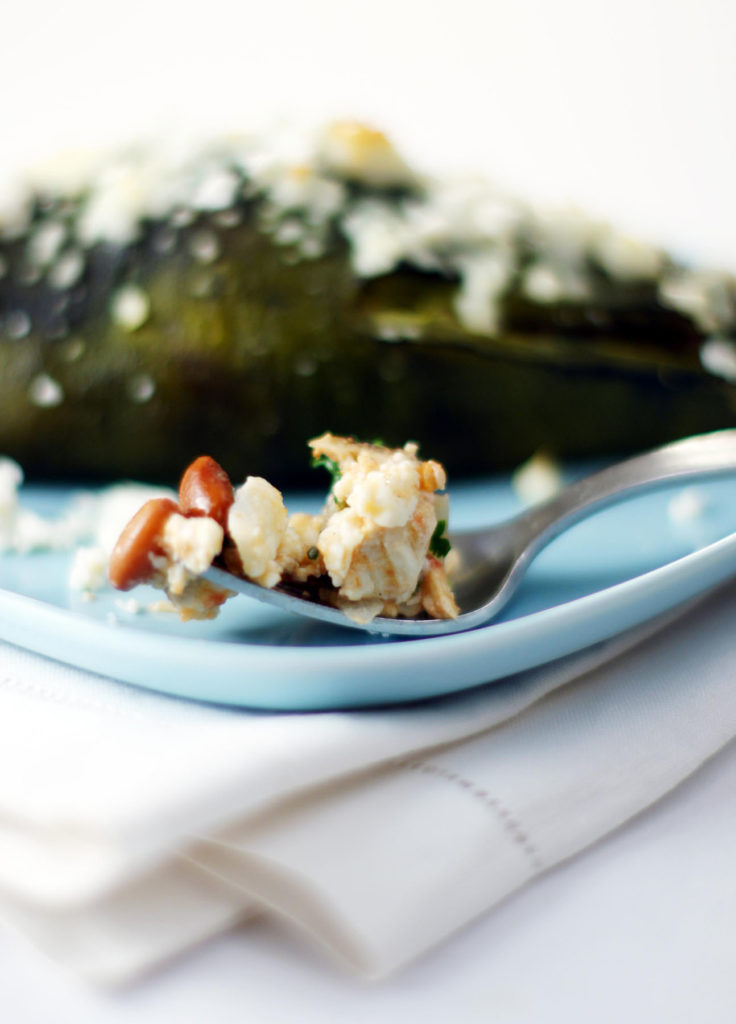 The method:
Grill the peppers, rotating them frequently to cook blister as much of the surface as possible. 
Place peppers in a bowl and cover immediately with plastic wrap.  Set aside for at least 20 minutes.
Preheat oven to 350˚F.
Put olive oil in a skillet and cook onion over medium heat until soft and translucent (about 6 minutes).
Add garlic and cook for just a minute more.
Add chicken and beans. Cook for 3 minutes stirring occasionally.
Add tomato, salt, and cumin. Cook for a few more minutes.
Take off heat and toss in cilantro and about 8 oz. of the cheese.
Divide the filling into 6 portions.
Remove the peppers from the bowl and remove the skins. They should slide off for the most part, but may need some coaxing with a paper towel or blunt knife (the edge of a spoon works, too).
Carefully cut the top off and remove the center and seeds. Gently rinse.
Pat dry with a paper towel and stuff each pepper.
Place peppers on a foil-lined baking sheet (for easy clean up).
Sprinkle remaining cheese on top of each pepper.
Bake for 20 minutes.
Remove and cool slightly before serving.