As holidays go, Easter sort of gets the short end of the stick. It has all of the makings of a great holiday, but never quite the same oomph. There is candy, a fun, lovable character, and customs and traditions. Yet it still seems to pale in comparison to Christmas and Halloween.
As a boy, we always colored eggs and they always showed up in my basket on the following morning. Our baskets had a wide variety of candies. I was especially lucky because I loved (and still do) black jelly beans. Everyone was happy to give them to me.
Last week's TOTW, Chocolate Dipped Macaroons, was a good start to filling your basket. This week we bring you another treat to help you out… Carrot Cake Cookies. What bunny wouldn't love that? The cookie is soft and a little cakey. The icing is smooth and counters the sweetness of the cookie perfectly. As you will see, you can spread the icing on top or make a sandwich cookie of it. Either way, it is delicious.
savour… baskets full of Easter joys
CARROT CAKE COOKIES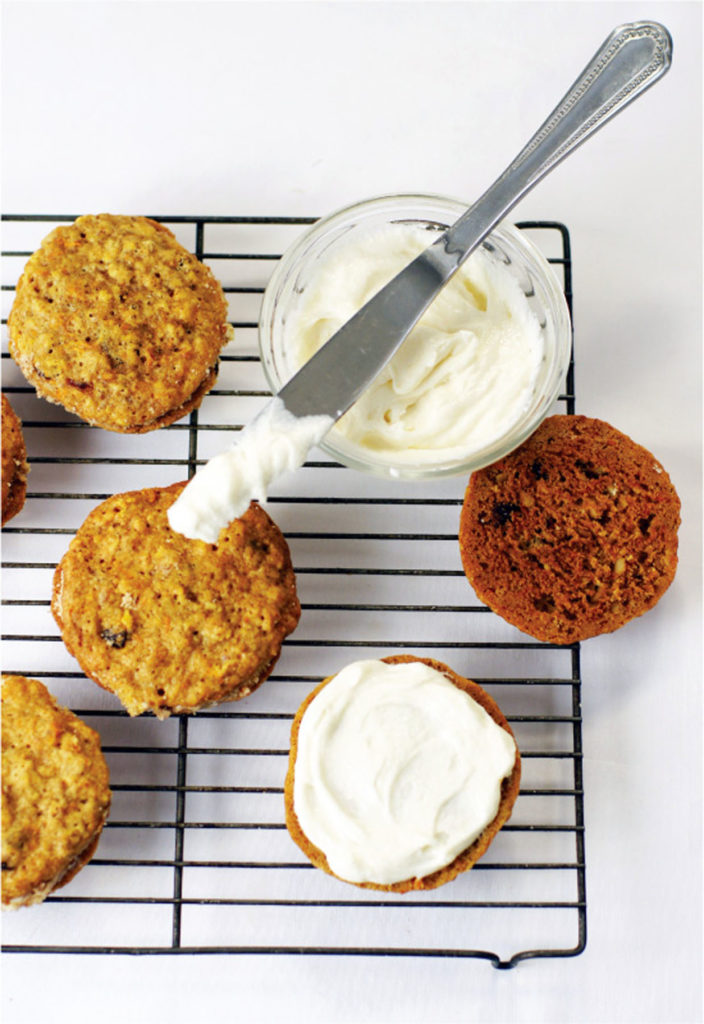 Before you start:
These are soft cookies. Do not try to remove them from the tray too soon.
To reduce some of the moisture try squeezing some of the liquid out of the grated carrots by placing them in cheesecloth or some paper towels.
The dough should rest for at least 2 hours before baking, but feel free to leave it overnight.
Chilling the dough balls before baking is critical. It will prevent some spreading of the cookie.
To keep the icing firm you may wish to store these in the refrigerator.
The ingredients:
For the cookie:
2 ½ cups all purpose flour / 330g
1 teaspoon baking soda
1 teaspoon baking powder
¼ teaspoon salt
¾ teaspoon cinnamon
½ teaspoon ground nutmeg
½ teaspoon ground ginger
1 cup sugar / 200g
1 cup brown sugar / 230g
1 cup (2 sticks) unsalted butter at room temperature
2 eggs at room temperature
1 teaspoon vanilla
1 ½ cups grated carrot (3-4 medium) / 195g
1 cup raisins / 155g
1 ¼ cup chopped walnuts / 165g
1 cup rolled oats / 85g
For the icing:
8oz cream cheese
½ cup unsalted butter at room temperature
1 1/2 cups confectioners sugar
¾ teaspoon vanilla extract
½ cup finely chopped walnuts.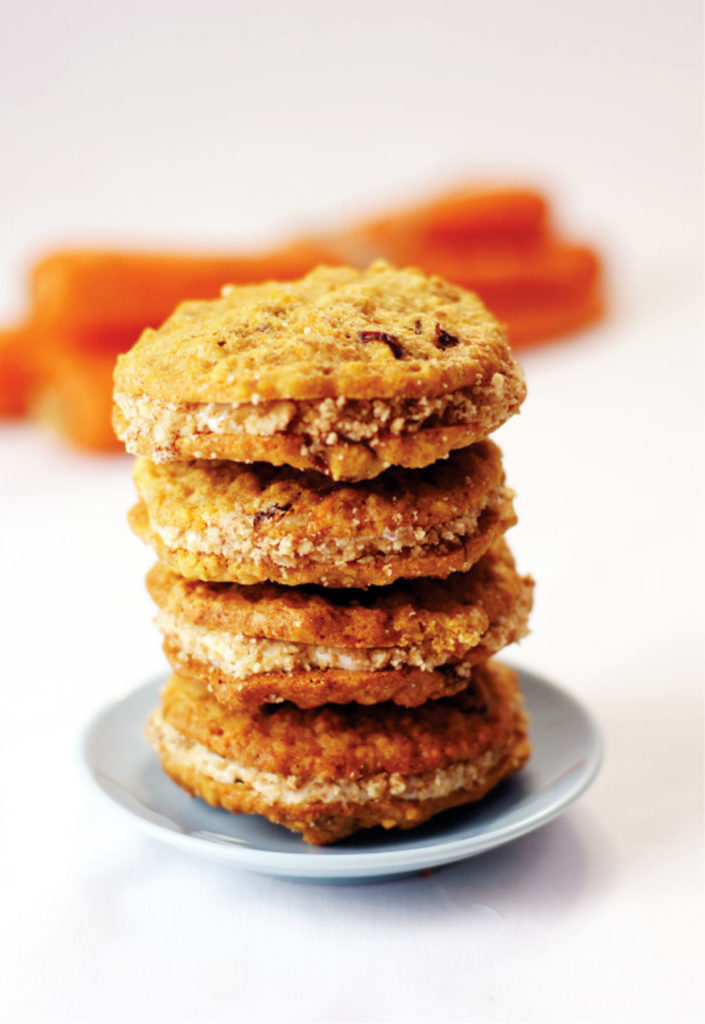 The method:
For the cookie:
Sift together the flour, baking soda, baking powder, salt, cinnamon, nutmeg, and ginger. Whisk to fully blend.  Set aside.
Cream together butter and both sugars on medium speed until light and fluffy (about 2 ½ min.).
Add eggs and vanilla. Mix thoroughly.
With the mixer on lowest speed, gradually add flour mixture and mix only until moistened.
Add carrot, raisins, walnuts, and oats. Mix just until incorporated.
Cover dough and let it rest in the refrigerator for at least 2 hours.
Preheat oven to 350˚F.
Using a cookie scoop, place dough on parchment-lined baking sheets.  Chill for 15 minutes before baking.
Bake for 10-12 minutes or until cookies are lightly browned.
Remove from the oven, but allow cookies to sit on the tray for 2 minutes before transferring to wire rack.
Cool completely before icing.
For the icing:
Cream together the cream cheese and butter.
Add the confectioners sugar and vanilla.
Mix until smooth and creamy.
Apply to the top of the cookie with an offset spatula.
Sprinkle on the finely chopped nuts.