Wow! This has been one busy week. I promise to have more of the good stuff in front of you next week. Of course, after a long week, nothing beats a tasty treat. With Easter just around the corner, I thought it might be a good idea to take advantage of the Treat of the Week segment by bringing you an idea for a clever basket addition. This week's treat is fairly common, but we gave it a little twist by baking it in an eggshell and dipping it in chocolate. The result is a homebaked sweet pretty enough for any basket.
If you don't want to go through the trouble of the egg shape, you could always make the macaroons in the more common drop cookie fashion. They still dip easily into the chocolate and I'm sure your basket recipients wouldn't mind.
savour… hippety-hoppety
MACAROON EGGS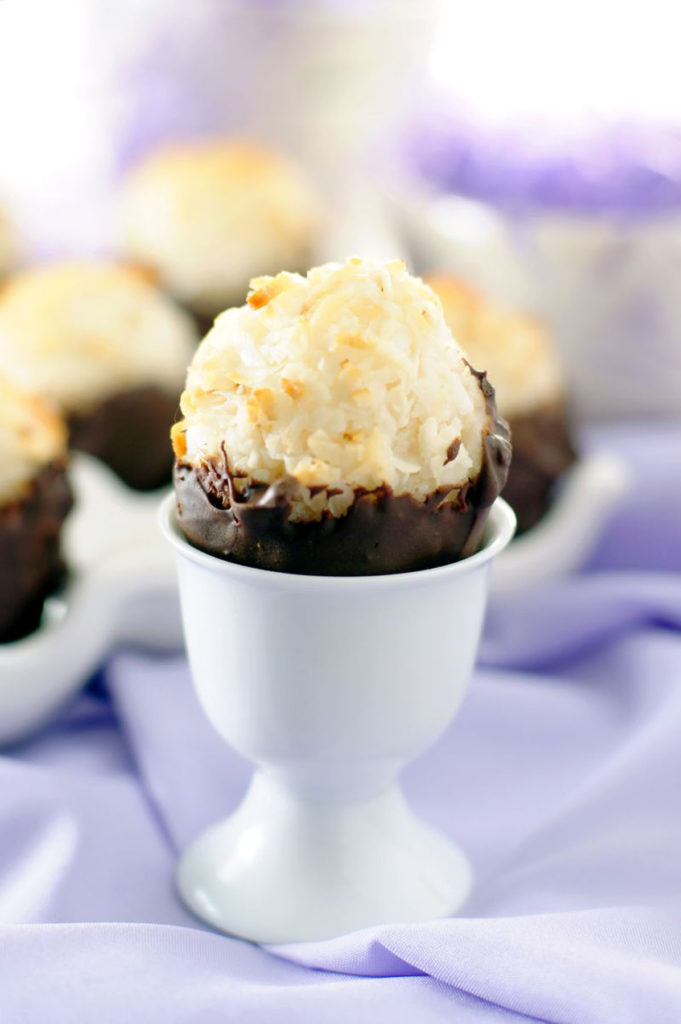 Before you start:
Be sure your eggshells are washed and dried. We start saving ours weeks in advance for treats like this and for making cascarones.
I like the way almond extract tastes here, but it could be substituted with another 1/2 teaspoon of vanilla if you wish.
If you are using the eggshells to bake your treats, be sure to peel them off carefully. Nobody wants to bite into a piece of the eggshell with their treat.
You could use any good melting chocolate to dip, but I prefer semi-sweet for this treat.
These are delicious right after cooling, but are even better after a day or two in the fridge.
The ingredients:
1 can sweetened condensed milk (about 1 ¼ cups)
2 large egg whites
1 ½ teaspoons vanilla extract
½ teaspoon almond extract
¼ teaspoon salt
1/2 cup flour
6 cups shredded sweetened coconut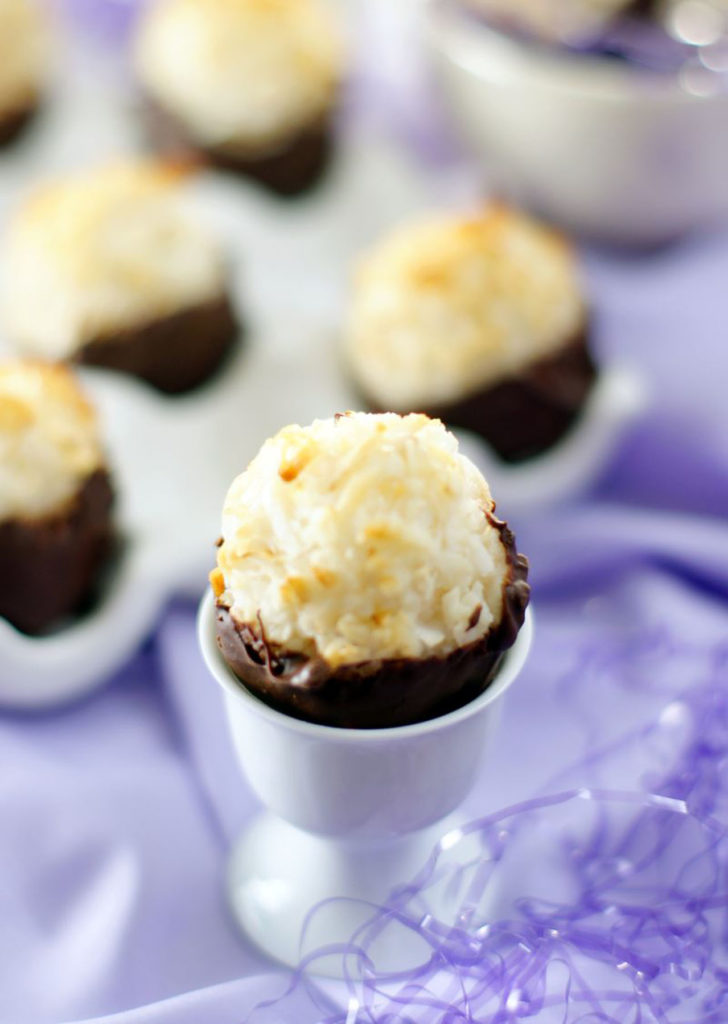 The method:
Preheat oven to 325˚F.
Place egg whites and sweetened condensed milk in a large bowl and mix well.
Stir in extracts and salt.
Add coconut and flour and stir just until combined.
Spray eggshells, if using, lightly with a bit of cooking spray.
Place macaroon batter in eggshells, if using, and make a rounded top to mimic an egg and place in a mini muffin pan or… Place in mounds with a tablespoon or cookie scoop on parchment-lined sheets 1 ½ to 2 inches apart.
Bake for 20-25 minutes or until golden brown.
Cool completely on wire rack
If making the macaroon eggs, carefully remove the eggshell after the macaroons are completely cooled.
While gently holding the macaroon at the top, dip them halfway into melted chocolate and rest on a parchment-lined sheet standing straight up.
Place the tray in the refrigerator for at least one hour to harden the chocolate.
Store in an airtight container.