Man Week concludes with our 'Dad-approved' Treat of the Week. Dad is sure to be pleased with this All-American classic… the fried pie. While the filling options are limited only by your imagination, we chose apple cinnamon.
Fried pies or hand pies as they are sometimes called have been around for a long time. Most believe that they originated out of necessity (so many good ideas do). You see, housewives were looking for a way to put something tasty in their miner husband's lunch kit. The hand pie could be held by the crust and eaten up except for the tiny piece used for holding.
In the South these pies are very common. When my wife and I first started our lives together we would drive through the small towns of North Carolina on our way to Myrtle Beach for quick getaways. You cannot imagine the number of signs at the end of driveways promoting fried pies.
Our version uses our favorite pie crust to envelope sweet and tart apples. We have added cinnamon and allspice for a little extra flavor. Take it with you on your summer jaunts or enjoy it in a bowl with a bit of vanilla ice cream. It simply cannot be beat. Happy Father's Day.
savour… tasty to-go
FRIED APPLE PIE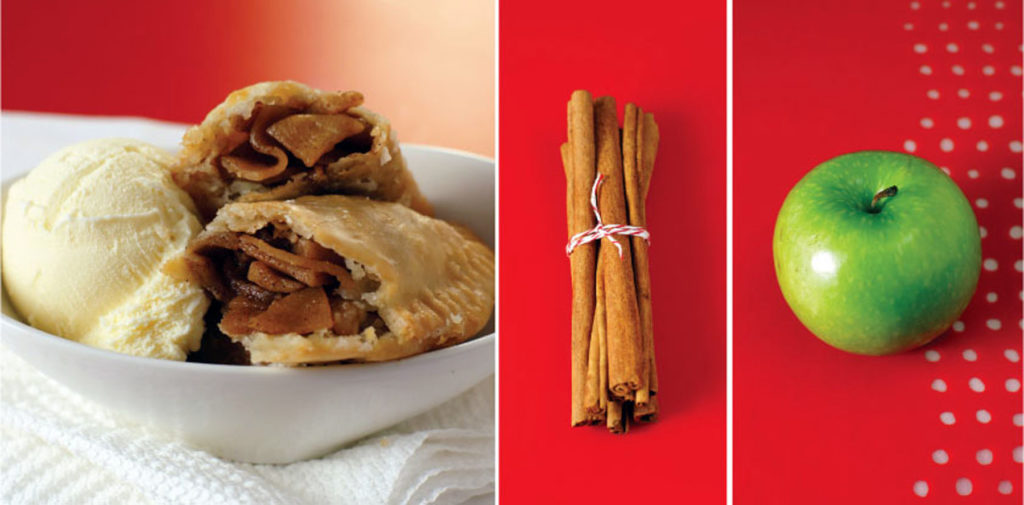 Before you start:
Cut your apples as consistently as possible to promote even cooking.
We sliced our apples about 1/8 inch thin and then cut into approximately ¾ inch squares.
I cannot stress enough that the secret is in the crust. You could use store bought crusts, but I urge you to check out our Pie Crust Basics post first. Follow the post closely and you will be on your way to pie-making heaven.
Do not over fill the pies. The syrup from the apples will spill out to the edge and subsequently burn in the hot oil.
As always, be very careful when deep frying.
Speaking of that, I promise this will be the last deep fried treat for a while. That might help those trying to maintain their swimsuit figures.
We used a small stainless steel bowl to cut out our crust.
The glaze really takes this pie to a better place, but you could also dust with powdered sugar if you prefer.
The ingredients:
For the pie:
1 batch pie crust
4 cups sliced/cut apples (we used 4 Granny Smith apples)
3 tablespoons butter
½ cup loosely packed brown sugar
Pinch of salt
2 teaspoons cinnamon
dash of allspice
Canola oil
For the glaze:
1 cup powdered sugar
3 tablespoons milk
½ teaspoon vanilla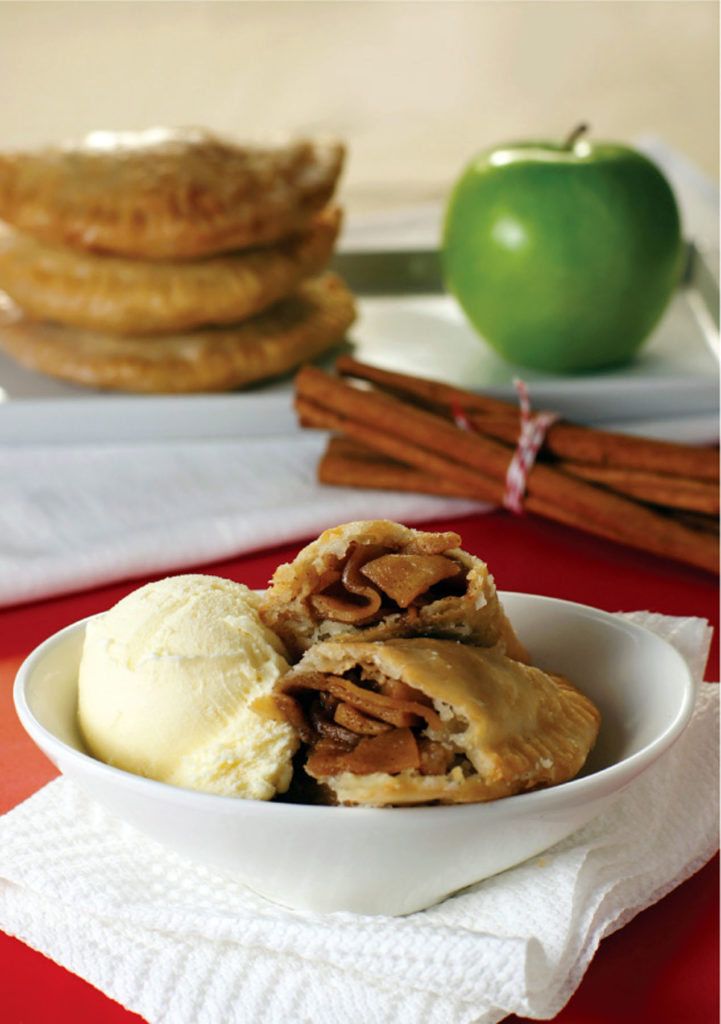 The method:
For the pies:
In a medium saucepan melt the butter over medium heat.
Add the brown sugar and stir to dissolve.
Add the salt, cinnamon, and allspice. Stir to combine.
Add apples and reduce heat to a simmer until apples are fork-tender but not mushy (about 15 minutes)
Remove from heat and let cool.
On a lightly floured surface roll out your crust to 1/8 – ¼ inch thick.
Use a circle at least 5 ½ inches in diameter to cut out individual crusts.
Place 1 -2 tablespoons of apple filling in the center of the crust disk.
Apply a circle of ice-cold water around the outside edge of the disk.
Fold the disk over to form a semi-circle.
Using a fork, press down slightly starting about 3/8 inch in from the edge. Workaround the semi-circle to seal the pie.
Place the pies on a lightly floured baking sheet until ready to fry.
It a deep fryer or large pot pour enough oil to make it about 4 inches deep with as much room above.
Fry the pies for about 1 minute on each side over medium to medium-high heat. If you are using a thermometer (recommend) keep the oil at about 360˚ F.
Remove when lightly browned and place on a wire rack to cool.
For the glaze:
Stir all of the ingredients together.
Spoon over the cooled pies to completely coat.
Place on a wire rack to harden.