The summer growing season is in full swing. However, it is not too late to get many things off the ground. If you are looking for new and interesting ways to accomplish it, this might be the post for you. At our local community garden, we have installed some container gardens utilizing discarded tires. This idea isn't especially new but may be new to you.
For the containers in these photos, we left the tires 'as is' and primed and painted the outsides. The garden is at an elementary school, so we allowed the kids to decorate them. At your house, you can turn them inside out to hide the treads, paint… or not, or cut out one side to reveal more planting space.
Not only will you be reducing the number of tires that end up in landfills, but growing in this way may actually promote growth. The tires hold in heat keeping the soil warm and the drainage is much better. The tires can be used to make beds, towers, or even retaining walls.
savour… thoughtful reuse
TIRE GARDENS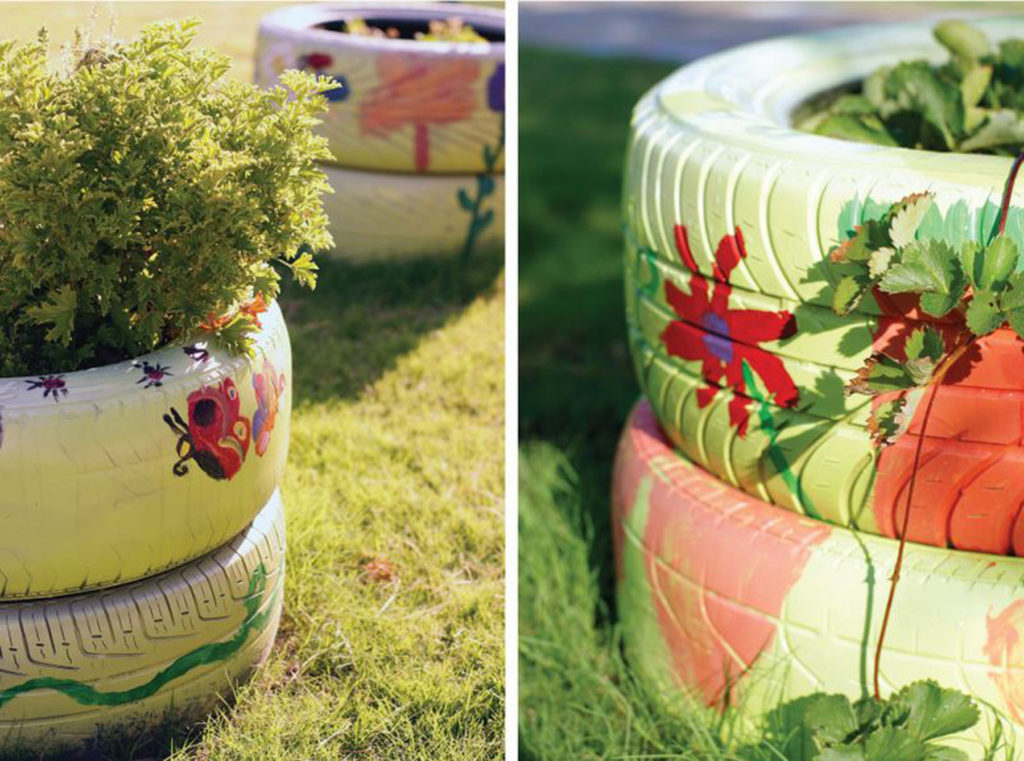 Before you start:
One of the best things about the tire garden is that the tires are FREE. Visit your local tire shop and you will most likely find them happy if not eager to let you take the tires off their hands. In most cases, they actually pay to have them hauled off.
To cut the side wall off use a utility knife and cut around the outside circle of the tire. There is usually a line already there as part of the tire design.
Do not bother to try turning the tire inside out unless you remove one of the sides. It will be like wrestling an alligator otherwise.
Use the side 'ring' that you cut off to shield the base of other plants, shrubs, etc.
There is some debate about whether or not this type of gardening should be used for food. We found very little to substantiate that growing food in these containers would be harmful, but the final decision will be yours. You will find plenty of information around the web.