We have concluded our tribute to National Ice Cream Month. Hopefully, you found some new favorites here, here, here, and here. Ice Cream Month is always fun and I enjoy eating the results.
Today we are shifting our focus to another food tribute. Tomorrow is National Cheesecake Day. After ice cream, that might be my favorite kind of holiday. There are several methods for making cheesecakes. I love most of them. The method we are showing today uses a water bath. This method, combined with some different ingredients, produces a cheesecake that is soft and creamy from side to side.
To make these treats individual we got out some old Jello molds to use for baking. If you have these around give baking in them a try. They would be great for small cakes, too.
Rum raisin is a wonderful flavor combination. It is great in ice cream and fits right in with the creaminess of cheesecake, as well. Don't worry too much about the rum. After the cooking, all that is left is the flavor.
savour… food tributes
RUM RAISIN CHEESECAKE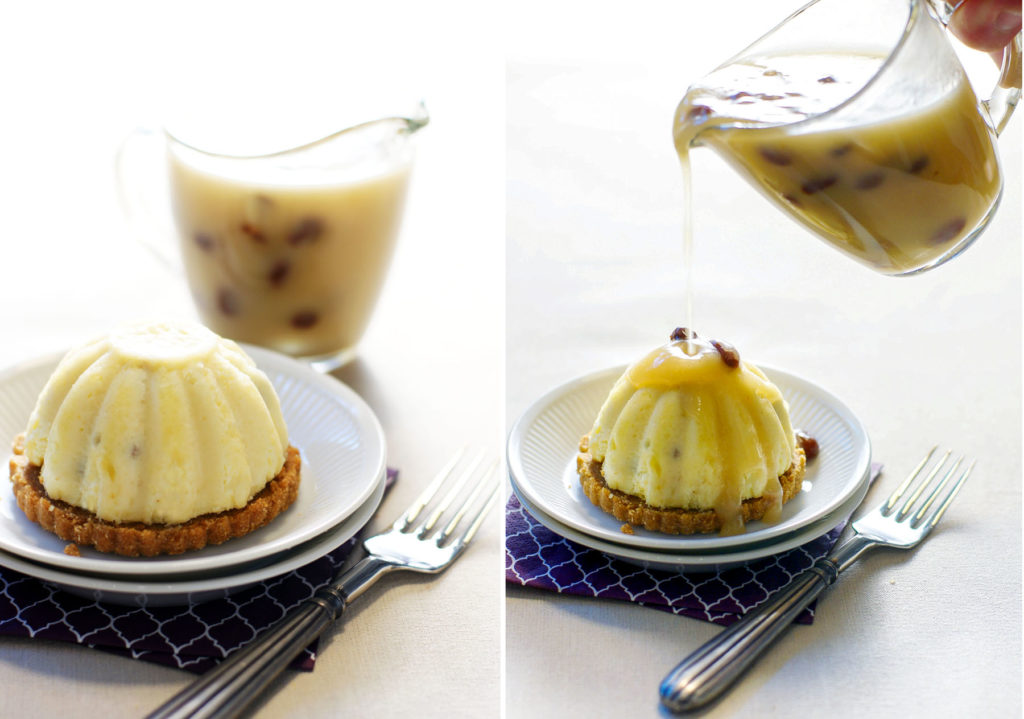 Before you start:
This cheesecake is not difficult to make, but does require patience for the best results.
You could use a different cookie for the crust if you prefer such as shortbread or gingersnap.
Let the raisins soak in the rum for a few hours until they plump up a bit. I put 1/2 cup of raisins in 1/3 cup rum. Don't forget to save the rum. You will need it for the sauce.
Take extra care when greasing/dusting molds. This will prevent the cakes from sticking in the mold.
The cooling time is paramount. Make this the day before you want to eat it. As the cheesecake sets, it will become easier to remove from the mold without damage.
This rum sauce is delicious on vanilla ice cream or bread pudding, as well.
The Crust
The ingredients:
1 cup graham cracker crumbs – fine
¼ sugar
½ teaspoon cinnamon
4 tablespoon
The method:
Preheat oven to 325˚F.
Add all ingredients together in a small bowl.  Use a fork to combine them to a coarse sand consistency.
Mash the crumbs into a circle cookie cutter a bit larger than the cheesecake mold you are using.
Bake on a parchment-lined sheet for 10-12 minutes.
Allow to cool completely.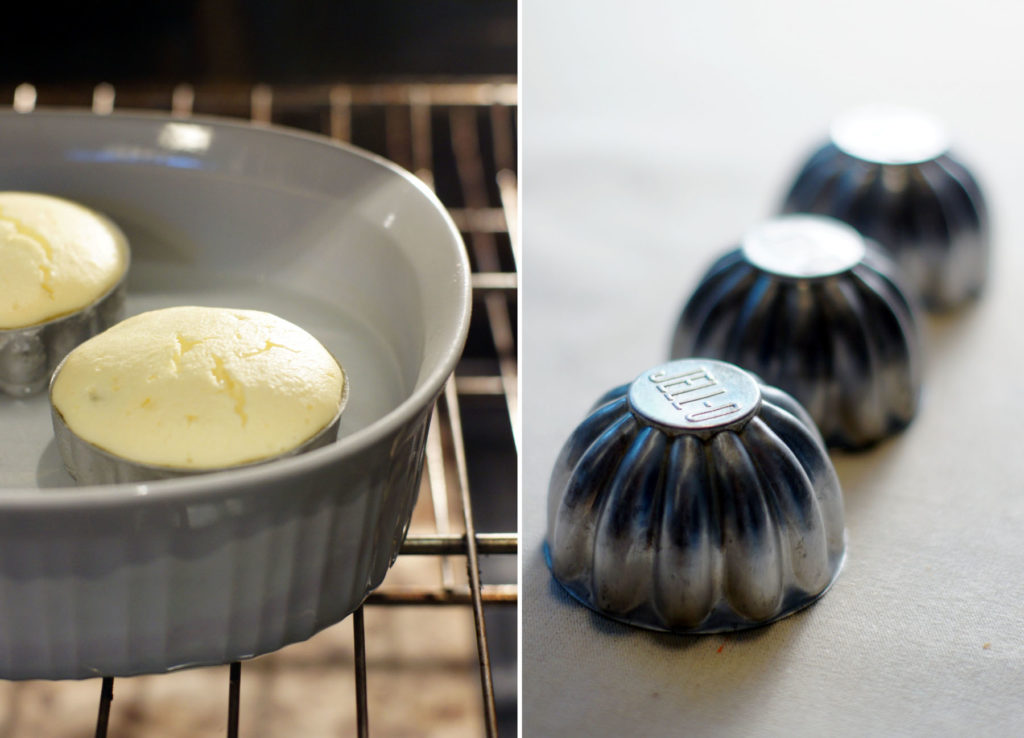 The Cheesecake
The ingredients:
2 – 8oz. package cream cheese
⅔ cup sugar / 140g
2 eggs
1 oz heavy cream
1 oz sour cream
1 teaspoon vanilla
½ teaspoon lemon zest
½ cup rum soaked raisins
The method:
Prep molds by greasing and dusting with flour.
Preheat oven to 325˚F.
In a mixing bowl, beat cream cheese for about 1 minute until smooth and creamy.
Add sugar and beat for another 2 minutes.
Add eggs one at a time, mixing until combined after each addition.
Add cream, sour cream, vanilla, and lemon zest.  Mix until well combined.
Strain raisins and retain rum.  Stir raisins in by hand.
Fill molds to about ¼ below the rim.
Place molds in a baking dish and fill the dish with enough boiling water to cover half of the molds.
Bake for 35-40 min.  The edges should be set and the center still a bit jiggly.
Turn the oven off and prop open slightly.  Cool in the oven for another hour.
Cool completely on a wire rack.
Refrigerate for at least 8 hours.
Invert mold to remove.  Assemble on a cookie crumb disk and top with Rum Raisin Sauce.
The Sauce
The ingredients:
¼ cup sugar / 65g
1 tablespoon packed brown sugar
1 tablespoon cornstarch
1 cup water
2 tablespoons rum (from the soaked raisins)
2 tablespoons butter
1 tablespoon heavy cream
½ teaspoon vanilla
pinch salt
¼ cup raisins
The method:
Place sugar, brown sugar, cornstarch, and water in a small saucepan.
Cook over low heat until sugars dissolve and liquid is the consistency of gravy (about 10 min). Stir occasionally.
Remove from heat and add vanilla, rum, butter, cream, and salt. Whisk until smooth.