Our July focus for Treat of the Week continues with this ice cream offering. Today we are giving you two treats in one. In order to make this ice cream, you will need a batch of CrispyThin Snickerdoodles. Fortunately, we have included that recipe, too.
Snickerdoodles are one of my favorite cookies. Some folks like them a bit soft and chewy, but I prefer mine with crispy edges and just a little soft in the middle. It so happens, for this recipe, that is the perfect kind. The firmness of these cookies hold up well to the cream and give your treat a little unexpected crunch.
For the record, the ice cream recipe here is our basic vanilla ice cream recipe plus the add-ins. It is tried and true. I have made some adjustments over the years and this 'final' version has yielded ice cream perfection time after time. You are sure to enjoy it on its own another day, but for now… try this recipe.
The caramel and cookies make this ice cream treat smooth and crunchy at once. As an added benefit, you will have more cookies than is necessary to make the ice cream. Enjoy at will.
savour… cold and creamy
SNICKERDOODLE SCREAM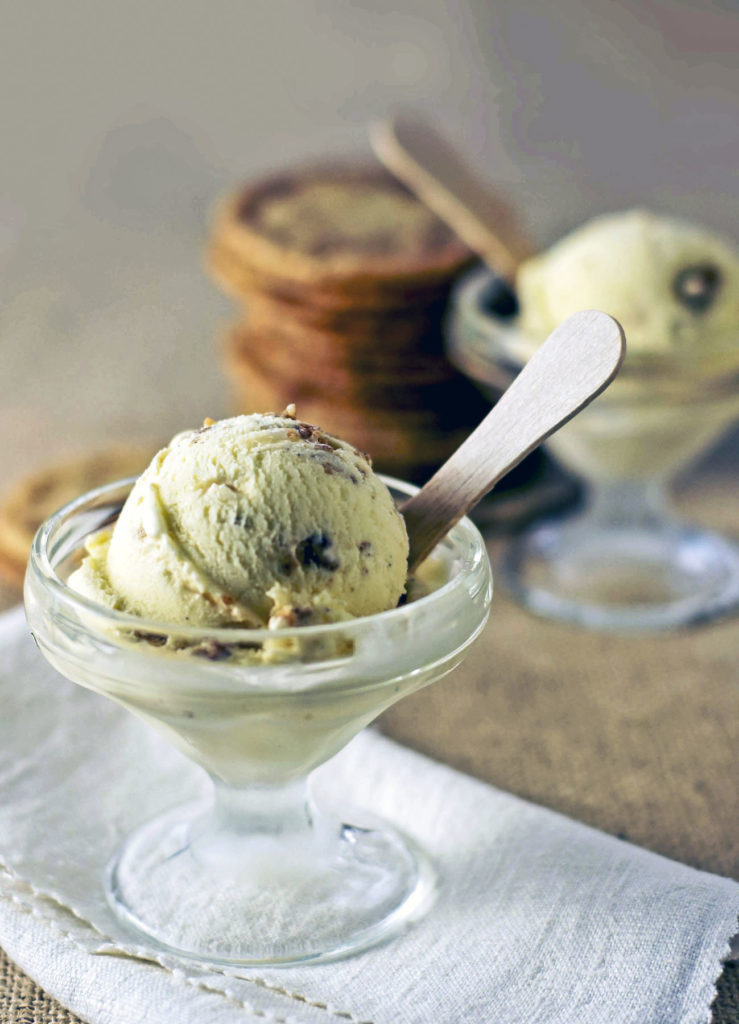 Before you start:
This dough is quite soft. It is necessary to get the right amount of spread and thickness. Refrigerating before rolling is a critical step.
We used a small cookie scoop to get the desired amount.
Be sure to leave plenty of space between cookies. They will spread quite a bit. We only put eight on each ½ sheet tray.
When you remove the vanilla bean, do not discard it. Instead, rinse it and let it dry completely. Place it inside a container with some sugar to flavor it (…think coffee) or grind it up with some sugar to use in baking.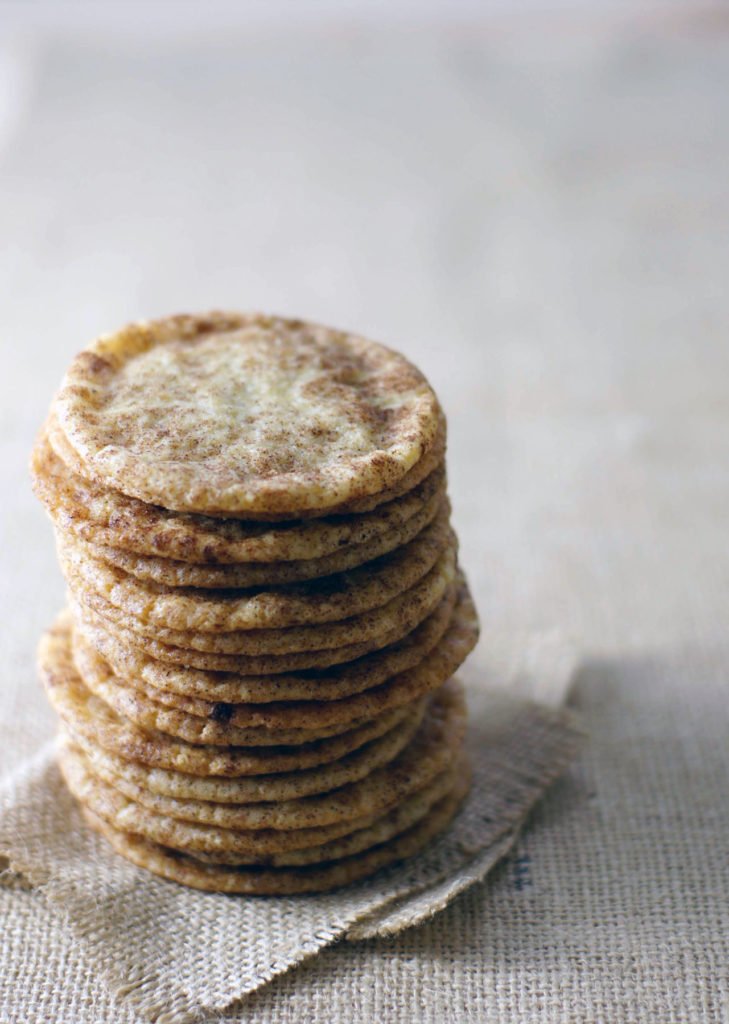 CrispyThin Snickerdoodles
The ingredients:
1 cup flour / 135g
1 teaspoon cream of tartar
½ teaspoon baking soda
pinch of salt
½ cup unsalted butter at room temperature / 1 stick
¾ cup sugar / 160g
1 egg
¼ cup sugar / 60g
4 teaspoons ground cinnamon
The method:
Sift together flour, cream of tartar, soda, and salt. Whisk together to fully incorporate. Set aside.
In a medium bowl, beat butter and sugar until light and fluffy.
Add egg and beat to mix in well.
Add dry ingredients 1/3 at a time and mix just until well incorporated.
Place dough in the refrigerator for at least one hour.
Preheat oven to 350˚F.
In a small bowl mix together the ¼ cup sugar and cinnamon.
Roll small balls of dough (about 1 ¼ inch) and cover in cinnamon sugar.
Place on baking sheet at least 2 ½ inches apart and bake for 10-12 minutes.
Remove and cool on tray for 3 minutes. Then transfer to a wire rack to cool completely.
Store in airtight container.
Snickerdoodle Scream
The ingredients:
1 ¼ cups whole milk / 300ml
pinch salt
¾ cup sugar / 150g
1 vanilla bean
2 cups heavy cream / 500ml
4 egg yolks
1 t vanilla extract
8 thin and crispy Snickerdoodles broken into small pieces
1/3 cup caramel sauce
The method:
Place milk, salt, and sugar in a medium saucepan over medium-low heat.
Cut the vanilla bean down the center lengthwise and scrape seed into the milk mixture.
Bring to a simmer, but do not boil.
Remove from heat and cover with a lid.
Beat egg yolks in a bowl.
Pour about ¼ cup of the heated milk mixture into the yolks while whisking.
Remove the vanilla bean.
Pour yolk mixture back into the pan with the remaining milk and return to stove over medium-low heat.
Stir frequently until the custard begins to simmer and reaches 175˚F.
In the meantime, arrange a bowl in a larger bowl filled with ice.
Place cream in a smaller bowl and place a strainer over it.
When custard coats the whisk or back of a spoon, strain it into the cream.
Whisk together to cool in the ice bath. Place in refrigerator to cool completely for at least one hour or overnight.
Stir in vanilla extract and process in ice cream machine according to directions.
At the soft serve stage, remove from machine and place 1/3 of ice cream in a container.
Layer with half of the caramel sauce and half of the cookie pieces.
Repeat layers topping with last third of ice cream.
Place in the freezer in an airtight container to harden for a few hours or overnight.