This week we are wrapping up summer break around our house and getting ready for back to school. The boys are excited and anxious. There are many new experiences ahead… and lots of studying.
In an effort to keep the positive momentum going, we decided to throw a little 'new year' party. My wife and I imagined how amazing it would be for schools to begin each school year with fanfare and celebration. I can just picture the front lawn of the elementary school full of cheerleaders turning flips while the marching band plays. What kid wouldn't love to begin his academic adventure that way?
For our party this week we made what we call a celebration cake. It is called that mostly because it fits nearly every celebration… cake, ice cream, chocolate. You can make the cakes and ice cream from scratch using one of our recipes or another. Or in a pinch, you can simply use box mix and store-bought ice cream. In this way, the combinations are virtually endless.
Our celebration is rounded out with some simple star decorations hung from our knob wall and a little inspirational music like "Proud" by Heather Small and "Shine On" by Eric Bibb. I'm not sure how it will end, but we are determined to get off to a good start.
savour… planners and pencils
CELEBRATION CAKE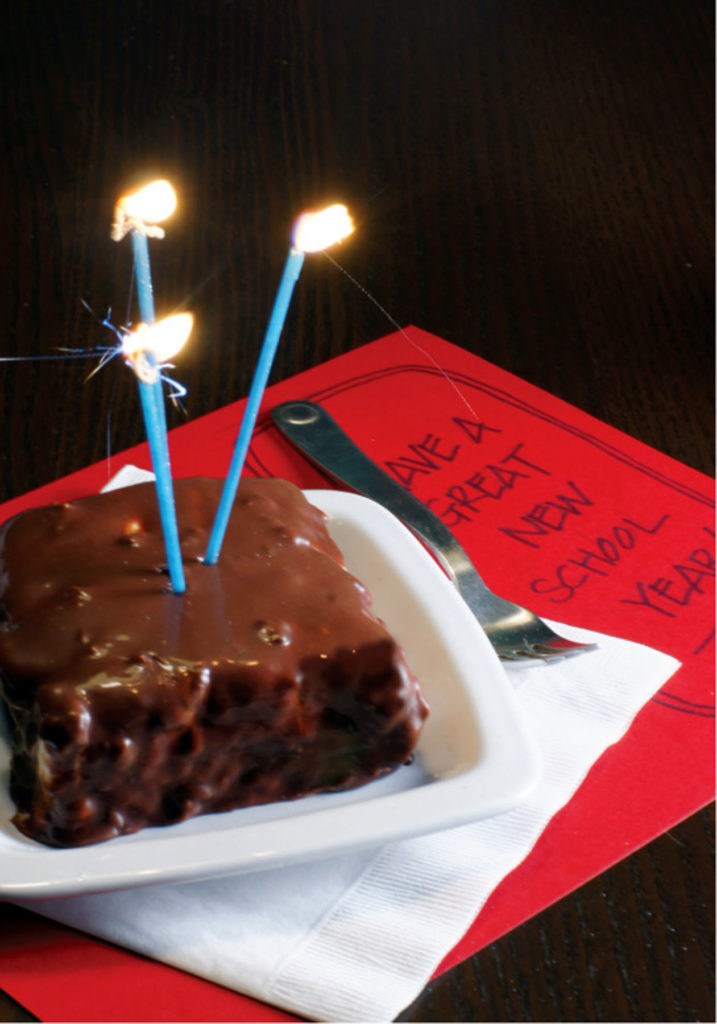 Before you start:
Bake your cake in a rolled edge baking sheet (usually about 1 inch deep). Spread the batter out evenly.
The ice cream will have to soften some before spreading out in a baking pan.
We used milk chocolate chips for our ganache, but you could use semi-sweet or even bittersweet depending on your preference.
You will need to work quickly with the ice cream or you will have a terrible mess on your hands.
The ingredients:
For the ganache:
10 ounces heavy cream
2 cups chocolate chips
For the treat:
Cake recipe (or box mix) sufficient for 2 nine inch rounds (we used devils food)
½ gallon ice cream (we used pretzel and salted caramel… YUM!)
1 batch simple ganache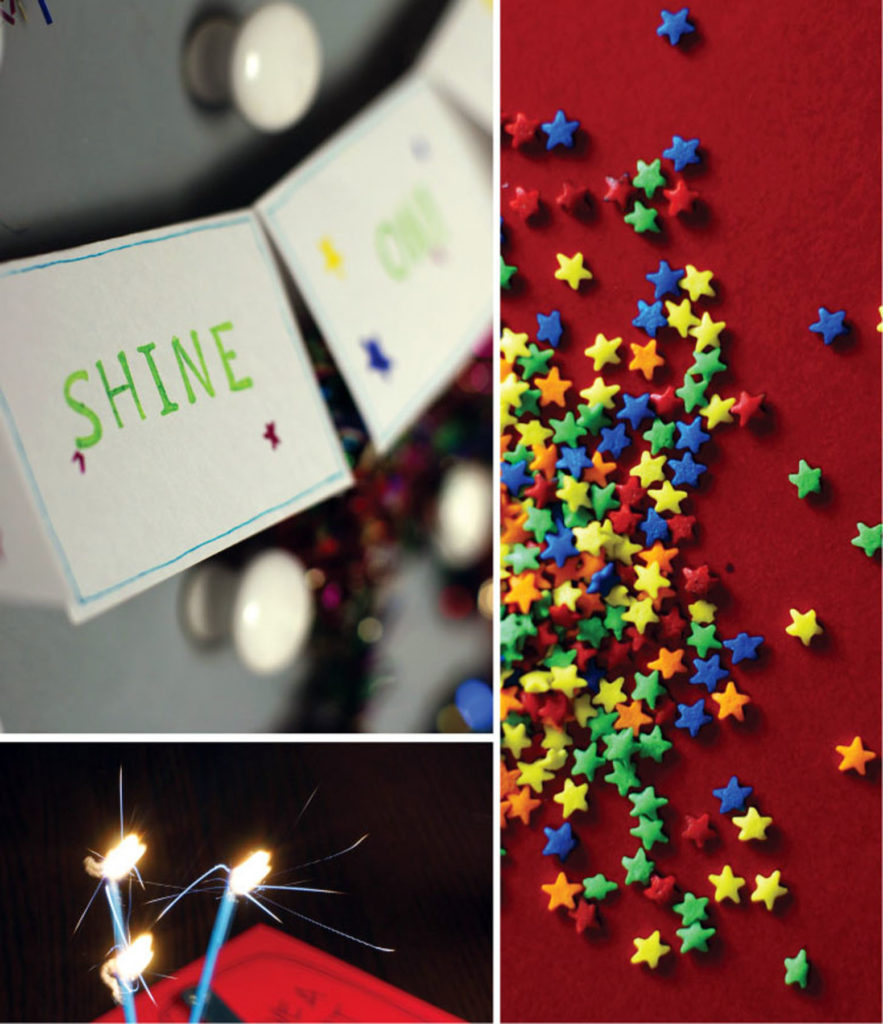 The method:
For the ganache:
Heat the heavy cream to a simmer in a medium saucepan over medium-low heat.
Add chocolate chips and let sit for 5 minutes.
Whisk together until smooth.
Cool slightly before using.
For assembly:
Slightly thaw ice cream and spread it evenly into a parchment-lined ¼ baking sheet (about 9"x13"x1"). Cover with plastic wrap and return to freezer to harden.
Cut the cooled cake into squares (ours were 3 ½ inches) using a square template or ruler.
Cut molded ice cream into squares with the same measurements as the cake.
Stack the slab of ice cream on the cake and wrap it in plastic wrap. Return to the freezer.
Prepare the ganache and cool slightly.
Place ice cream and cake squares on a wire rack over a baking sheet and cover with ganache.
Place covered cake on a plate and return to the freezer immediately.
Use a rubber spatula or scraper to return overrun ganache back to the pan.
Repeat steps 6-8 with the other cakes.
Keep frozen until ready to serve.