We are closing out our annual Cookie Week with a holiday classic. However, we've added a little twist. This Linzer cookie incorporates orange zest with walnuts for the dough and uses cranberry jam for the filling. The result is pure holidays.
The flavors here are a perfect wintery combination. The tartness of the jam goes so well with the sweetness of the cookie. As an added bonus, we've included the recipe for this easy cranberry jam which should supply you with just enough to get you through the season. Rest assured… this cookie is sure to please St. Nick.
savour… a well-stocked Santa plate
CRANBERRY ORANGE LINZER COOKIES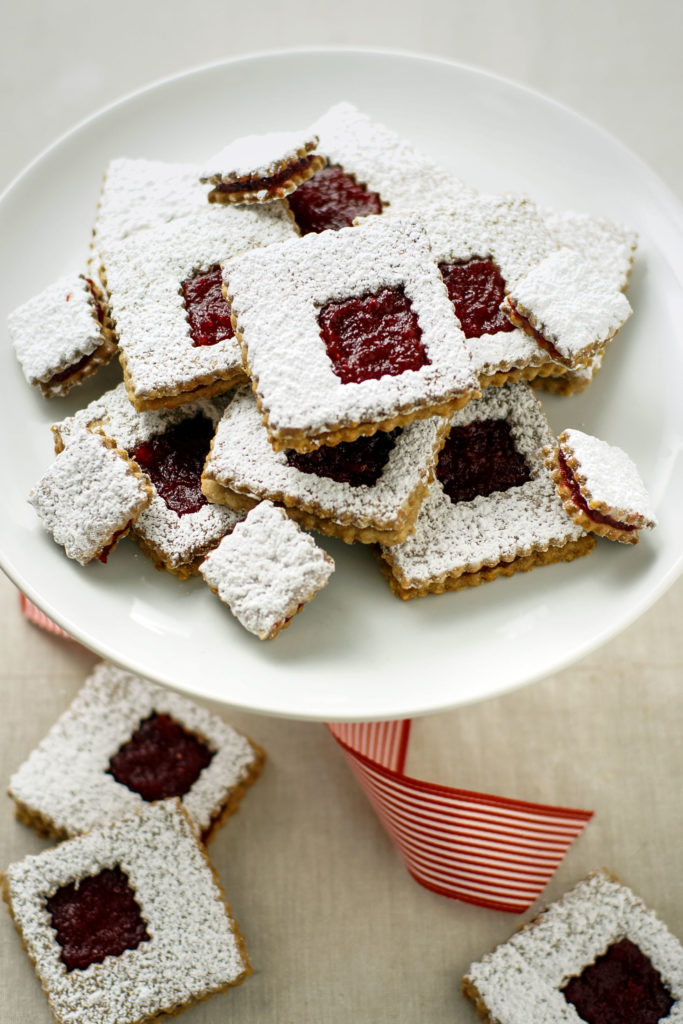 Before you start:
The jam is delicious. You will have more than you need for the cookies. Store it in an airtight container in the fridge and use it as you would any jam.
I am making another case today for understanding your recipe. The nuts here are 2 cups AFTER finely chopping. 2 cups of whole nuts chopped would only weigh about 190g.
Save the cookie holes you cut out. They are perfect bite-size additions to your cookie tray.
I add a couple of pinches of citric acid to our jam for a little extra tartness. If you have it, try it, but this recipe is still great without it.
To make the jam as smooth as possible for cookie filling, I used an immersion blender while it was simmering. This isn't necessary but makes the filling look nicer.
The ingredients:
The cookie:
1 ¼ cups unsalted butter, softened
1 cup sugar
½ teaspoon salt
2 eggs
2 cups finely chopped walnuts / 230g
1 tablespoon baking cocoa
¼ teaspoon ground cinnamon
¼ teaspoon ground nutmeg
1/8 teaspoon ground cloves
1 tablespoon orange zest
3 cups flour / 390g
The filling:
12 oz fresh cranberries
1 ¼ cups sugar
1 orange peel
1 cinnamon stick
1 tablespoon light corn syrup
¾ cup water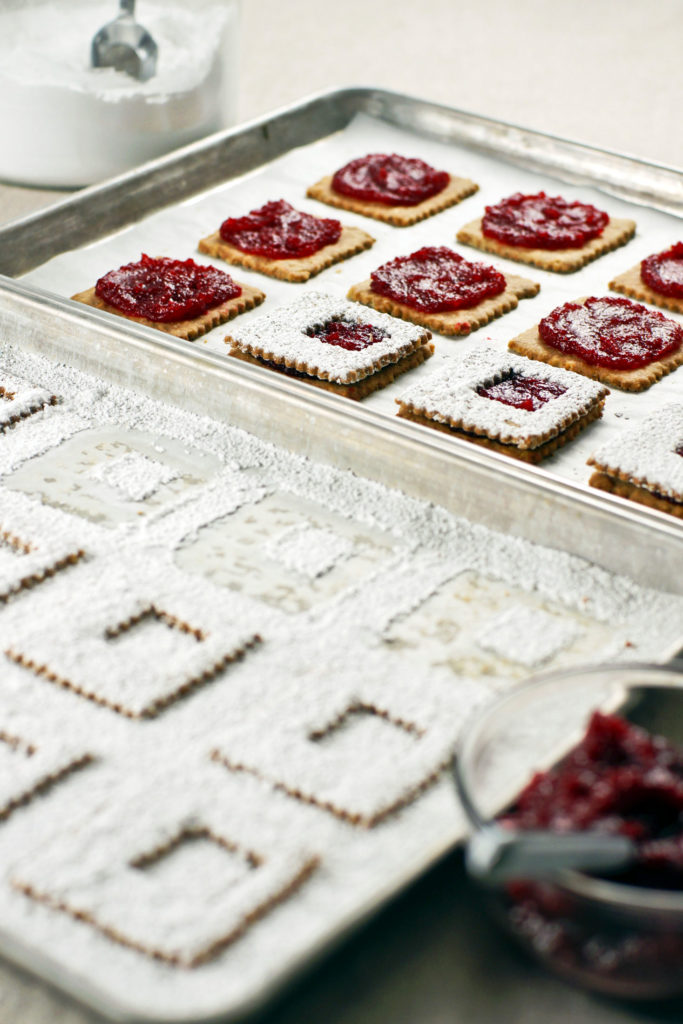 The method:
The cookie:
Cream the butter, sugar, and salt together in a mixing bowl until light and fluffy.
Add eggs one at a time mixing well after each addition.
Add walnuts, cocoa, cinnamon, nutmeg, cloves, and zest. Mix well.
Add flour and mix until incorporated.
Refrigerate for at least one hour.
Preheat oven to 350 degrees.
Roll the dough out on a lightly floured surface.
For each cookie cut 2 shapes with your cookie cutter. From one cut a smaller shape out leaving a hole. Place them on separate trays.
Bake on parchment-lined sheets for 12-14 minutes.
Allow to cool completely.
When cool dust the cookies with the holes with confectioners' sugar.
Spread about a teaspoonful of filling on the base cookie and top with the dusted cookie.
The filling:
In a food processor, grind the cranberries a fine consistency.
Place all ingredients in a medium saucepan. Let it rest for 15 minutes.
Over medium heat bring the ingredients to a boil.
Reduce heat to simmer and allow to cook for 30-35 minutes or until you reach 220 degrees.
Allow to cool completely before using.
Store in an airtight container in the refrigerator.