This time of year is just begging for a hot cup of cocoa. The mere idea of it conjures up cozy conversation and hours of hanging out around the Christmas tree. Nearly any hot cocoa makes me happy. I spent most of my life liking what I knew. That was basic hot chocolate…not too thick, not to thin… just right.
Living in Texas for the past 12 years has opened my eyes to many new flavors. One of the best things I've experienced is Mexican Hot Cocoa. Although I have fond memories of my midwestern cup of chocolate, this has it beat by a snow-covered mile!
Many have heard the stories of how the Spaniards took chocolate back to Europe and it became a version of what we enjoy today. But it was the Aztecs who started all the madness, and they knew how to do it right. The chili really steals the show here. It's not too spicy but adds a rich and robust flavor that really must be experienced to understand.
For our treat of the week this week we couple this frothy cup of goodness with a quick and easy cinnamon twist that will fill your family with holiday cheer. We added a bit of orange zest to the cinnamon sugar for a little extra flavor that will also have your home smelling like pure Christmas. Enjoy this around the fire or around the tree.
savour… cup-warmed hands
PUFF PASTRY CINNAMON STICKS AND MEXICAN HOT COCOA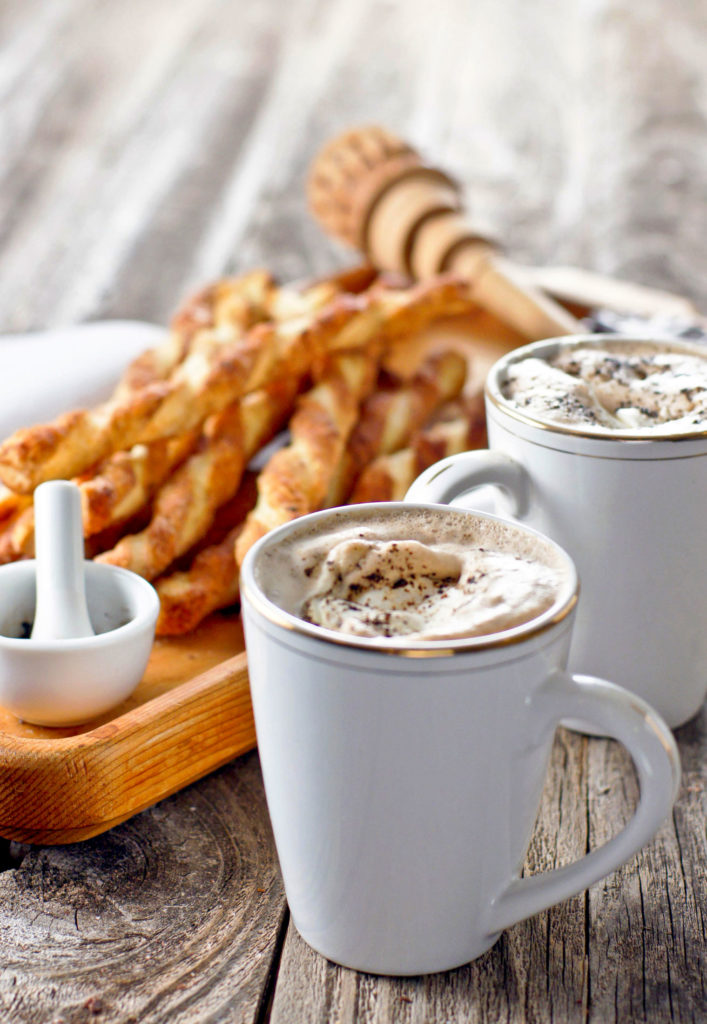 Before you start:
You will find the cocoa in many specialty supermarkets. If not you can always order it from Amazon.
If there is no latin market nearby, you will also find the molinillo through a search of the web or at Amazon.
Our chocolate was Ibarra, but there are many other choices available including organic ones.
You will get similar results with an immersion blender if you do not want to invest in the molinillo.
The whipped cream is optional, but very tasty.
It will be easiest for you to cut the pastry with a pizza cutter, but you could do so with a knife, as well.
Be sure to not twist the pastry dough to tightly. They puff up quite a bit.
Press the ends down just a bit to keep the twists from unrolling on the baking sheet.
The ingredients:
For the hot cocoa
2 cups of milk
1 round (6 segments) Mexican chocolate
1/2 vanilla bean
1/4 teaspoon ground dried chili pepper
1/4 teaspoon ground cinnamon
pinch of salt
whipped cream
For the cinnamon twists:
1 sheet puff pastry dough
3 tablespoon unsalted butter, melted
1/2 cup sugar
2 teaspoons ground cinnamon
zest of 1/2 an orange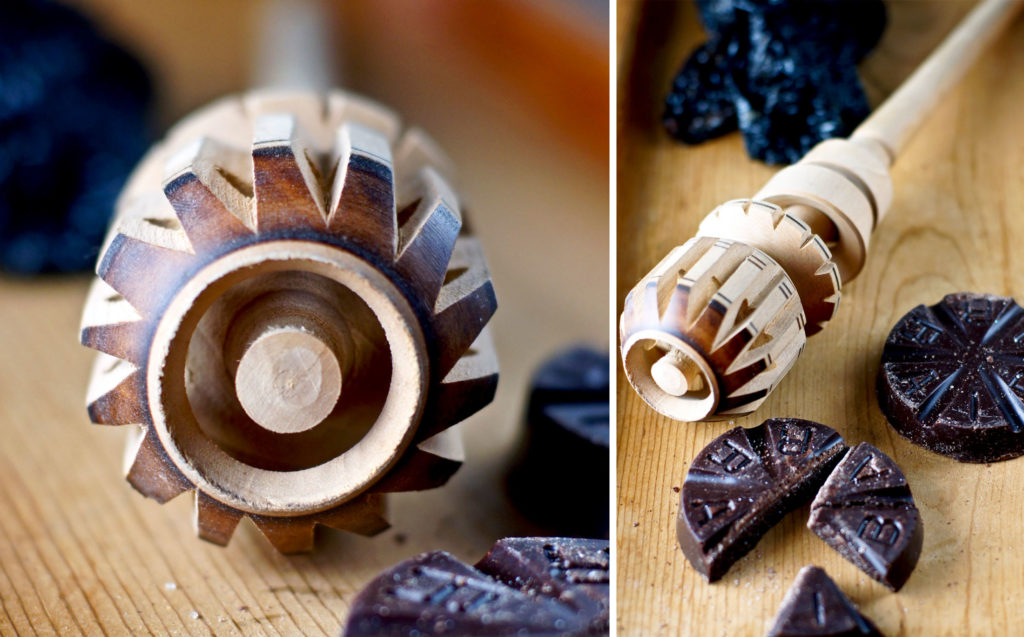 The method:
For the hot cocoa:
Place the milk, chocolate, salt, ground chili, and cinnamon in a medium saucepan.
Scrape the seed from the inside of the half of the vanilla bean and put them in the milk.
Cook over medium heat until warmed and the chocolate is completely melted.
Use the molinillo by quickly rolling back and forth between your palms until you get a thick frothy layer.
Pour into two cups
Top with whipped cream and a bit of crushed chili.
Serve warm.
For the cinnamon sticks:
Preheat oven to 400.
Place sugar, cinnamon, and orange zest in a small bowl and mix well.
Spread the pastry dough out on a lightly floured surface.
Brush the entire pastry surface with melted butter.
Sprinkle on cinnamon sugar.
Flip pastry over and repeat the butter and cinnamon sugar process.
Cut pastry in thin strips about 1 cm wide.
Grabbing ends in each hand twist gently in opposite directions.
Place on a parchment-lined baking sheet.
Bake until golden brown (about 20 min).
Remove and allow to cool completely.