There is a proliferation of citrus populating the produce section. I find myself trying new ways to fit it into every meal. Many years ago I fell in love with butter croissants and orange marmalade. For me, this coupled with a freshly pressed pot of coffee is the perfect breakfast indulgence.
While it may be a surprise to some, marmalade is quite simple to make. We used a variety of citrus fruits, but if you prefer you could use just orange. Then you can capture the essence of citrus for use throughout the year.
By the way, we are debuting our next video this month. Our intention is to present to you at least one new video per month. Be sure to check out our last one, Chocolate Dipped Candied Citrus Peel, when you have a moment. We have made some improvements I think you will like. Let us know what you think after viewing it.
savour… sticky situations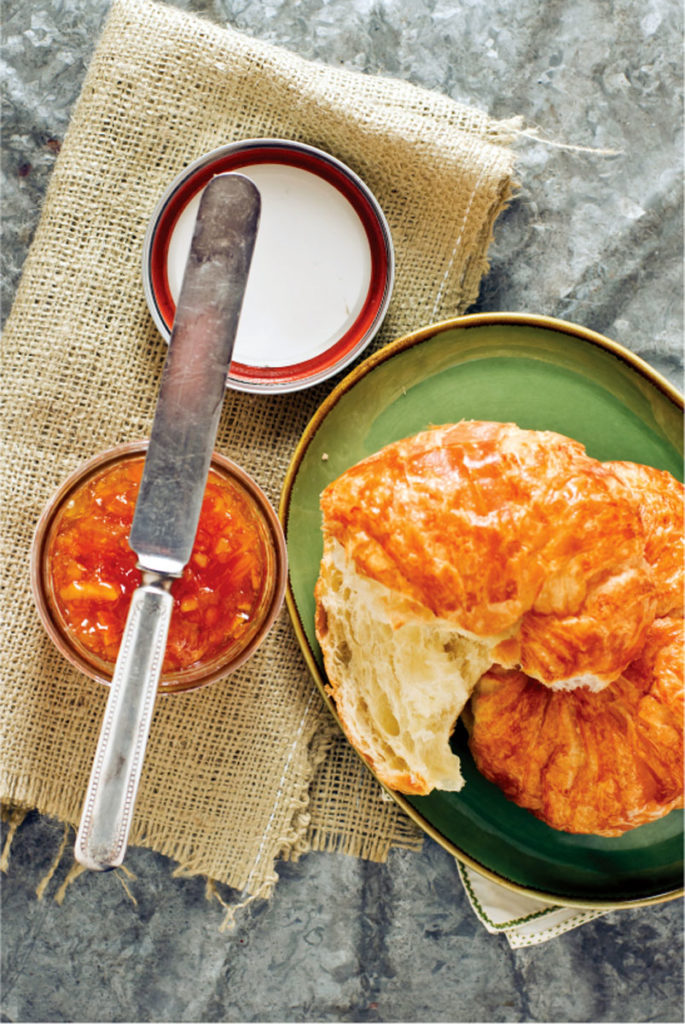 CITRUS MARMALADE
Before you start:
The magic of marmalade exists in the pips. They are loaded with pectin. For that reason…
Choose oranges with plenty of seeds. There are many oranges being grown these days with fewer and fewer seeds to satisfy consumers.
The rest time is critical. This is when the pectin works its wizardry.
If you do not have enough pectin released due to the number of seeds or time, you may need to use some pectin to get your solution to gel. Be sure to buy real fruit pectin (I like the gel sort). There are some other products that do a similar job but are made up of words I cannot pronounce.
This stores very well in the fridge or can be easily canned.
The ingredients:
1 ½ pound oranges
1 ½ pound grapefruit
½ pound limes
½ pound lemons
Water to make up 7 cups liquid
6 cups sugar
Pinch salt
Pectin (if necessary)
The method:
Cut citrus in half horizontally. Cut each half into quarters.
Squeeze each piece over a mesh strainer. Remove but retain seeds. Membrane and pith should be discarded, but pulp should be added back to the liquid.
Using a vegetable peeler, start at the point of one of the peels, lay the peel flat, and then peel the entire 'skin' wiggling the peeler as necessary.
Julienne the peels and then chop them into pieces no longer than a half an inch. Mix them all together in a bowl.
Place the seeds in a mesh tea ball or tie them up in a bit of cheesecloth.
Place 3 cups of juice, 2 ½ cups of zest, and the seeds in a large saucepan. Heat over medium-high heat until the mixture reaches a full boil. Reduce heat and simmer for 25 minutes.
Remove from the heat and pour it into a measuring bowl. Add enough water to make the mixture 8 cups.
Place in the refrigerator for at least 8 hours or overnight.
Place mixture, sugar, and salt in a large pot over medium-high heat. Bring to a full boil. Reduce heat to a low boil and continue to heat until the mixture reaches a temperature of 220˚ F (gel stage) on a thermometer.
About halfway through the cooking process, remove the seeds.
Test your marmalade at this point by spooning a bit onto a plate and placing it in the freezer for 3 minutes. If it crinkles up and looks as though it is beginning to gel it is ok to remove from the heat. If not, you may consider adding the pectin gel at this point.
Pour the marmalade into warm, clean jars. If you are going to be using it right away or giving away as gifts to be used right away, it can be kept in the refrigerator. If not, follow the canning instructions from this earlier post, Making Preserves.