This month is soup month and we are doing our part to bring you some recipes that are sure to fill your tummy without emptying your wallet. Broccoli and cauliflower are in season right now and often on sale. Lucky for us, they also make a wonderful hearty winter soup. Nothing can compare to soup. There is something so comforting about a bowl of soup on a chilly afternoon. I especially like to have it in a deep bowl that I can use to warm my hands.
There are commercially made soups that I enjoy occasionally, but I prefer homemade soups. It is not tricky, takes little actual involvement, and gives you control over the ingredients. Often times, canned soups have a taste that you can't quite identify. That is the taste of 'I was made in a big factory and have been sitting on a shelf for who knows how long'. Fresh soup will NEVER have that taste.
Today's soup is Roasted Broccoli and Cauliflower. It appears to be a cream-based soup, but there is actually not much dairy involved. The vegetables make this soup thick and hearty. We have tried to keep the ingredient list short, but added a few spices and herbs to bring out the flavor.
savour… hearty goodness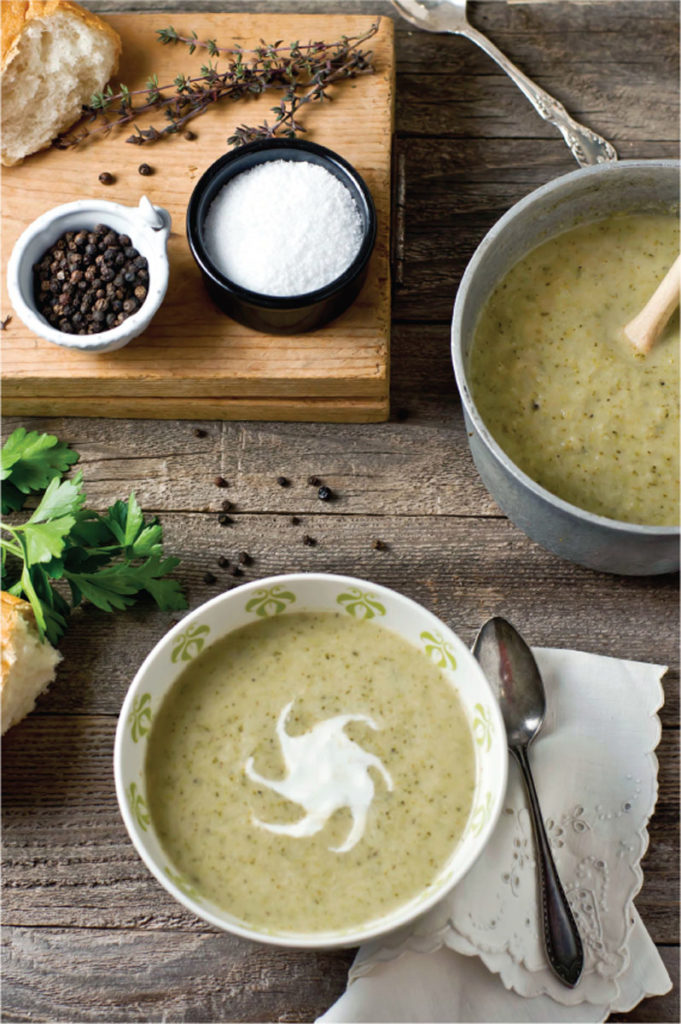 ROASTED BROCCOLI AND CAULIFLOWER SOUP
Before you start:
This is a great time to use up that broccoli or cauliflower that is right on the edge of usefulness.
We removed 4 of the garlic halves before pureeing the vegetable mixture. You may choose to keep more or less in based on your tolerance.
This soup is incredibly healthful. We used our own stock, fresh veggies, and our dairy comes in the form of non-fat greek yogurt which is loaded with protein.
On another day, cook the vegetables for about 5-10 minutes less and serve them as a side dish without making them into a soup. Delicious!
Our recipe calls for keeping some of the vegetables whole to add to the finished soup, but you can process all of the vegetables if you choose.
If you use store-bought chicken stock you may wish to reduce the amount of salt you put in the recipe. If you are so inclined. If you haven't started making your own chicken stock, check out our basic chicken stock recipe.
The ingredients:
1/3 cup olive oil
½ medium onion, chopped (about 1 cup)
2 heads broccoli with stems / 450g
½ head of cauliflower / 450g
4 cups chicken stock
1 cup water
1 teaspoon fresh thyme
1 teaspoon fresh parsley
3 cloves garlic, cut in half
2 teaspoons coarse salt
½ teaspoon freshly ground black pepper
1 cup non-fat Greek yogurt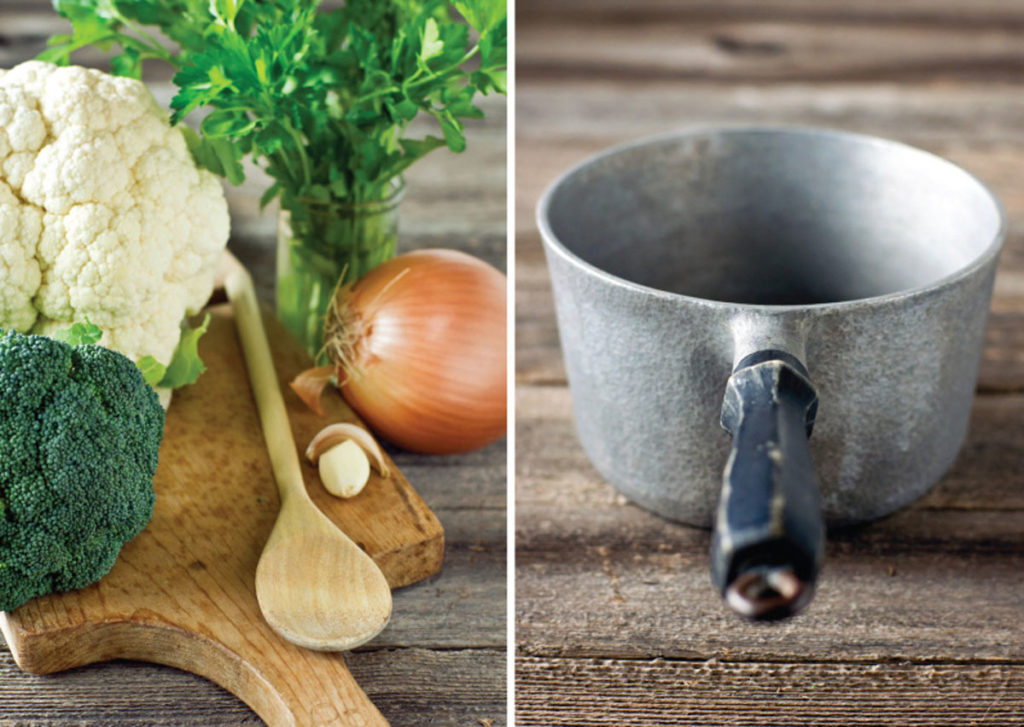 The method:
Preheat oven to 425° F.
Cut broccoli and cauliflower into similarly sized pieces.
Place vegetables and spices in a large mixing bowl.
Drizzle oil over the vegetables and toss to coat completely.
Pour vegetables on a shallow baking sheet and roast for 25-30 minutes until somewhat soft and browned.
Allow vegetables to cool slightly. Remove some or all of the garlic.
Place half of the warm vegetables in a blender with 1 cup of stock to puree. Pour the puree into a pot. Repeat with the other half of the vegetables.
Add the remaining stock and water to the pot.
Bring soup to a boil and then reduce to simmer for 30 minutes, stirring occasionally.
If firm pieces of vegetables remain, process the soup with an immersion blender.
Stir in the Greek yogurt.
Serve warm.