February kicks off Hot Breakfast Month. To get us started we are offering up the basic crepe. Many avoid this breakfast item as they seem problematic, but they are easier to make than you may think. When wrapped around some fresh fruit or other stuffing, they are a delicious start to any day.
Crepe batter is similar to pancake batter, but the result is very different. They are more consistent with a flour tortilla, but not as dry. With a simple, small, non-stick pan you can be on your way to a stack of crepes in no time.
savour… ooh la la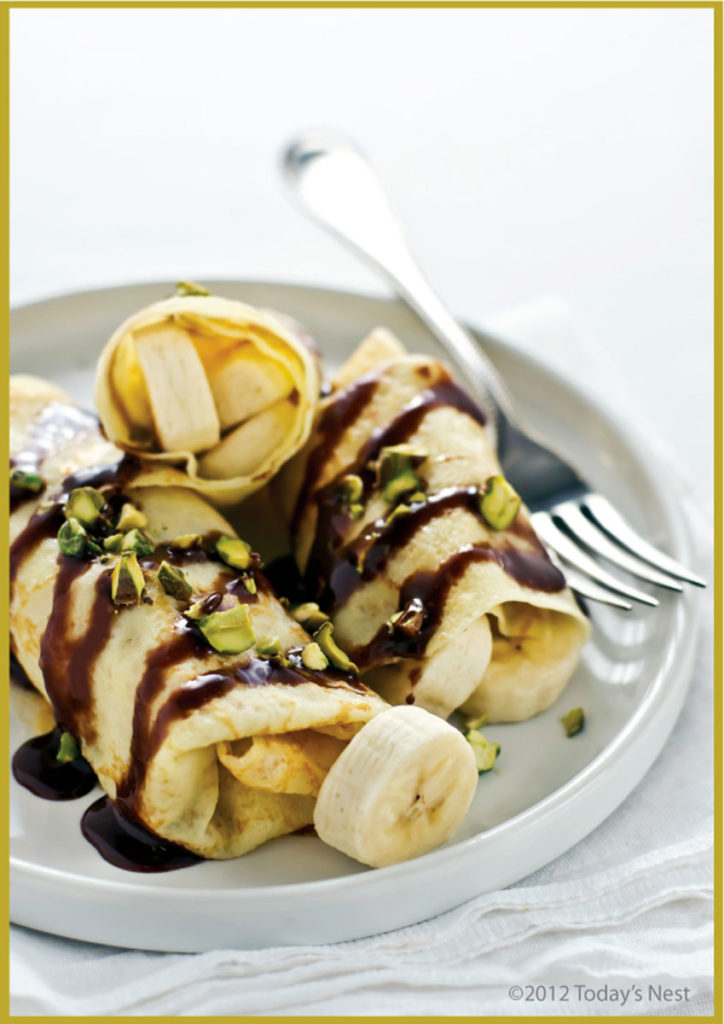 BASIC CREPES
Before you start:
We use an 8″ non-stick pan. It makes perfectly sized crepes. Trying to do this in a bigger pan and control the size and shape of the crepe may prove difficult.
The resting time is critical for success.
Because of the butter in the batter, you will probably not need to coat the pan in oil after the first time.
Store crepes with sheets of parchment betweeen them for easy handling.
In our case, we filled the crepes with fresh banana, drizzled with chocolate sauce, and sprinkled on a few chopped pistachios, but the sky is the limit here. Be creative and fill and/or top with your own favorite sweet or savory ingredients.
The ingredients:
6 tablespoons cake flour
1 1/2 tablespoons sugar
2 eggs
3 tablespoons unsalted butter, melted
1 cup milk, warmed
fillings
The method:
Sift together flour and sugar in a medium bowl. Set aside.
In another bowl, whisk eggs just slightly.
Add flour and mix until smooth. Add butter and stir in.
Slowly mix in milk and stir until smooth.
Cover and let rest for at least 2 hours.
Rub bottom of an 8″ non-stick pan with cooking oil.
Over medium heat, pour in about 2 tablespoons of batter.
Swirl pan around to coat the bottom of the pan.
Cook for 20-30 seconds and turn.
Turn out onto a plate and repeat for the remainder of the batter.