Ahhh March. That wonderful month of the year that bridges the cold sullen grey of February with the bright vibrancy of April. In March it seems everything is turning green, from the medians on the highway to the St Paddy's Day revelers.
What better way to celebrate this unique month than with a uniquely green Cocktail of the Month? The Matcha Green Tea Gimlet.
I know what you are thinking…"A matcha cocktail? But matcha tastes like grass." and yes, I know that other thought you are thinking…"Gin?! But that tastes like pine needles." Fret not Nesters, the grassy notes of the matcha balance perfectly with the flowery botanicals of the London dry gin. By the way, like all things in life you get out what you put in, so only use a good London dry gin. I prefer Tanqueray or Bombay Sapphire for this drink.
savour… a new season
MATCHA GREEN TEA GIMLET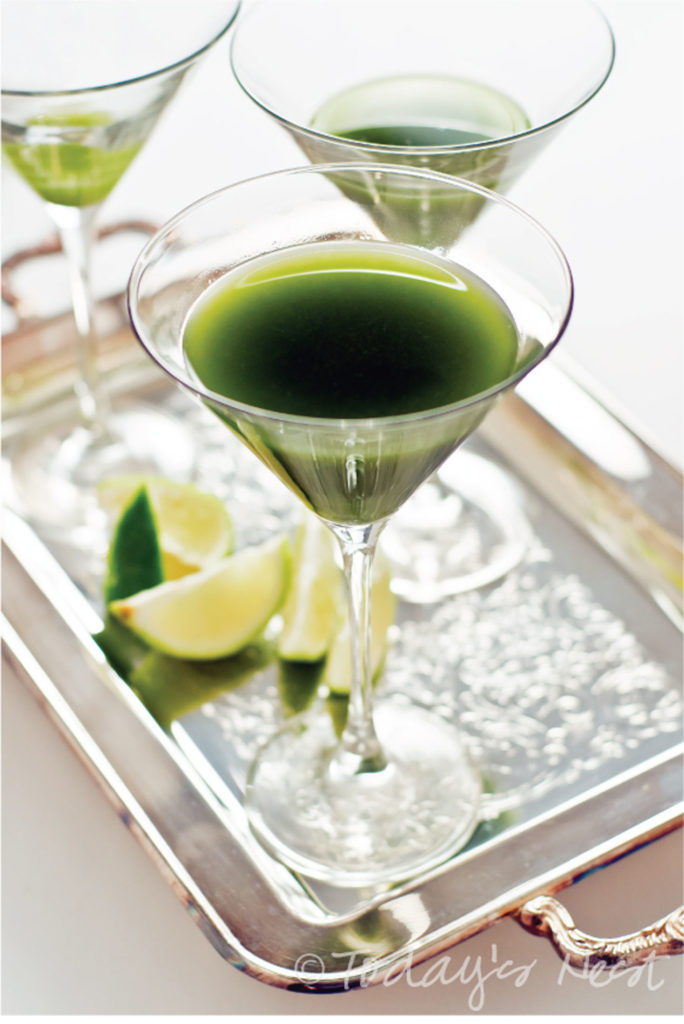 Before you start:
This ain't your traditional gimlet. This is a fresh, citrusy cocktail well-balanced between tart and sweet with nice floral notes. We won't be using any commercially sweetened syrup that starts with an "R" and ends with an "ose's".
You will need some fresh simple syrup. If you don't have any on hand, it couldn't be easier to make. Once you've made fresh simple syrup you will never go back to pre-made mixes again.
Simple Syrup Recipe:
Combine equal parts water and sugar in a saucepan. Bring to a slow boil while continuously stirring until all sugar has dissolved. I recommend starting with a cup. Let cool and bottle. This should keep in your fridge for about a month or so.
You will also need a hand juicer. I use a hand press specifically made for juicing limes. These are widely available at supermarkets and kitchen or bar stores and come in the fun colors of the fruits you intend on juicing.
Lastly, you will need a sweet matcha green tea powder. For this drink, I used Rishi Sweet Matcha Powder. This can be found at most upscale grocery stores such as Central Market or Whole Foods.
The ingredients:
1 tablespoon Sweet Matcha Powder
3 oz water
Juice of 1 small lime (1oz)
1/2 oz simple syrup
2 1/2 oz good London dry gin
Ice
The method:
In a separate glass mix 1 tablespoon sweet matcha powder with 3 oz of water. Stir vigorously to combine.
Juice your small lime into the green tea mixture.
add 1/2 oz simple syrup to the green tea mixture.
Add ice to your cocktail shaker.
Remove the top to your gin bottle. Enjoy the ginny aroma goodness.
Combine your green tea mixture with 2 1/2 oz of gin in the cocktail shaker.
Quickly swirl the cocktail shaker until the outside becomes icy and cold. Note: never shake gin as you may bruise the soft botanicals an alter the delicate balance of flavors.
Strain drink into your favorite martini glass.
Savour the taste of spring.