I have a thing for pie.  More notably, I've got a thing for pie crust. It's no secret that I love desserts. I also frequently crave cheesecake. So I wondered, what if I could have cheesecake and pie and eat it, too. And that is exactly what I did.  
Unlike some other recipes you may see, this cheesecake pie is fully baked and not the 'no-bake' sort. I don't want to sound snobby, but that matters (at least to me). The result is creamy and smooth; not light and fluffy. The creaminess along with the uber-flaky texture of the homemade pie crust makes this dessert very special. Add the crunch of the pecans and snap of the toffee and you are right over the TOP!
Life is short… enjoy dessert
savour… occasional decadence
PECAN TOFFEE CHEESECAKE PIE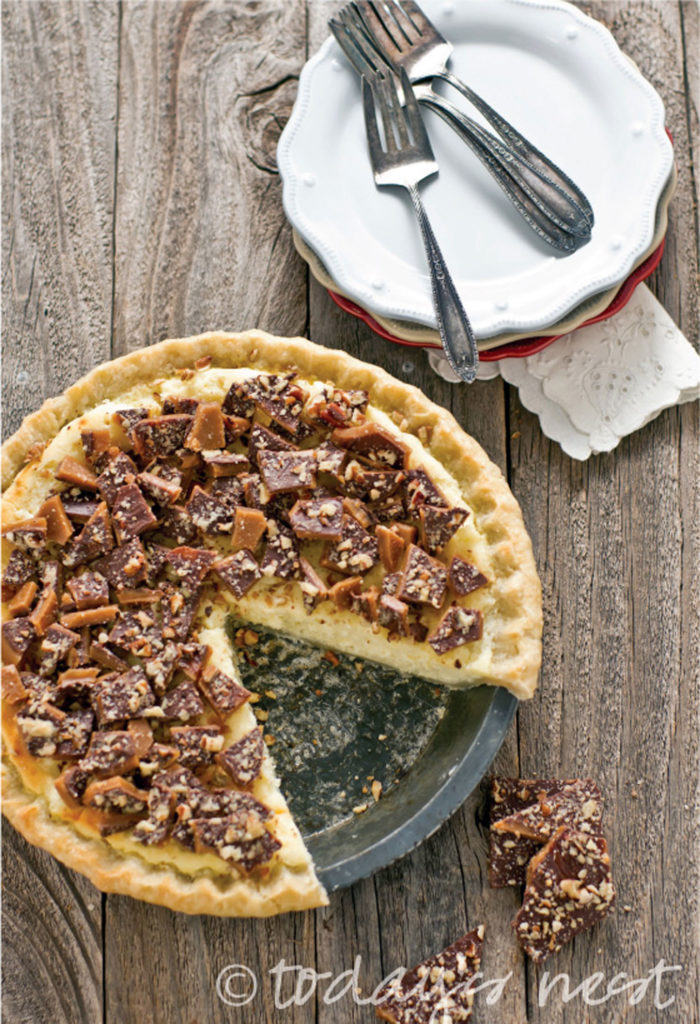 Before you start:
When making the toffee, wash down the sides of the pan with a pastry brush dipped in water.
You will have more toffee than you need for the pie. Sorry… you'll just have to eat it.
Be sure to check the pie about 30 minutes in to see if you need to add a ring of foil around the crust to prevent further browning before the center is fully cooked.
The ingredients:
For the cheesecake pie:
1 basic pie crust for a 9" pie
3 8 ounce packages of cream cheese, at room temperature
1 cup of sugar
1 teaspoon vanilla
3 eggs
For the toffee:
1 ¾ cups sugar
1 cup heavy whipping cream
½ cup unsalted butter
1/8 teaspoon cream of tartar
½ tablespoon vanilla
½ cup semi-sweet chocolate, finely chopped
¾ cup pecans, finely chopped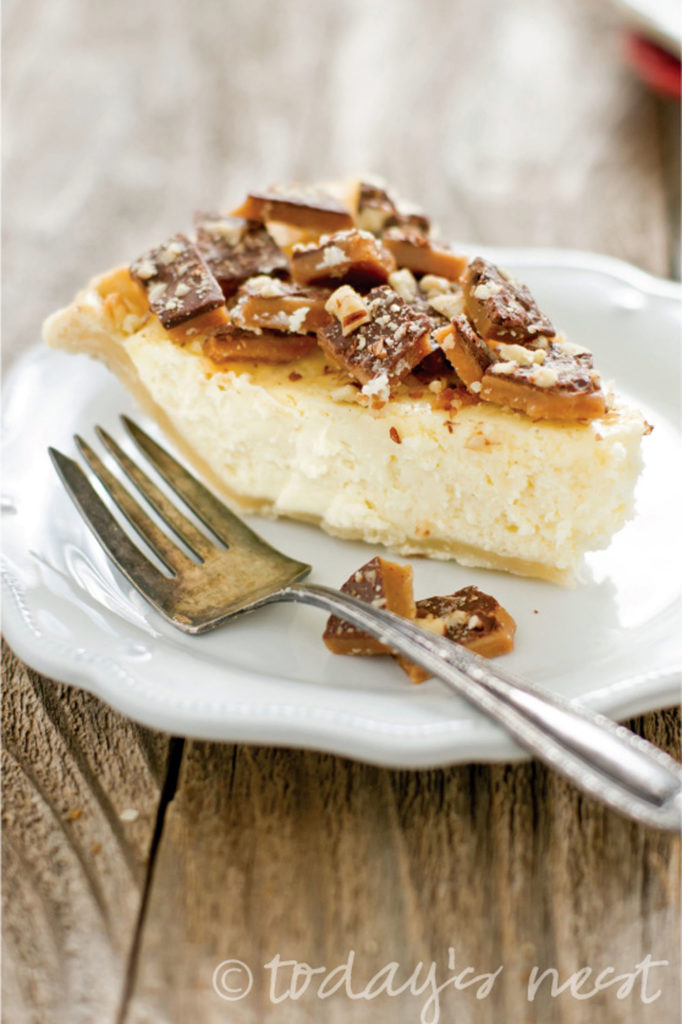 The method:
For the cheesecake pie:
Preheat oven to 300°F.
Place pie crust into the pie tin and flute edges.
Beat cream cheese in a mixer bowl with a paddle attachment until smooth and creamy (30-60 sec).
Add the sugar and vanilla gradually and beat until well incorporated.
Add the eggs one at a time beating after each until fully combined.  Scrape down the sides of the bowl as necessary.
Pour batter into unbaked pie crust.
Place on a baking tray along with a small ovenproof baking dish filled with water.
Bake for 45-50 minutes or until set in the center. Remove from the oven and cool on a wire rack. Transfer to refrigerator and chill for at least 8 hours or overnight before eating. Top with Pecan Toffee.
For the toffee:
In a heavy, medium saucepan stir together sugar, cream, butter, and cream of tartar.
Stir over low heat until sugar dissolves.
Bring to a boil over medium-low heat. Boil for 3 minutes without stirring.
Turn heat to medium and stir frequently until the mixture reaches 280° on a candy thermometer.
Remove from the heat and stir in the vanilla.
Pour onto a parchment-lined baking tray or a silicone mat.
Allow to cool for 3 minutes. Sprinkle chocolate on the surface evenly. Allow to melt for 2 minutes.
Spread chocolate over the entire surface.
Sprinkle on chopped pecans.
Place the toffee in the refrigerator for 20 minutes. Remove and transfer to the freezer for 20 more min.
Remove and break into pieces.